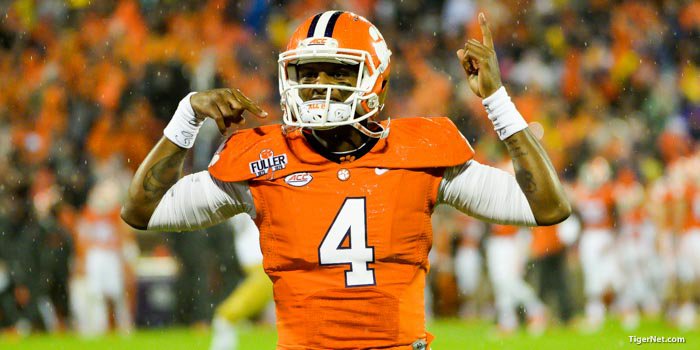 | | |
| --- | --- |
| Breaking down the Clemson post-spring offensive depth chart | |
---
The Clemson offense was high-flying and powerful throughout the team's run to the national championship game last year.
But it should be even better this year with Deshaun Watson back at quarterback running the show and plenty of weapons around him and a strong offensive line in front of him. Many of the records Watson and the players around him set last year should be crushed this year.
Here's a look at the post-spring depth chart released by the program this week.
Quarterback
Deshaun Watson, Jr.
Nick Schuessler, Gr. or Kelly Bryant, Soph.
Breakdown: It all starts with Watson, right? That's no surprise. He was a Heisman Trophy finalist last year and likely will be again this year. The key to this position is settling on a backup. Schuessler and Bryant can both do some things, but they have been inconsistent and need to be ready just in case.
Running back
Wayne Gallman, Jr.
Adam Choice, Soph. or Tyshon Dye, Jr.
Breakdown: Remember when running back lacked depth in this program a couple of seasons ago? That's certainly not the case now as Gallman has become one of the best running backs around, and he has plenty of help behind him. Choice has come back strong from an injury, and Dye appears to finally be healthy and ready to take the next step.
Wide receiver
Mike Williams, Jr.
Deon Cain, Soph.
Breakdown: Cain stepped in for Williams last season after Williams was hurt in the opener and got better throughout the season. But Williams is back and should have a huge season in his return. Cain has returned from his suspension and needs to show he can be reliable and give this team a second deep threat behind Williams.
Wide receiver
Hunter Renfrow, Soph.
Trevion Thompson, Soph.
Seth Ryan, Jr.
Breakdown: Renfrow came out of nowhere last season to become a key performer for the program, and he looks ready for an even bigger role this season. Thompson has the talent to be a starter and a terrific player, but he needs to be consistent to make that happen.
Wide receiver
Artavis Scott, Jr.
Ray-Ray McCloud, Soph.
Breakdown: Scott is one of the most dangerous players in the country and can do so many things that make him valuable to this team. Look for him to continue to grow as a route runner and become a fundamentally sound receiver and not just a weapon. McCloud had a solid freshman season and can be the same kind of weapon Scott has become with some maturity and consistency.
Tight end
Jordan Leggett, Sr.
Garrett Williams, Soph. or Milan Richard, Soph. or D.J. Greenlee, Jr. or Cannon Smith, Soph.
Breakdown: Leggett returning to the team for his senior season was pivotal for this offense. There is plenty of talent behind him, but it's raw in places. With his experience and talent, Leggett can be a leader for the younger tight ends.
Left tackle
Mitch Hyatt, Soph.
Tremayne Anchrum, Fr.
Breakdown: Hyatt was a starter from the day he stepped on campus last winter, but he became a rock star with a freshman All-America season. Anchrum is a true freshman who will have time to learn and grow behind Hyatt.
Left guard
Taylor Hearn, Soph.
Maverick Morris, Jr.
Justin Falcinelli, Soph.
Breakdown: There is plenty of depth and versatility here, and that's a good thing at this spot. But Hearn looks ready to take control and become a terrific player.
Center
Jay Guillermo, Sr.
Justin Falcinelli, Soph.
Breakdown: Guillermo returned to the team after leaving to deal with personal issues, and he became a true anchor at center for the 2015 Tigers. That was huge for the development of the offensive line, and his return this season is key, as well. Falcinelli offers plenty of versatility as he continues to move closer to a starting spot.
Right guard
Tyrone Crowder, Jr.
Maverick Morris, Jr.
Breakdown: A terrific battle during the spring ended with Crowder with the advantage. He had a solid 2015 season, while Morris continues to be a valuable member of the unit and eventually will get his shot somewhere.
Right tackle
Jake Fruhmorgen, Soph.
Sean Pollard, Fr.
Breakdown: Fruhmorgen takes over at the other tackle spot opposite Hyatt giving the Tigers two young, talented tackles to hold down the edges. Pollard is another true freshman who can step right in and be a key player.
Daniel Shirley is the sports editor of The Telegraph in Macon, Ga., and co-host of The Morning Show on FoxSports 1670 AM. Follow him on Twitter at @DM_Shirley and read his blog at macon.com/peachsports.

Upgrade Your Account
Unlock premium boards and exclusive features (e.g. ad-free) by upgrading your account today.
Upgrade Now

Tags: Clemson Football
,
Deshaun Watson
,
Nick Schuessler
,
Jay Guillermo
,
Mike Williams
,
Tyshon Dye
,
Wayne Gallman
,
D.J. Greenlee
,
Jordan Leggett
,
Tyrone Crowder
,
Maverick Morris
,
Trevion Thompson
,
Taylor Hearn
,
Cannon Smith
,
Milan Richard
,
Artavis Scott
,
Justin Falcinelli
,
Adam Choice
,
Seth Ryan
,
Hunter Renfrow
,
Garrett Williams
,
Kelly Bryant
,
Mitch Hyatt
,
Ray-Ray McCloud
,
Deon Cain
,
Jake Fruhmorgen