| | |
| --- | --- |
| Big Mac: Mac Lain breaks down the offensive line | |
---
| | |
| --- | --- |
| Wednesday, April 8, 2015 9:15 AM | |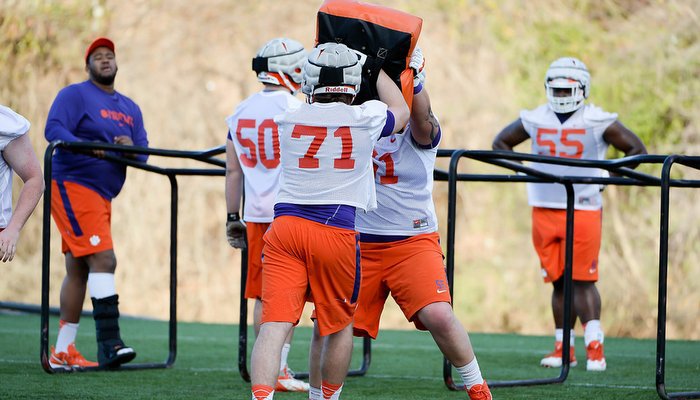 CLEMSON – Dabo Swinney

Dabo Swinney
Head Coach
View Full Profile has raved about his offensive line during spring camp, and plenty has been written and said about the first five that are expected to be the starters once the season starts against Wofford next September.
Also getting plenty of publicity have been the four freshmen – Mitch Hyatt

Mitch Hyatt
Fr. Offensive Line
#75 6-6, 270
Sugar Hill, GA
View Full Profile , Jake Fruhmorgen

Jake Fruhmorgen
Fr. Offensive Line
#63 6-5, 285
Tampa, FL
View Full Profile , Noah Green

Noah Green
Fr. Offensive Line
#71 6-5, 275
Boiling Springs, SC
View Full Profile and Zach Giella

Zach Giella
Fr. Offensive Line
#77 6-5, 275
Augusta, GA
View Full Profile . Not to be forgotten are redshirt freshmen Taylor Hearn

Taylor Hearn
RS Fr. Offensive Line
#51 6-4, 325
Williston, SC
View Full Profile and Justin Falcinelli

Justin Falcinelli
RS Fr. Offensive Tackle
#50 6-3, 305
Middleton, MD
View Full Profile and rising sophomore Maverick Morris

Maverick Morris
RS So. Offensive Line
#69 6-4, 295
Broxton, GA
View Full Profile . So what makes all these guys special? Senior left guard Eric Mac Lain

Eric Mac Lain
RS Sr. Offensive Tackle
#78 6-4, 305
Hope Mills, NC
View Full Profile sat down with TigerNet Monday evening to talk about those seven.
Mac Lain was asked to give one word that describes each of the seven - plus a scouting report – and he delivered.
Justin Falcinelli
"Baller. He's just had to deal with so many things from when he first got here. Moving from tackle to guard and now he's a center. Something that he's never done his entire life and he's really embraced it. You know, we had a couple of growing pains of course when he first moved - throwing the ball over the quarterback's head, rolling it. But, now he's just money. He looks like he's been doing it his whole career. I really respect him for taking on that role. Maybe he didn't want to do it at first, but he's really embraced it, practiced every day he's here. He and Ryan taking snaps and doing all of this stuff and he's going to have a bright future."
Taylor Hearn
"Beast. That boy is probably one of the strongest offensive lineman - natural strength - that's came through here in a long time. He's just a baller. He crushes people every time he gets his hands on them. And those two are really going to have to step up next year when me and Ryan are gone and I think they will. Him, between Maverick and Tyrone, all of those guys. We have it set up to where the offensive line is not going to be a problem for a couple of years."
Maverick Morris
"Intelligent. He's another guy that has moved around. Now, he's playing right guard, really, really embraced it. I think it's better for him. He's a bigger body guy to where he can move around in less space and really handle guys. He's so strong. Good grip. He's going to have a good year."
Noah Green
"Athletic. He's one of those guys right now. His body - he's around 270-275 range. He can dunk a basketball, do all of these things, run like a deer. He's really just got to embrace the weight gaining role like me and Isaiah have done these last couple of years. But I think he will. He's eating six times a day. He came up to me knowing I've gained all of that weight and asked me what to do. I think he's really embraced it now. Now it's just a matter of time."
Zach Giella
"Consistent. He's been a guy that you know he's going to come out and you know what you're going to get from him every day. He's going to snap the ball well and he's going to do his job."
Jake Fruhmorgen
"Athletic as well. He's a guy, me and Ryan would always watch film of the guys when he was in high school. And, his kick step was so pretty. He looked like he was in the NFL already. And nothing's changed when he got here. He's on the lighter side as well, but holding his own out there. His kick step is amazing. Just gotta do the little things."
Mitch Hyatt
"Leader. He is really a guy that will step out there. He's not afraid to go against your best guy. I think one day he will be a team captain. He will be a guy that people will look up to. I think he needs to do a little more talking and really embrace his leadership role because I don't think he knows he is one yet. But, he will be soon."
Mac Lain said the offensive line has created a brotherhood that has caused a unique unity.
"It's just that brotherhood that we've developed over a four to five year period," he said. "You know we all have known each other for so long things just gel. The offense the way we step, the way we block. Everyone knows how everyone does it and it's just going to be a special year I think. That brotherhood like I was telling you about man. Just in the weight room, in the field room, walking around campus, going out to eat, we're always together, no matter what we are doing. We really have embraced that unity as an offensive line and I think that is something that has been different here. There is always cliques that form on a football team. Well, the offensive line has formed a clique of its own and it's going to be a special thing."
He then said that the top five know the youngsters have the talent to push their way into playing time.
"I think they are definitely athletic enough to where they can push some guys," Mac Lain said. "We know that no position is safe at any time, that's how we recruit here. It's a good thing to have that. If you have a bad day someone is going to step up and they are probably going to have a good day. That's just the way you have to handle your career. Everything you do, people are going to be coming for your job. These guys are no different. They are young, they're ready, and they just want to fight. It's fun."