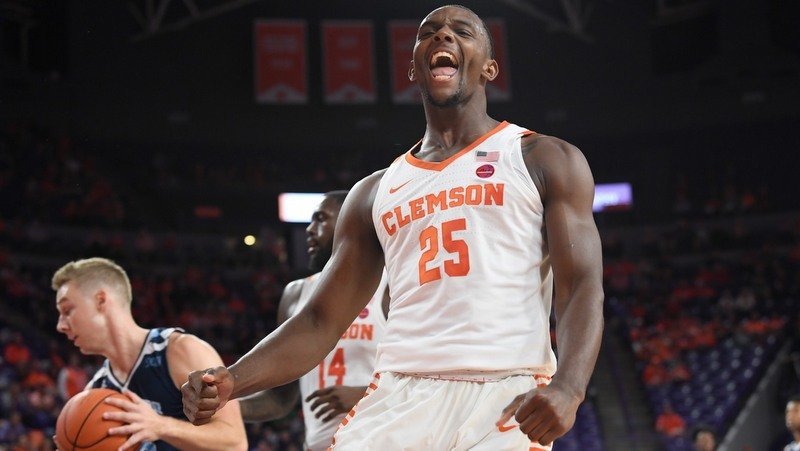 | | |
| --- | --- |
| Century Mark: Reed scores 20 as Tigers hit 100 in win over Bulldogs | |
---
| | | |
| --- | --- | --- |
| Tuesday, November 6, 2018, 10:05 PM | | |
CLEMSON – Marcquise Reed scored a team-high 20 points and gathered in a career-high 13 rebounds as No. 22 Clemson opened the season with a 100-80 victory over The Citadel in Littlejohn Coliseum Tuesday evening.
David Skara scored eight points in the final four minutes as part of an 11-point night. Shelton Mitchell and Aamir Simms each scored 16 for the Tigers. Elijah Thomas had nine rebounds in his return from an ankle injury. Clyde Trapp scored a career-high 13 points.
Clemson head coach Brad Brownell said he was proud of Trapp's contributions and impressed with Thomas' determination to play after suffering an ankle injury.
"It was great to see Clyde (Trapp) come off the bench and play well. That was very valuable," Brownell said after the game. "David Skara was in foul trouble, which was hard for us. I'm very proud of Eli. I didn't know if he'd be able to go today. He practiced about 20 minutes yesterday and then he came to me during shootaround and said, 'I want to try.' The doctors said it was a bone bruise. The turned ankle is fine but the bone bruise is extremely painful. To get 24 minutes out of him, that was about the most I was going to use him and about six or eight more than I thought I would. It would've been hard to win without him."
The Tigers had never scored more than 95 points under Brownell, and the 100 points are the most since scoring 102 in Oliver Purnell's last season.
Clemson has won 34 straight home openers dating back to the 1985- 86 season. The Tigers now lead the overall series with the Bulldogs 61-22. Clemson has won 16 straight contests against the Bulldogs dating back to the 1980-81 campaign.
The last Bulldog victory in the series came on Jan. 6, 1979, a 58-56 win in Charleston. The Citadel last won in Clemson on Jan. 2, 1969 (73-72). The Bulldogs are now 0-52 all-time against ranked opponents.
The victory is the 150th for head coach Brad Brownell at Clemson. Brownell is third all-time in Clemson history with 150 wins - just seven shy of surpassing Bill Foster (1975-84) for second all time. Last season, Brownell earned his 300th career victory.
Brownell said he was happy with the win, especially considering the difficult style of play that The Citadel employs.
"I'm very happy with our win tonight. The Citadel is a hard team to play - unique style, 40 minutes of zone. It felt like 40 minutes of press," Brownell said after the game. "Five different defenses. Half court with three different presses. At the beginning of the year, you haven't practiced for all of it all of the time. I thought our guys did a really good job of handling the ball, especially against the press. I don't think we really had a bad possession at all. I think we got more out of that than they probably would've liked. I thought they were hard to guard initially. They got off to a good start and got a little rhythm, but I thought we did a little bit better. I thought we had some silly plays in the second half defensively where we fouled them and let them hang around."
The Tigers started the second half with a 9-0 run. Simms drilled a 3-pointer, followed by a Reed 3-pointer and Thomas dunk to extend the Clemson lead to 57-40 barely two minutes into the second half. The Bulldogs called a timeout, but Sims quickly hit a free throw that made it 58-40.
The Tigers had a couple of chances to extend the lead, but fouls and ill-advised shots by the Tigers kept the Bulldogs close, and it was 68-56 when Shelton Mitchell buried a 3-pointer with just over 11 minutes remaining that made it 71-56.
A few minutes later, Mitchell hit two free throws and the Tigers held the biggest lead of the night at 75-58. The teams traded baskets over the next few minutes and then the Bulldogs went on a 7-0 run over a 1:12 span that trimmed the Clemson lead back to single digits at 80-71 with six minutes to play.
The fouls began to pile up for both teams, but David Skara hit back-to-back baskets that put Clemson back in front by 15 at 91-76 with just under four minutes remaining. Skara hit a 3-pointer with 1:45 remaining that made it 96-78 and effectively put the game out of reach.
The Bulldogs hung tough in a first half that saw them shoot 18 3-pointers and make seven. The teams were tied six times in the first 10 minutes, the last time at 24-all after a Hunter Tyson free throw. The Tigers held a 34-31 lead before going on an 8-0 run that was part of a 13-3 spurt that covered three minutes.
John Newman hit a three from the top of the key with 1:56 to play in the half and Clemson led 47-34. The Bulldogs didn't go away quietly, however, and the Tigers led just 49-40 at intermission.
Clemson returns to action Friday night, hosting North Carolina Central at 7 pm.