TigerNet

is the oldest and largest Clemson Community online with 151,991 members, 57,593 news articles and 28M forum posts.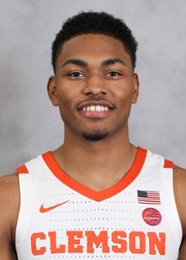 #0
Clyde Trapp
Guard
| | |
| --- | --- |
| Position: | Guard |
| Ht./Wt.: | 6'4", 203 lbs |
| Hometown: | Eastover, SC |
| High School: | Lower Richland HS |
| Class: | Senior |
| Exp: | 3VL |
| Years: | 2017 - 2020 |
| Major: | Undeclared |
B I O
2019-20


Returned from an ACL tear suffered on June 29, 2019 and made his first appearance on the court on Dec. 20, 2019 against Jacksonville.


Appeared in 21 games and made 19 starts, averaging 6.0 points, 3.9 rebounds and 2.5 assists per game in 25.6 minutes per contest.


Improved his rebounding by 0.5 rebounds per game to nearly four boards per contest.


Matched his career-high points per contest of 6.0 – scored 126 points in 21 games.


Best Games, 2019-20



Made his season debut with four points and two assists in 12 minutes against Jacksonville (Dec. 20).


Averaged 10.0 points, 2.5 rebounds and 2.0 assists over his next two contests, including 13 points on 4-for-8 shooting and 3-for-5 shooting from deep against Miami (Dec. 31).


Enjoyed a career-best game against Syracuse (Jan. 28). He scored a career-high 17 points, grabbed a career-high nine rebounds and dished out a career-high six assists in a one-point win over the Orange.


He finished 6-for-9 from the floor, including 4-for-7 from 3-point range. He added in two steals and a blocked shot.


On the final play of the game against Syracuse, Trapp ran down the far sideline while teammate Khavon Moore pushed the ball into the front court and at about the free throw line, Moore found a back-cutting Trapp for the game-winning layup.


Nearly notched his first career double-double with a 10-point, nine-rebound output in the Tigers' second Top-5 win of the season against Louisville (Feb. 15).


2018-19



Appeared in 34 games and made seven starts.


Improved his minutes played by nearly 16.0 per game (7.8 to 24.0 per game).


Improved his shooting percentage by nearly 10.0 percent (39.0 percent to 39.9 percent).


Finished the season with a career-high 114 rebounds, 15 coming on the offensive glass.


Tallied a career-best assist total of 54 and swatted a career-high eight shots.


Collected a career-high 28 steals.


Improved scoring average from 1.8 points per game to 6.0 points per contest.


Scored over 200 points.


Best Games, 2018-19



Scored a then-career-high 13 points on 4-for-8 shooting from the floor against The Citadel (Nov. 6).


Posted a team-best four-straight 3-point makes between games against Creighton (Nov. 21) and Nebraska (Nov. 26).


Season-high-tying three steals against the Bulldogs.


Season-high-tying seven rebounds against Saint Peter's (Dec. 4).


Put together three double-digit scoring games in four contests with 11 against Radford (Dec. 15), 10 at South Carolina (Dec. 22) and 11 against Lipscomb (Dec. 30).


First career start came against Radford.


Scored a career-high 16 points in a home win against Pittsburgh (Jan. 29).


Finished 4-for-8 from the floor, including 4-for-7 from distance and 4-for-6 from the foul line in 31 minutes of action against the Panthers.


Averaged 8.0 points in back-to-back games at Miami (Feb. 13) and at Louisville (Feb. 16), while finishing a perfect 7-for-7 from the floor in those contests. That marked a season-high seven consecutive makes.


Posted 15 points and five rebounds in 30 minutes against North Carolina (March 2).


Finished 4-for-8 from the floor and 3-for-6 from 3-point range.


Also finished a perfect 4-for-4 from the foul line against the Tar Heels.


Played a career-high 37 minutes against Wright State in the first round of the NIT (March 19).


Scored 12 points on 4-for-8 shooting from the floor, while finishing 2-for-3 from distance and the foul line – adding four rebounds and two assists in the contest.


2017-18 



Appeared in 29 games for the Tigers, all as a reserve.


Averaged 7.8 minutes per contest.


Posted 1.8 points and 0.7 rebounds per game.


Tallied 17 assists, two blocks and two steals, while scoring 53 points.


Finished 39.0 percent from the floor, including 33.3 percent from three and 73.7 percent at the free throw line.


Best Games, 2017-18 



Played 11 minutes in his collegiate debut in the season opener against Western Carolina and scored four points, grabbed two rebounds and tallied one assist.


Notched a career-high 28 minutes against Texas Southern and grabbed a season-high four rebounds.


Scored a career-high seven points in 14 minutes against UNC Asheville.


Played 20 minutes (career-high in an ACC game) against Pittsburgh and finished with three points.


Finished a perfect 3-for-3 on two occasions against UNC Asheville and Louisiana-Lafayette.


Appeared in two NCAA tournament games – playing a combined 13 minutes.


Before Clemson



Rated the No. 4 prospect in the state of South Carolina by 247 Sports.


Top-200 prospect nationally according to 247 Sports as well.


Led Lower Richland High School to a AAAA state championship, where he scored 16 of his team-high 20 points in the fourth quarter.


Performed well at the 2016 Chick-fil-A Classic in Columbia.


Posted 29 points, five rebounds and four steals on Dec. 20 and followed two days later with a 20-point, nine-rebound effort.


Played in two showcase games following his senior season, the Carolinas All-Star Classic and Capital City Classic.


Produced 28 points and was named MVP for the South Carolina team in the Carolinas Classic in Myrtle Beach.


Scored team-high 31 points in Capital City Classic.


Offensive MVP of the Big Shots SC Top 100 event in September 2016.


Averaged 13 points per game for Lower Richland as a junior.


Chose Clemson over Charlotte, Georgia Tech and South Carolina.


Personal



Born December 23, 1998 (turns 22 during the 2020-21 season).


Majoring in Sports Communications.


*Courtesy Clemson Media Guide
| | |
| --- | --- |
| | VIDEO HIGHLIGHTS |
Latest Clyde Trapp News
Click the link below to read more!