| | |
| --- | --- |
| Young defensive linemen impressive as camp hits day two | |
---
| | |
| --- | --- |
| Wednesday, August 5, 2015 8:24 PM | |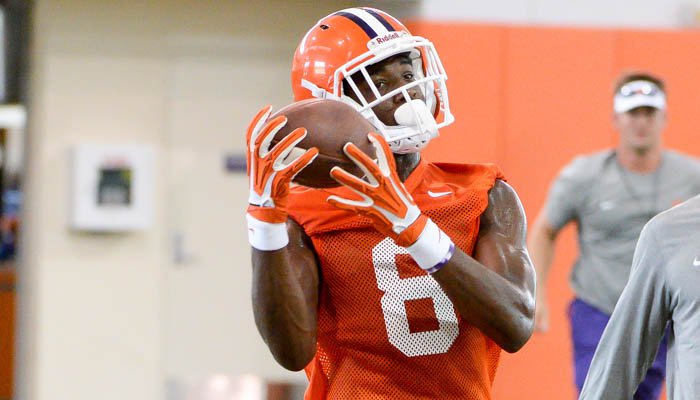 CLEMSON – Clemson's defensive line is going to be just fine.
The Tigers lost every starter from last year's front four, and there are concerns heading into the season that depth might be an issue. At this point, it looks like experience is the only issue as the defensive linemen were front and center during Wednesday afternoon's practice.
We've talked about Christian Wilkins

Christian Wilkins
Fr. Defensive Tackle
#42 6-5, 305
Longmeadow, CT
View Full Profile at defensive tackle – he's just in a different class – but D.J. Reader

D.J. Reader
Defensive Tackle (2012 - 2015)
#48 6-2, 325
Greensboro, NC
View Full Profile and Carlos Watkins

Carlos Watkins
RS Jr. Defensive Tackle
#94 6-3, 295
Mooresboro, NC
View Full Profile are impressive at the tackle spots, and Kevin Dodd

Kevin Dodd
RS Jr. Defensive End
#98 6-5, 275
Taylors, SC
View Full Profile looks the part of the experienced defensive end. Shaq Lawson

Shaq Lawson
Jr. Defensive End
#90 6-3, 269
Central, SC
View Full Profile ? He's on another level right now.
But it's the younger players that we keep noticing, and there are a lot to be noticed. Richard Yeargin

Richard Yeargin
RS Fr. Defensive End
#49 6-4, 225
Lauderdale Lakes, FL
View Full Profile went through the bag drills like a man on a mission and whipped more than one offensive lineman in 1-on-1's. He's fast and big.
Clelin Ferrell

Clelin Ferrell
Fr. Defensive End
#99 6-5, 220
Richmond, VA
View Full Profile , Gage Cervenka

Gage Cervenka
Fr. Defensive Tackle
#95 6-3, 275
Greenwood, SC
View Full Profile , Jabril Robinson

Jabril Robinson
RS Fr. Defensive Tackle
#50 6-3, 255
Leland, NC
View Full Profile and Scott Pagano

Scott Pagano
RS So. Defensive Tackle
#56 6-3, 295
Honolulu, HI
View Full Profile also had their bright moments today, as did Austin Bryant

Austin Bryant
Fr. Defensive End
#91 6-4, 250
Pavo, GA
View Full Profile and Chris Register

Chris Register
RS Fr. Outside Linebacker
#45 6-2, 245
Browns Summit, NC
View Full Profile . This group looks like they are in great shape, and despite their youth this is one of the best-looking groups of defensive linemen I've seen.
Other notes
*Linebacker Korie Rogers

Korie Rogers
RS Fr. Outside Linebacker
#43 6-2, 235
Buford, GA
View Full Profile was in a yellow jersey and spent the practice jogging around the practice fields. Quarterback Tucker Israel

Tucker Israel
Fr. Quarterback
#10 5-11, 190
Orlando, FL
View Full Profile was in walking boot but stood with the quarterbacks during drills.
*Offensive lineman Jay Guillermo

Jay Guillermo
RS Jr. Center
#57 6-3, 310
Maryville, TN
View Full Profile didn't take many snaps at the center spot. He spent the practice working with the guards while Justin Falcinelli

Justin Falcinelli
RS Fr. Offensive Tackle
#50 6-3, 305
Middleton, MD
View Full Profile worked at second-team center. Starter Ryan Norton

Ryan Norton
RS Sr. Offensive Line
#58 6-3, 285
Simpsonville, SC
View Full Profile said that Falcinelli has been the offensive lineman that has surprised him the most. "Mark my words. He's going to be really, really good," Norton said.
*Opposing fan bases like to think of Dabo Swinney

Dabo Swinney
Head Coach
View Full Profile as a nice guy or a cheerleader. They should come to a Clemson practice, where the head coach side is on full display. More than one player felt Swinney's ire and wrath Wednesday, especially when the second-team offense didn't move onto the field as quick Swinney would have liked. "We are not going to hold up a sign that says it's your turn," Swinney screamed at one point. "Get out there!"
*Defensive tackle Scott Pagano looks more agile and looks like he moves around better than he has at any time during his first few years here. Pagano's size makes you take notice, but it is his agility that really catches your eye.
*Offensive line coach Robbie Caldwell

Robbie Caldwell
Assistant Coach / Offensive Line
View Full Profile also has a reputation as laid-back, everybody's Grandpa kind of guy. He's another one that's fun to watch coach. He is as intense as anybody out there, and it looks like this group of young players has him rejuvenated.
*After spending much of Tuesday's practice on the second team, right guard Tyrone Crowder

Tyrone Crowder
RS So. Offensive Guard
#55 6-2, 330
Marston, NC
View Full Profile was back with the first team Wednesday.
*Receiver Mike Williams

Mike Williams
Jr. Wide Receiver
#7 6-4, 210
Vance, SC
View Full Profile had one of the better catches of the day, going up and over Denzel Johnson

Denzel Johnson
RS Fr. Cornerback
#14 6-2, 190
Columbia, SC
View Full Profile for an acrobatic catch.
*Another great catch was by freshman Deon Cain

Deon Cain
Fr. Wide Receiver
#8 6-1, 190
Tampa, FL
View Full Profile , who reached back for a throw that was late and behind him. He snagged the ball one-handed before landing on his back. Every time I see him, I think A.J. Green.
*Swinney doesn't mind becoming a wide receivers coach. He took time with senior Charone Peake

Charone Peake
Gr. Wide Receiver
#19 6-2, 205
Moore, SC
View Full Profile during part of Wednesday's practice and then makes sure to talk to each receiver at some point.
*Despite the fact that there weren't pads on, freshman left tackle Mitch Hyatt

Mitch Hyatt
Fr. Offensive Line
#75 6-6, 270
Sugar Hill, GA
View Full Profile and defensive lineman Clelin Ferrell had a nice dust-up midway through practice. Hyatt had gotten beat a few plays earlier (badly) by Shaq Lawson (who is beating everybody) and it was obvious he needed to respond. The two players had the other by the throat and went to the ground. It was quickly broken up by the coaches.
*During the last couple of years, Swinney has always said that he wished it would be hotter during fall camp. Well, this year he got his wish as we've had two of the hottest days of the summer. It's been so hot that senior offensive lineman Eric Mac Lain told me he lost 14 pounds yesterday.

Tags:
Ryan Norton
,
Charone Peake
,
Jay Guillermo
,
Kevin Dodd
,
Carlos Watkins
,
Shaq Lawson
,
D.J. Reader
,
Mike Williams
,
Tyrone Crowder
,
Scott Pagano
,
Chris Register
,
Korie Rogers
,
Justin Falcinelli
,
Richard Yeargin
,
Jabril Robinson
,
Mitch Hyatt
,
Austin Bryant
,
Deon Cain
,
Tucker Israel
,
Gage Cervenka
,
Clelin Ferrell
,
Christian Wilkins
,
Denzel Johnson
,
Robbie Caldwell