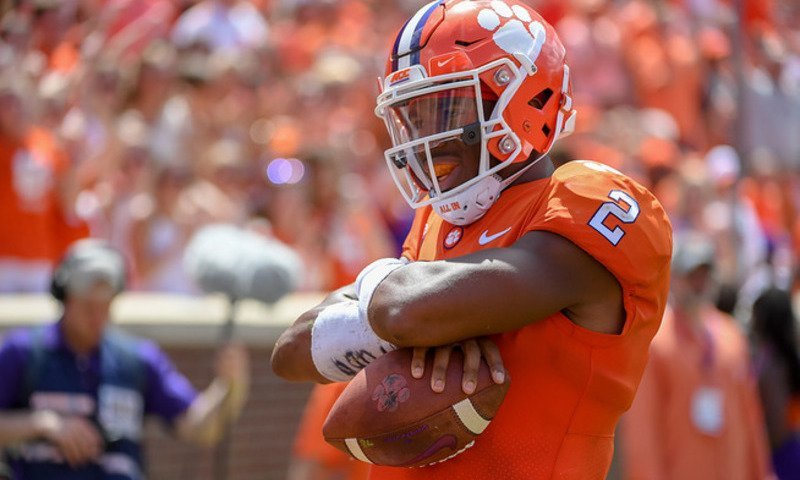 | | |
| --- | --- |
| Kelly Bryant: "Thankful for everything Clemson has done for me" | |
---
| | | |
| --- | --- | --- |
| Thursday, October 18, 2018, 9:46 AM | | |
Former Clemson quarterback Kelly Bryant has scheduled a visit to Arkansas this weekend and consequently was interviewed by Bo Mattingly on the "Sports Talk with Bo" show Wednesday afternoon.
Arkansas is coached by former Clemson offensive coordinator Chad Morris, who Bryant knows very well.
"He's the guy who recruited me to Clemson, so that relationship is real strong," Bryant said of Morris. "I've been talking to him. It just seems like we're picking up right where we left off when I was coming out as a senior in high school."
Bryant believes that Morris is a player's coach and also an honest man.
"The guy is so knowledgeable," Bryant said. "He brings so much enthusiasm to coaching, how he coaches his players. Who wouldn't want to play for a coach like that? He's all about the players, and all about finding those little things to get better. When I was going through the recruiting process, he was honest with me. He told me he didn't know how long he was going to be there."
Bryant appreciates everything that Clemson did for him the last four years.
"It was just a decision I had to make on my own as a man. No matter what decision I made, I was going to have to live with it," Bryant said. "I'm thankful for everything Clemson has done for me. I wouldn't be where I am today if I hadn't gone through my four years there at Clemson. It was a decision I had to make. Of course, I didn't want anybody outside of me to influence me. It was my decision. I'm on to the next chapter of my life. I'm just trying to find a new home for me in this next year."
Bryant was 16-2 as a starter at Clemson, throwing for 3,338 yards with 16 touchdowns and 10 interceptions and another 16 touchdowns rushing.