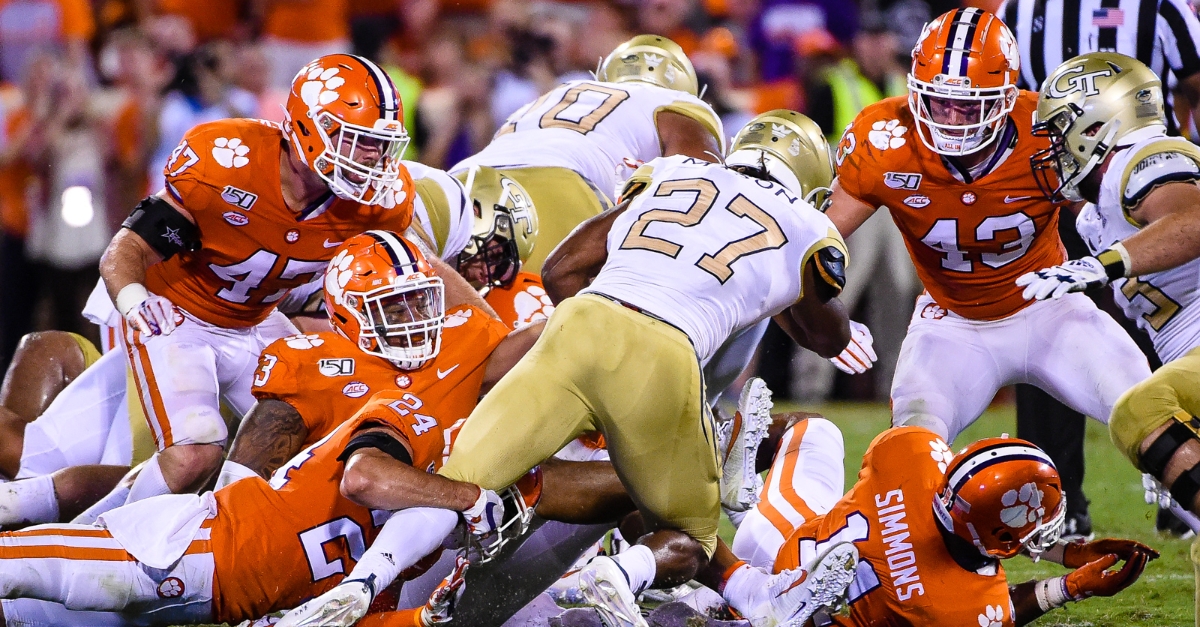 | | |
| --- | --- |
| Swinney confident in depth, performance of Clemson defense back-7 | |
---
| | | |
| --- | --- | --- |
| Monday, September 2, 2019, 9:31 PM | | |
Clemson coach Dabo Swinney regarded the back-seven of the No. 1 Tigers' defense as a strength this season.
The effort in the 52-14 win over Georgia Tech on Thursday only confirmed that.
"I'm really pleased with the back-seven," said Swinney on his call-in show Monday. "I said before the season that I thought our back-seven could be as good as we've had as a group. We're going to end up pretty good upfront but we're just young and got to go play and get better with some experience. On the back-seven, we bring a lot to the table out of the gate."
Isaiah Simmons, who tallied 10 stops Thursday, and freshman defensive tackle Tyler Davis took home team defensive MVP honors.
"Great to see Isaiah get co-player of the game for us and get off to a great start," Swinney said. "And Chad Smith did a nice job in his first start. So it was good. To see Baylon (Spector) play like he did and Jake Venables - he was kinda like Davis Allen. He had not scrimmaged and that was his first live football since the spring because he had been out with a hamstring (injury). To get him back in there and get him going -- he's going to be a great player for us. Mike Jones got extensive experience -- made a couple mistakes but those six guys got good work...We're excited about (Keith Maguire), Kane Patterson and (LaVonta) Bentley -- about what all those guys bring to the table."
Swinney says the strength of the secondary starts with the safeties.
"Nolan Turner, he was up for MVP," said the Tigers head coach. "He had an unbelievable game...Tanner Muse played very well. He's just a savvy vet. K'Von Wallace is another incredibly experienced guy and he gave up the one play but that was just a technique issue. He's played so much winning football for us. Denzel (Johnson) came up with the interception. We've got four guys at safety that we think could play for anybody in the country.
Cornerback is another spot where Swinney sees depth.
"It's a huge luxury to have that depth and versatility on the back end with some of those guys...And the same thing at corner," said Swinney. "DK (Derion Kendrick) -- they asked me how he played and I said I didn't even notice him so I guess he played well. And he did. He did a nice job. He will have a whole different challenge this week. These guys are going to come after him...Hard to find a better guy in the country as A.J. Terrell.
"And the same thing as safety, we've developed some really quality depth there at corner. Guys that we trust. Super-excited about Mario Goodrich and where he is with his development and the same thing with Sheridan (Jones) and Andrew Booth. It's just a matter of time before he comes on and LeAnthony (Williams) has had a good camp for us. We've got good depth in the secondary and some versatility...
"I'm confident in those guys. If we can minimize the big-play bust, then we're going to have a chance to be a really good defense. That starts with being structurally sound and positioned right on the back-end...Those guys are off to a good start."

Tags: Clemson Football
,
Isaiah Simmons
,
Tyler Davis
,
Chad Smith
,
Jake Venables
,
Davis Allen
,
Keith Maguire
,
Kane Patterson
,
Nolan Turner
,
Tanner Muse
,
K'Von Wallace
,
Derion Kendrick
,
Mario Goodrich