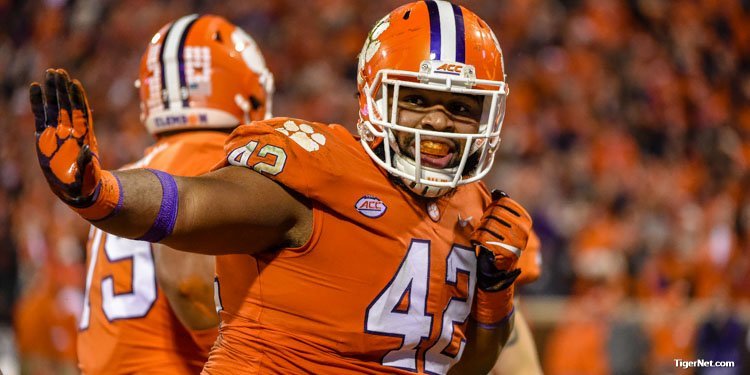 | | |
| --- | --- |
| Seven Tigers named to 2018 All-ACC Academic team | |
---
| | | |
| --- | --- | --- |
| Wednesday, January 30, 2019, 2:13 PM | | |
GREENSBORO, N.C. (theACC.com) — Atlantic Coast Conference Jim Tatum Award winner and National Football Foundation Campbell Trophy recipient Christian Wilkins of Clemson headlines the 70-member 2018 All-ACC Academic Football Team, announced Wednesday by the league office.
Minimum academic requirements for selection to the All-ACC Academic Team are a 3.0 grade point average for the previous semester and a 3.0 cumulative average during one's academic career. Athletic achievements during the most recent season are also considered in selecting the All-ACC Academic Team.
All 14 ACC Football member institutions were represented on the team. Duke led all schools with 12 selections, followed by Georgia Tech (8), Clemson (7), Pitt (6), Syracuse (6), Virginia (6), NC State (5), Boston College (4), Louisville (4), Wake Forest (4), Miami (3), Virginia Tech (2), Florida State (2), and North Carolina (1).
The ACC has selected an All-ACC Academic Football Team every year since 1954. The team was chosen from a pool of ACC football student-athletes who were nominated by their schools.
Wilkins, who helped lead Clemson to a 15-0 mark and the 2018 National Championship, was selected to the All-ACC Academic Team for the fourth time in his career. He becomes the 28th student-athlete to accomplish the feat.
Twenty-one members of the All-ACC Academic Football Team also earned some form of all-conference recognition. Wilkins, Boston College tight end Tommy Sweeney, Duke linebacker Joe Giles-Harris, Georgia Tech offensive guard Parker Braun, NC State quarterback Ryan Finley and center Garrett Bradbury, and Syracuse place-kicker Andre Szmyt were first-team all-conference.
The ACC Honor Roll, which recognizes all conference student-athletes with a grade point average of 3.0 for the current academic year, will be released in July.
2019 All-ACC Academic Football Team
Zach Allen***, Boston College, DE, Sr, Finance
Jon Baker, Boston College, OL, Gr., Management
Ray Smith, Boston College, DT, Sr., Communication
Tommy Sweeney, Boston College, TE, Gr., Sports Administration
Adam Choice, Clemson, RB, Gr., Human Resource Development
Justin Falcinelli**, Clemson, C, Gr., Business Administration
Kendall Joseph, Clemson, LB, Gr., Athletic Leadership
Trevor Lawrence, Clemson, QB, Fr., Pre-Business
Sean Pollard**, Clemson, OL, Jr., History
Amari Rodgers, Clemson, WR, So., Sports Communication
Christian Wilkins****, Clemson, DT, Gr., Athletic Leadership
Brittain Brown, Duke, RB, So., Computer Science and Sociology
Michael Carter II, Duke, CB, So., Undeclared
Rakavius Chambers, Duke, OG, So., Undeclared
Joe Giles-Harris**, Duke, LB, Jr., Cultural Anthropology
Quentin Harris, Duke, QB, Jr., Public Policy
Daniel Helm**, Duke, TE, Sr., Masters of Engineering Management
Ben Humphreys***, Duke, LB, Sr., Public Policy
Daniel Jones***, Duke, QB, Jr., Economics
Davis Koppenhaver**, Duke, TE, Sr., Masters in Management Studies
Johnathan Lloyd***, Duke, WR, Sr., Masters in Liberal Studies
Chris Taylor***, Duke, WR, Sr., Masters in Management
Marquis Waters, Duke, S, So., Sociology
Tre' McKitty, Florida State, TE, So., Criminology
Jaiden Woodbey, Florida State, LB, Fr., International Affairs
Parker Braun***, Georgia Tech, OG, Sr., Literature, Media & Communication
Jalen Johnson, Georgia Tech, LB, Gr., Building Construction
Andrew Marshall, Georgia Tech, OT, Gr., Building Construction
Brant Mitchell, Georgia Tech, LB, Sr., Business Administration
Malik Rivera, Georgia Tech, FS, Gr., Quantitative and Computational Finance
Tre Swilling, Georgia Tech, DB, So., Business Administration
Brad Stewart***, Georgia Tech, WR, Sr., Mechanical Engineering
Wesley Wells, Georgia Tech, PK, Fr., Business Administration
CJ Avery, Louisville, LB, So., Sports Administration
Seth Dawkins**, Louisville, WR, Jr, Sports Administration
Mason King**, Louisville, P, Jr., Communication
Cornelius Sturghill, Louisville, CB, Gr., MBA
Travis Homer, Miami, RB, Jr., Management
Jaquan Johnson, Miami, DB, Sr., Human and Social Development
Hayden Mahoney, Miami, OL, Jr., Management
Nick Polino, North Carolina, OG, Jr., Economics
Garrett Bradbury***, NC State, C, Gr., Youth Development/Leadership
A.J. Cole, III**, NC State, P, Sr., Industrial Engineering
Ryan Finley***, NC State, QB, Gr., Postgraduate courses
James Smith-Williams, NC State, DE, Jr., Business Supply Chain Operations
Thayer Thomas, NC State, WR, R-Fr., Management
Rafael Araujo-Lopes**, Pitt, WR, Gr., Governance & International Public Management
Dennis Briggs, Pitt, DB, Gr., Business Administration
Kirk Christodoulou, Pitt, P, R-Fr., Finance
Connor Dintino, Pitt, OL, Gr., Business Administration
Darrin Hall**, Pitt, RB, Sr., Health and Physical Activity
Jimmy Morrissey**, Pitt, OL, So., Finance & Marketing
Cody Conway, Syracuse, OT, Sr., Sport Management
Ryan Guthrie, Syracuse, LB, Sr., Communication and Rhetorical Studies
Koda Martin, Syracuse, OT, Gr., Instructional Design, Development, and Evaluation
Airon Servais**, Syracuse, C, So., Health & Exercise Science
Andre Szmyt, Syracuse, PK, R-Fr., Undecided
Kielan Whitner, Syracuse, LB, Sr., Accounting
Marcus Applefield, Virginia, OT, Sr., Educational Psychology
Evan Butts**, Virginia, TE, Sr., Higher Education
Lester Coleman**, Virginia, P, Sr., Public Policy
Jordan Mack**, Virginia, LB, Jr., Youth & Social Innovation
Joe Reed, Virginia, WR, Jr., American Studies
Dillon Reinkensmeyer**, Virginia, C, So., Global Studies
Dax Hollifield, Virginia Tech, LB, Fr., Human Nutrition, Foods & Exercise
Zachariah Hoyt, Virginia Tech, OL, So., Accounting & Information Systems
Cade Carney, Wake Forest, RB, Jr., Communication
Alex Bachman, Wake Forest, WR, Sr., Communication
Luke Masterson**, Wake Forest, DB, Jr., Economics
Sage Surratt, Wake Forest, WR, R-Fr., Undeclared