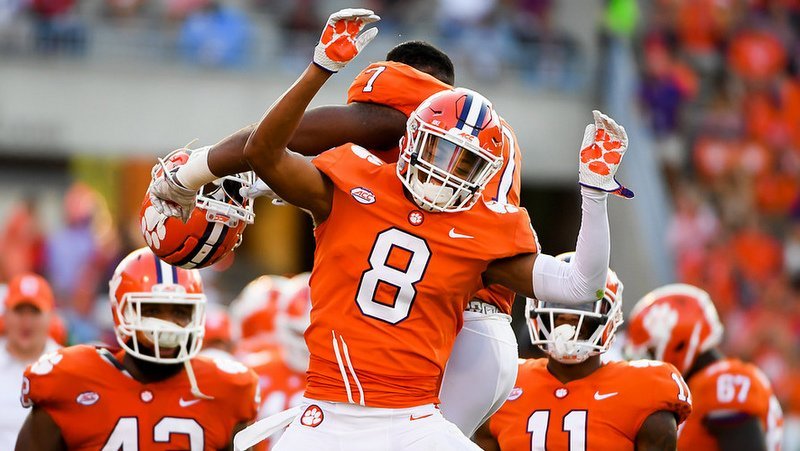 | | |
| --- | --- |
| Clemson among leaders in production returning for CFP contenders | |
---
| | | |
| --- | --- | --- |
| Thursday, January 31, 2019, 2:11 PM | | |
With NFL draft departures in, there's now a clearer picture at the 2019 returning group across college football.
SB Nation tabulated the returning production for each FBS school and Clemson compares favorably to some of the top schools from last season.
Per the S&P+ formula, Clemson has the third-most returning overall among top-10 teams from last year and the best group from 2018 College Football Playoff teams.
Factored into one aspect of early projections for 2019, SB Nation pegs Clemson as third-best in adjusted points per game (+30.2), behind Alabama (+36.7) and Georgia (+33.2) and home out-of-conference opponent Texas A&M would also crack the top-15 in the category.
Clemson is 53rd overall in returning production, which is a bit back from its 2018 ranking (28th). Clemson was also third-best in returning production among 2017 top-10 teams last year, behind Washington and UCF.
Two 2019 Clemson opponents rank in the top-25 in production back with Florida State (13th; 33rd on offense and 17th on defense) and Louisville (24th; 49th on offense and 18th on defense). Four teams rank in the bottom-30, including two 2018 nine-win teams in Texas A&M (102nd; 71st on offense and 108th on defense) and NC State (109th; 129th on offense and 31st on defense).
Clemson brings back 17 on offense who averaged double-digit snaps, including a leading returner in passing (Trevor Lawrence - 3,280 yards/30 TDs-4 INTs), rushing (Travis Etienne - 1,658 rushing yards/24 TDs) and receiving (Justyn Ross - 1,000 receiving yards/9 TDs). Clemson returns 10 who averaged double-digit snaps on defense, including the two leaders in plays a game in AJ Terrell (805) and Isaiah Simmons (780).
2019 FBS opponents (2018 record) - returning production ranks
Florida State (5-7) - 13th (33rd on offense; 17th on defense)
Louisville (2-10) - 24th (49th on offense; 18th on defense)
North Carolina (2-9) - 35th (15th on offense; 76th on defense)
South Carolina (7-6) - 45th (51st on offense; 64th on defense)
Charlotte (5-7) - 51st (78th on offense; 50th on defense)
Wake Forest (7-6) - 61st (92nd on offense; 37th on defense)
Syracuse (10-3) - 64th (93rd on offense; 40th on defense)
Texas A&M (9-4) - 102nd (71st on offense; 108th on defense)
NC State (9-4) - 109th (129th on offense; 31st on defense)
Boston College (7-5) - 110th (50th on offense; 128th on defense)
Georgia Tech (7-6) - 119th (115th on offense; 97th on defense)
Top-6 from 2018 top-10 S&P+ ranked by production returning
LSU (15th)
Florida (26th)
Clemson (53rd)
Oklahoma (57th)
Ohio State (62nd)
Alabama (63rd)