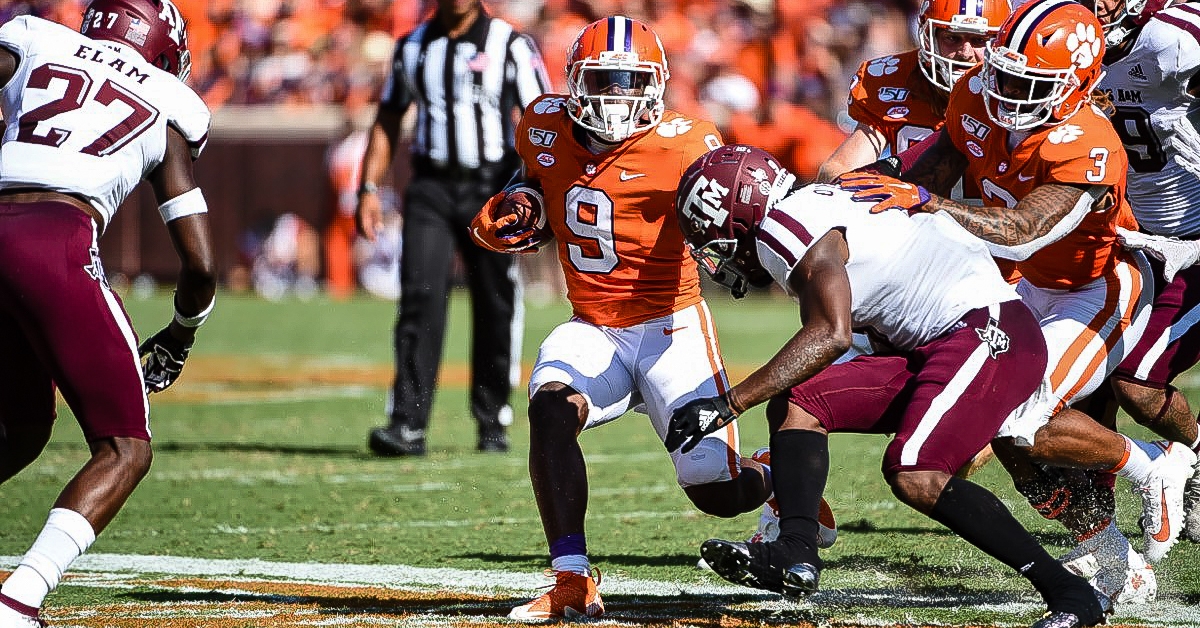 | | |
| --- | --- |
| Advanced outlook: Clemson-Florida State projections | |
---
| | | |
| --- | --- | --- |
| Wednesday, October 9, 2019, 1:17 PM | | |
Florida State enters Clemson's Death Valley as big an underdog as it's been in the last 40 years, according to ESPN, as a near four-touchdown dog (27). 
Dabo Swinney's Tigers return to Memorial Stadium after escaping Chapel Hill with a one-point win with a similar final Vegas spread (-27.5). 
Projections based on the Atlantic Division rivals' five games so far see at least a three-touchdown spread for the action on Saturday (3:30 p.m. kickoff; ABC).
Here's how the teams shape up going in:
Efficiency ranks: Offense | Defense | STs
CU SP+ ranks (No. 8 overall): 15 | 10 | 64
FSU SP+ ranks (No. 45 overall): 22 | 78 | 74
CU ESPN ranks (No. 7 overall): 14 | 2 | 101
FSU ESPN ranks (No. 63 overall): 44 | 76 | 66
(SP+ is a metric from ESPN's Bill Connelly, formerly of Football Outsiders and SB Nation, that combines ratings for the five factors of efficiency, explosiveness, field position, finishing drives and turnovers.  ESPN's Football Power Index-based metric has similar statistical factors weighing together).
The Seminoles, under new offensive coordinator Kendal Briles, have a top-25-ranked offense by the SP+ thanks to a potent passing attack -- ranking 16th in yards per game there despite being 113th in sack rate allowed (24.2). That could be a problem meeting a Clemson defense rated fourth in sack rate nationally (13.8).  
In their Power 5 games - plus top-15 Boise State - Florida State QBs James Blackman and Alex Hornibrook have averaged 314.8 passing yards with 11 touchdowns to no interceptions. Clemson rates seventh nationally in pass efficiency defense and hasn't allowed more than 236 passing yards in a game this season (Texas A&M; all other games below 200 yards).
Tigers coach Dabo Swinney noted this week that despite their success throwing it -- FSU is committed to running the ball as well, with basically a 50/50 split in runs to passes. One reason for that is dynamic junior running back Cam Akers, who leads the ACC with seven rushing touchdowns with the second-most yards (582) on the second-most carries (115). He is averaging 26 touches of the ball per game and has nine total scores, with 18 runs of 10-plus yards and four runs of 20-plus yards.
That draws an interesting contrast to Clemson All-American running back Travis Etienne, who is still fourth in the ACC in rushing yards (462) despite being outside the top-10 of the conference in carries (67). He is averaging a 10-plus-yard run every 5.6 carries, compared to every 6.4 for Akers. Over the last two seasons, Etienne has averaged at 16 carries in games he reached 150 rushing yards, with a 35-point average margin of victory in what were all Power 5 games but one over seven contests. Etienne hasn't topped the 16-carry mark yet this season. 
ESPN's SP+ doesn't see Clemson covering the big Vegas spread for a second-straight game, still predicting a comfortable 21-point win. TeamRankings.com picks the Tigers to cover the number, 45-16, while the Football Outsiders' FEI is on the same track with a 32-point margin of victory. 
Metrics outlook | Prediction
SP+ projection | 89% Clemson (Tigers by 21)
ESPN FPI | 93.8% Clemson
FEI | 96.9% Clemson (Tigers by 32)
Trevor Lawrence through 5 games, UNC advanced box score
The UNC game and Clemson's interesting start on offense have provoked plenty of extra looks at the numbers.
Peering at the 21-20 win over UNC, Clemson posted below average numbers in passing success rate* (35) and rushing explosiveness (0.70 IsoPPP#). As noted in the UNC grades, Lawrence and Justyn Ross struggled to connect, with a 29 percent success rate and 6.7 yards averaged per target. The contrast is junior Tee Higgins continuing to shine, with 16.1 yards per target and a 75 percent success rate. 
CLEMSON 21, UNC 20

* Man, UNC coaxed everything it could out of the opportunities it got. 3 good drives and some good FP work nearly did the job.
* Chazz Surratt should've been playing LB his whole career!
* Clemson's efficiency numbers were better than I thought they'd be. pic.twitter.com/IdHSo5fz5d

— Bill Connelly (@ESPN_BillC) September 30, 2019
David Hood's article last week took a stab at the potential (Hunter) Renfrow Effect on the offense. Per ESPN's David Hale, there's been a pretty big dropoff in the intermediate passing game, which can be drive-killers:
Analyzing Trevor Lawrence throws by distance (h/t @ESPNStatsInfo)… He's throwing deep more and with less success (that's flukey, less a big deal) but the intermediate production is WAY off so far (which is odd bc it's really one of TL's biggest assets)… pic.twitter.com/ALSaw85HRQ

— THE™? David Hale (@ADavidHaleJoint) September 29, 2019
These numbers certainly don't look great either:
Among qualified QBs, Trevor Lawrence ranks 107th in comp% (51.5), 104th in INTs (5), 71st in passer rating (139.6), 53rd in yd/att (8.88) and 83rd in off-target rate (17.5%) on throws beyond the line of scrimmage.

— THE™? David Hale (@ADavidHaleJoint) October 9, 2019
So it hasn't been a great start, but it was around this time of year last season that Lawrence hit his stride. After the 2018 bye week, Lawrence averaged 268 passing yards with a 64 completion rate and 19 touchdowns to two interceptions. Through five games so far, he's averaged 226 passing yards with a 61.8 completion rate with eight touchdowns to five picks. 
Against an FSU defense that's had its issues, this week could very well showcase a Clemson offense bounceback with the extra time for coaches to study tendencies, both for the Seminoles and their own.
* Success rate is 50 percent of needed yards on first down, 70 percent of needed yards on second down or 100 percent needed yards on third or fourth down.
# Football Outsiders defines IsoPPP as looking at only the per-play value of a team's successful plays to separate the explosiveness component from the efficiency component.
(Split stats per CFBStats.com)