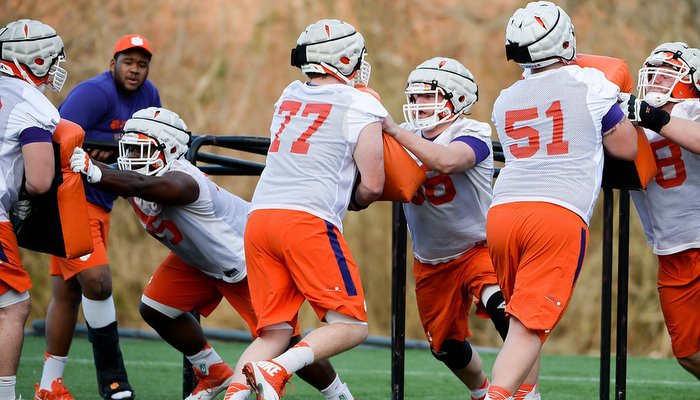 ---
| | | |
| --- | --- | --- |
| Wednesday, March 25, 2015, 7:01 AM | | |
CLEMSON – The Clemson football program is closing in on a decade since it fielded a dominant offensive line, but a mix of grizzled veterans and precocious youth might just be the building block for a return to form.
Clemson's 2006 offensive line boasted Barry Richardson

Barry Richardson
Offensive Tackle (2004 - 2007)
#79 6-7, 330
Mt. Pleasant, SC
View Full Profile , Roman Fry, Dustin Fry, Nathan Bennett and Marion Dukes, a nasty and tough bunch that was one of the bright spots in an 8-5 campaign. The Tigers entered that season with four seniors who had combined for 61 starts and a junior in Richardson who had started 19 f the 23 games he played in during his Clemson career.
Other notables on that squad were Thomas Austin

Thomas Austin
Sr. Offensive Guard
# 6-4, 310
Camden, SC
View Full Profile

Thomas Austin
Offensive Line
# 6-4, 310
Camden, SC
View Full Profile

Thomas Austin
Offensive Line
# 6-4, 285
Camden, SC
View Full Profile , Chris McDuffie, Barry Humphries

Barry Humphries
Offensive Line
# 6-3, 290
Belton, SC
View Full Profile and Brandon Pilgrim. Since that time, however, the Tigers have struggled to find the right pieces for a similar line rotation.
Will Clemson's 2015 line bring back memories of that 2006 group? That's probably too much to ask from a unit that has just 42 combined career starts – 39 of those by Ryan Norton

Ryan Norton
RS Sr. Offensive Line
#58 6-3, 285
Simpsonville, SC
View Full Profile and Isaiah Battle

Isaiah Battle
Offensive Tackle (2012 - 2015)
#79 6-7, 290
Brooklyn, NY
View Full Profile – and a plethora of players either in their first or second season.
Clemson head coach Dabo Swinney

Dabo Swinney
Head Coach
View Full Profile told the media Monday that a likely starting five – at this point – would be Battle at left tackle, Eric Mac Lain

Eric Mac Lain
RS Sr. Offensive Tackle
#78 6-4, 305
Hope Mills, NC
View Full Profile at left guard. Norton at center, Tyrone Crowder

Tyrone Crowder
RS So. Offensive Guard
#55 6-2, 330
Marston, NC
View Full Profile at right guard and Joe Gore

Joe Gore
RS Sr. Offensive Tackle
#73 6-5, 290
Lake Waccamaw, NC
View Full Profile at right tackle. Beyond those top five, however, is where the competition becomes both interesting and exciting.
Clemson signed four offensive lineman in 2015 and all four are already on campus – Mitch Hyatt

Mitch Hyatt
Fr. Offensive Line
#75 6-6, 270
Sugar Hill, GA
View Full Profile , Jake Fruhmorgen

Jake Fruhmorgen
Fr. Offensive Line
#63 6-5, 285
Tampa, FL
View Full Profile , Noah Green

Noah Green
Fr. Offensive Line
#71 6-5, 275
Boiling Springs, SC
View Full Profile and Zach Giella

Zach Giella
Fr. Offensive Line
#77 6-5, 275
Augusta, GA
View Full Profile . Add in redshirt freshmen Taylor Hearn and Justin Falcinelli

Justin Falcinelli
RS Fr. Offensive Tackle
#50 6-3, 305
Middleton, MD
View Full Profile and redshirt sophomore Maverick Morris

Maverick Morris
RS So. Offensive Line
#69 6-4, 295
Broxton, GA
View Full Profile and the Tigers are beginning to build depth behind the starters.
The next step is for Swinney to see those young linemen in action during Wednesday's scrimmage in Death Valley.
"The best way to get a true evaluation is to let them go play," Swinney said Monday. "Create a stressful environment. We've tried to create that from a drill standpoint and just a practice standpoint. I'm anxious to see them play and react to the situations throughout the scrimmage. That first group had a really good spring. Just the chemistry and cohesiveness of that group. They are a group that looks confident and looks like they're having fun. They know what they're doing. I'm very encouraged to this point."
Offensive coordinator Jeff Scott

Jeff Scott
Asst. Coach (WR) / Recruiting Coord.
View Full Profile told the media that it's the younger players who have him excited about the future, citing it's the best group he's seen since he arrived in 2008.
"Usually, you talk about your seniors and upperclassmen setting the tempo for the offensive line. It's really eight guys," Scott said. "You have those four true freshmen, and then you have Justin Falcinelli, Taylor Hearn

Taylor Hearn
RS Fr. Offensive Line
#51 6-4, 325
Williston, SC
View Full Profile , Maverick Morris and Tyrone Crowder. Those are eight guys that are all within their first two years. Since I've been here in 2008, I haven't seen a core like that. And I am not talking about just ability. They are very talented. But they are just hungry with a work ethic, no drama, high character and all of a sudden in transforms into some of the older guys, too. Those four guys are ahead of schedule. Offensive line is a very tough position, and we will have our first true scrimmage Wednesday to see where those guys are. But I am very, very pleased with that whole young group of offensive linemen."
Swinney said the players in the first group shouldn't assume they will start in the fall.
"The guys behind (the first-team) are all talented, athletic and hungry," Swinney said. "Mitch Hyatt, Fruhmorgen and all those guys – Falcinelli and Hearn. It's just an impressive array of young guys. That's the group we have to figure out and we have to have them go play and keep them in situations where they grow. That's the only way they're going to grow.
"Then we come out of spring and get some evaluations. Give them some really good feedback in our exit interviews so they take that and go work this summer. None of that second group is where I think they will be this September, but they all want to be good – they're all hungry and they're all talented. I'm not disappointed in any of them."
Norton said it's the best he's seen Clemson's offensive line look in the spring, and he said the freshmen are going to leave their mark on the program.
"I think it's going great. This is probably the furthest we've been at this point in the spring," Norton said Monday. "We just have five guys right up front and then the rest are really enjoying it right now and having a lot of fun. They are going to be great. They are going to be special players. They are real quiet, but I like that because I am not a talkative person. But they are going to be really special."

Tags: Clemson Football
,
Mitch Hyatt
,
Noah Green
,
Jake Fruhmorgen
,
Zach Giella
,
Joe Gore
,
Eric Mac Lain
,
Ryan Norton
,
Isaiah Battle
,
Tyrone Crowder
,
Maverick Morris
,
Taylor Hearn
,
Justin Falcinelli
,
Thomas Austin
,
Barry Richardson
,
Thomas Austin
,
Thomas Austin
,
Barry Humphries
,
Jeff Scott