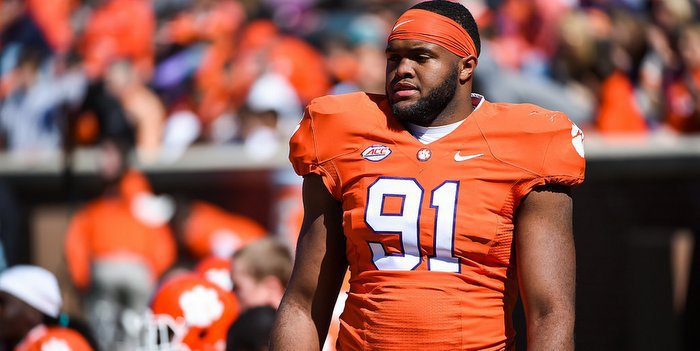 | | |
| --- | --- |
| Swinney updates Austin Bryant, team's dominant performance Friday | |
---
| | | |
| --- | --- | --- |
| Sunday, October 9, 2016, 7:44 PM | | |
Clemson heads into game seven of the season relatively healthy, but also ready for a week off.
Clemson put the finishing touches on the first half of the regular season with a resounding 56-10 thumping of Boston College Friday night in Chestnut Hill, an effort that head coach Dabo Swinney said was the Tigers' best of the season.
"I'm really glad our guys had a little time to recover last night and today. I'm looking forward to getting back at it tomorrow with these guys, but definitely our best overall game," Swinney said on his Sunday teleconference with the media. "I'm really proud of how our guys prepared on a short week. It was a dominant game. We started fast - 21 points in the first quarter and 21 points in the fourth quarter. It was good to see us finish and put the opponent away. We won the turnover margin.
"We were the least penalized team. We dominated in big plays and those are things that we take a lot of pride in and we played a lot of people. Overall, I'm very pleased with the performance defensively and outside of two or three plays it was just a dominant game. The goal line was a tremendous stand. Scott Pagano was incredibly disruptive at the goal line in back to back plays and really was the catalyst down there. We had two turnovers and a pick six, eight tackles for loss, three sacks. A great job on third down."
Swinney said he liked what he saw out of the offense.
"Offensively, by far our best game. Seven touchdowns and 504 yards of offense. Very balanced and really created some big plays in the play-action game," he said. "Another 100-plus yard game for Wayne (Gallman), which ties the record. Third down, we were very efficient. 100-percent in the redzone and in particular touchdowns. We had zero negative yards in the run game. We did have two sacks for minus-15 yards. The other thing was no offensive turnovers. That was a big emphasis for us obviously. A lot of good things on both sides and the same thing with special teams. Another really good kick return. The big disappointment on special teams was the fumble by Ray-Ray (McCloud). It's something we've really got to work hard on and be consistent there, but overall it was a complete game on the road and we haven't had many games that haven't come down to the last play or a tight game in the fourth quarter up there, so again proud of our guys for getting ready to play."
Players of the game
"The players of the game were Deshaun Watson, Van Smith on defense and Jamie Skalski on special teams."
Injuries
"Injury wise, I think we came through in pretty good shape. Tremayne Anchrum was probably the most serious with a high-ankle sprain. He will probably be out this week but we'll see a little bit more tomorrow. I think everybody else will be back in practice tomorrow. Mike Williams, we'll probably hold him tomorrow, as well, and re-evaluate him on Tuesday. It's nothing really serious with any of those guys."
Swinney said that defensive end Austin Bryant – who still hasn't played this season and didn't play Friday night – is not a candidate for a redshirt.
"Oh no. Heck no. We will need Austin Bryant before this season is over. We will need what he brings to the table. He could have played Friday night but we didn't need him. But no, he won't redshirt."
Swinney said that wide receiver Hunter Renfrow has been practicing and they are making sure he is ready once his cast is off.
"Renfrow is staying in shape and just waiting to get that cast-off," Swinney said. "He will be back for Florida State, no doubt about that."
Looking ahead
"It was a good, hard, physical game and I'm proud of how they competed. I'm looking forward to a homecoming week, which is always fun around here. We've got a big challenge ahead against 4-1 N.C. State. Both of us are undefeated within our conference and right now we're tied for first place and we want to try to break that tie and have it in our favor when it's over on Saturday. It's a big game and I look forward to getting back at it with our guys tomorrow."
Playing a lot of players
"We played a ton - 67 players - and we only took 72 up there. The only guys that didn't play were Tucker Israel, Zerrick Cooper, Austin Bryant, Will Spiers and Austin Spence. Zerrick and Spiers are guys we're trying to redshirt. We played about everybody and continued to play well. It was good to see all of those guys get in there and perform like they did. I was really pleased with how our guys are coming along and developing. Our schedule kind of sets up well for us as far as we've been through some kind of funky preparations through this first half and hopefully we can get on kind of a normal deal here during the second half of the season, which starts this week and then we'll have an open date to really get the guys healed up. It comes at a good time and then we'll have five normal games after that as far as your prep. I'm glad all of the short week stuff is behind us and we're relatively healthy and still undefeated."

Tags: Clemson Football
,
Mike Williams
,
Scott Pagano
,
Deshaun Watson
,
Hunter Renfrow
,
Austin Bryant
,
Van Smith
,
Tucker Israel
,
Austin Spence
,
Zerrick Cooper
,
James Skalski
,
Tremayne Anchrum
,
Will Spiers