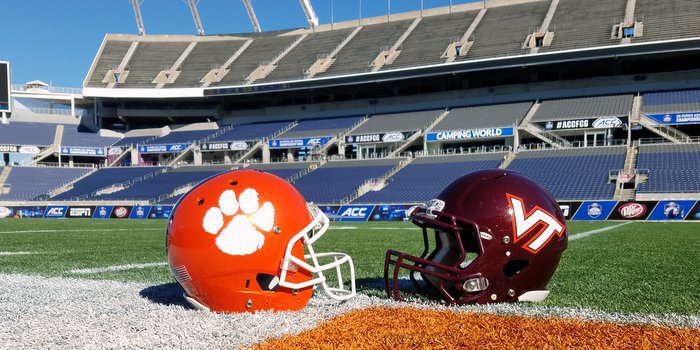 | | |
| --- | --- |
| Swinney recaps "weird" day against BC, previews Virginia Tech | |
---
Clemson is 4-0 overall, 2-0 in the conference and ranked second nationally after Saturday's 34-7 victory over Boston College, but the Tigers haven't played their best game of the season.
They will have to play well next week when they travel to Blacksburg, Virginia, to take on Virginia Tech in what head coach Dabo Swinney says will be an exciting environment.
Swinney recapped the win over Boston College and previewed the showdown against the Hokies during his Sunday evening teleconference, and said that he thinks the Tigers' best football is still ahead of them.
"Proud of our team for another good, hard-fought victory. We knew it was going to be a tough, physical game and it was certainly every bit of that. I thought BC played really well in a lot of areas, but I'm proud of our team," Swinney said. "We're a team right now that's learning week in and week out. We're a long way away from being perfect and we've got a lot we can improve on.
"We're 4-0, but I definitely think our best football is in front us, especially if we'll keep bringing the right mindset and just learning from mistakes and if we continue to practice the right way. At the end of the day, I really loved how we finished the game. We rose up when we had to. We had a tough, hard-fought game just like we thought it would be and we were able to wear them down in the end. We have another big one this week, that's for sure. Excited about another challenge and going back on the road."
Clemson dealt with several injuries during the win over the Eagles, but none of them sound serious.
"Injury-wise, Adam Choice should be okay. He had a sore ankle and he might be limited for a couple of days," Swinney said. "Trayvon Mullen is in the concussion protocol. Maverick Morris is a little banged up but hopefully, he's going to be okay. Dorian O'Daniel (quad), it looks like he's going to be okay. Mark Fields had a pull in his glute area, so we'll just see where he is. We should get D.J. Greenlee back in practice Monday and we'll evaluate him a little bit. Other than that, we came through it pretty good."
The Tigers held Boston College to 238 total yards of offense.
"Defensively, I thought we played a pretty consistent game. There's still a lot we can improve. We missed some tackles and a couple of times we didn't have quite the effort to the ball that we coach," Swinney said. "We had a couple of our best players that maybe didn't play their best game. Just a lot of positives. A team that is going to bring a certain mindset that you have to match and to hold them to 2.9 a carry and less than 100 yards rushing, that's something to feel good about and build on. The two interceptions were two young guys. We did a great job on third down (4-of-16). It wasn't a game we were going to get a lot of sack opportunities just by the nature of their style of play. We did a good job of being in position, especially on the play-action passes."
He then called it a strange day for the offense.
"Offensively, a weird day. 27 first downs and had some tough field position issues, but at the end of the day we had five rushing touchdowns and 342 yards rushing (5.9 a carry)," Swinney said. "You're going to win a bunch of games with that. Really good on third down. That's one thing we've been really solid with is third down production. We're doing good in the redzone scoring touchdowns. We did have two turnovers and two fumbles that we got back, but just several things we can improve on. We'll study the tape and we're excited about getting back with the guys tomorrow and getting ready for a tough Virginia Tech team at their place."
Other notes
A.J. Terrell next man up at corner if Edmond and Mullen can't go?
"That would be the next option there. We've got a lot of confidence in A.J (Terrell). He's gotten better and better and he's gotten some good experience. He's going to be a great player. He's got good instincts, so we'll see how it all plays out. K'Von Wallace is another guy who can go play corner for us without any problem at all. We're going to be alright."
On Virginia Tech QB Josh Jackson
"I've only watched about 45 minutes of tape, but I did get to see some of the game on tv against West Virginia. The biggest thing that jumps out to me is he's (quarterback Josh Jackson) been incredibly efficient. He's taking care of the ball. He's doing a great job of leading him. He has a lot of poise and he doesn't get flustered or overwhelmed. Justin (Fuente) does a great job with those guys and we expect them to be a real challenge for us."
Playing at Virginia Tech
"I've been up there. We were fortunate to win in 2011 when we went up there on kind of a cold, rainy night. The time before that in 2006, we got killed. They do a great job. It's one of the best environments in college football, not just in our conference. The Virginia Tech folks do an awesome job of supporting their team. They've got a lot of pride in their program. They understand they have an opportunity to bring great energy to their team and they show up. They've got a lot of excitement. It will be an awesome crowd and a fun environment to go play in and I'm looking forward to it."
Players of the Game
"Offense: Travis Etienne and the entire offensive line. We didn't have any negative plays by the OL. The guys ran the ball. 342 yards is just awesome. They played a lot of two-safety stuff so we got our backs to the second level a bunch. Just really pleased after I watched the tape. We played pretty dang good up front and had a couple of those guys have their best game of the year. I was really glad to see that. Defense: Christian Wilkins and Kendall Joseph. Special Teams: Ray-Ray McCloud."
"He did okay for his first time. He did have one touchback. We feel like it's something he can build on. It was a solid day. He had more pressure on him than anybody. He finds out Thursday that he's the starting kicker. He hasn't had a ton of experience, so I was proud of him. It was a good game for him to build on.
"I would have to say 10 (scoring Spence) right now because we did a solid job the other day. I know we didn't kick any field goals but just based on what I've seen in practice, I've got 100-percent confidence that Alex is prepared and ready to go do the job. Hopefully, that will play out. He was probably around 80-percent through fall camp. He had an excellent camp (78-82%). Seven or eight out of ten, that would be pretty good odds. If he'll just be who he's been, we'll be okay."
Thoughts on the play of Kelly Bryant?
"He did okay. Of the four the games, I would probably put this one fourth. It's not that he did terrible, it was just a style of play that they really made the decision that if you can run the ball and beat us then that's what you're going to have to do. I think he got a little frustrated early because of some of the looks we were getting. There were a couple of times he held the ball a little too long. I thought he did not pull the trigger a couple of times he could have. The best thing is he played through it and eventually he settled in and made some really nice plays in the passing game and made some huge plays in the rushing game as well - over 100 yards rushing. It was just that type of game."

Upgrade Your Account
Unlock premium boards and exclusive features (e.g. ad-free) by upgrading your account today.
Upgrade Now

Tags: Clemson Football
,
Adam Choice
,
Trayvon Mullen
,
Maverick Morris
,
Mark Fields
,
D.J. Greenlee
,
AJ Terrell
,
Travis Etienne
,
Christian Wilkins
,
Kendall Joseph
,
Ray-Ray McCloud
,
Alex Spence
,
Kelly Bryant