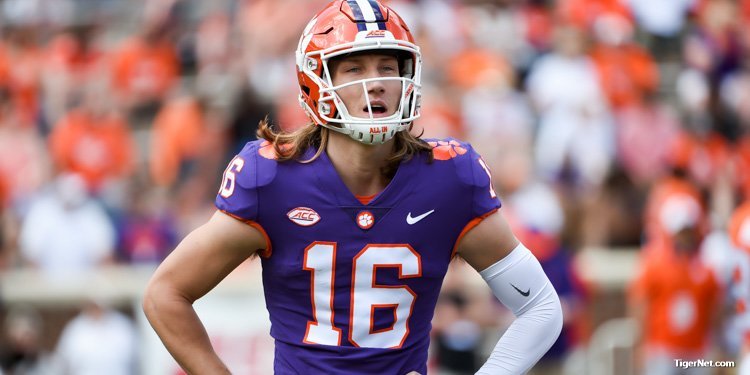 | | |
| --- | --- |
| Swinney not ready to name leader on QB depth chart, sees battle going into fall camp | |
---
| | | |
| --- | --- | --- |
| Saturday, April 14, 2018, 7:30 PM | | |
CLEMSON – Kelly Bryant entered the spring as Clemson's starting quarterback, but head coach Dabo Swinney wasn't ready to give Bryant the top spot on the depth chart after Saturday's spring game.
All four of Clemson's quarterbacks were on display Saturday with mixed results. There were brilliant throws by Chase Brice, Trevor Lawrence, and Hunter Johnson. There were also four interceptions thrown, three by Brice.
Bryant ended the day 8-for-15 for 35 yards, Brice was 12-19 for 231 yards, Lawrence was 11-16 for 122 yards and a touchdown and Johnson was 8-14 for 85 yards with a touchdown and an interception.
I asked Swinney if Bryant was still number one on the depth chart exiting the spring, and he said the coaches will make that determination after watching film.
"Well, this is just another scrimmage for us to evaluate," Swinney said. "Again, he (Bryant) missed two big throws today that he's made all spring, but he missed them today. We'll sit down and we'll have exit interviews with all of those guys."
Swinney then reminded those present that the Tigers don't play tomorrow, next week or even next month.
"Regardless of what any post-spring depth chart is, it just really doesn't matter because we don't play until September," Swinney said. "This is not, 'Ok, here's the depth chart and here's who is playing against Furman.' It doesn't work that way. There's a lot of work to be done. You've got earn it every day and that's what we tell these guys at every position. If Clelin (Ferrell) decides to be a jackleg this summer and not work and eat Twinkies and grow fat, he's not guaranteed to start.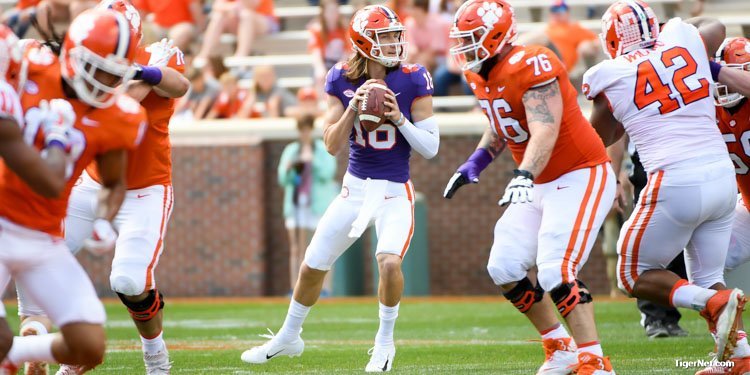 "It doesn't matter what he did last year. You've got to earn it and prove it every day and that's at every position, not just quarterback. We'll sit down and meet with all of those guys and tell them exactly where they are and what they've got to do this summer. Then, we'll pick it back up in August and go from there."
Co-offensive coordinator Tony Elliott scoffed at those who think the starter will be chosen because of seniority or loyalty to an older player, saying the players in the locker room want the best player to play. He also said not too much can be taken away from one scrimmage.
"It's just one practice out of 15. Just trust the process. Obviously, everyone is going to get a fair opportunity and the best guy - not just the most talented, but the best guy all around is going to be the guy that gets to run out there," Elliott said. "Then, if there are guys that are deserving of an opportunity to play, they're going to get an opportunity to play. I wouldn't just bank it off of one scrimmage, but they are competing. It's a big evaluation for all four of those guys.
"I think chemistry within the locker room is very important. The best teams are led from within, but at the same time game recognizes game. Guys are going to respect that. Guys are going to respect the coaches too. If the best guy is not on the field, then that could obviously hurt your locker room. We're going to do the best we can to make sure everybody gets a fair opportunity. It's not going to be favoritism. It's not going to be the most talented. It's going to be the best overall guy that can get the job done and win at the highest level for us."