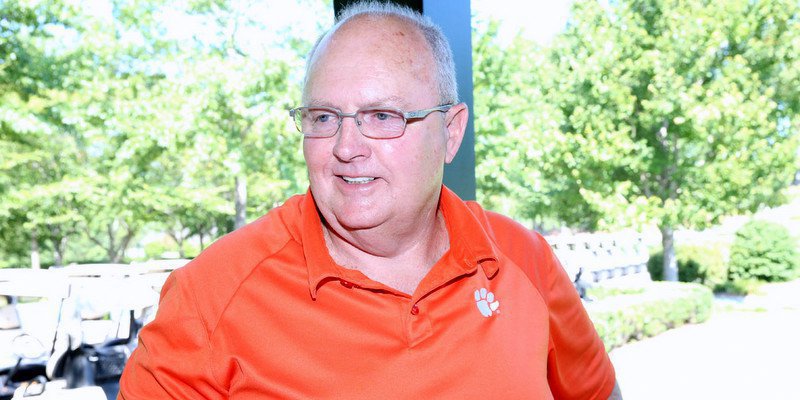 | | |
| --- | --- |
| Robbie Caldwell on the OL: "We've got a chance to be pretty good" | |
---
| | | |
| --- | --- | --- |
| Monday, July 24, 2017, 7:01 AM | | |
SUNSET – Four out of the five offensive linemen that were in the game during the winning drive against Alabama in January are back this season, with Jay Guillermo the lone departure. With talent and experience, a pretty good offensive line might just be even better.
Justin Falcinelli and Gage Cervenka will battle for playing time at Guillermo's vacated center spot, but four of five starting offensive linemen return, two of them first-team All-ACC selections in Mitch Hyatt and Tyrone Crowder, joined by sophomore guard Taylor Hearn and tackle Sean Pollard.
Offensive line coach Robbie Caldwell met with the media last week at head coach Dabo Swinney's media golf outing, and he said the biggest question mark is at that center position.
"We've got an opportunity to be good. Obviously, we've got everybody back and we've got some playing experience," Caldwell said. "We're a little untested at center, losing Jay Guillermo, but I've got all the confidence in the world in Justin Falcinelli. Justin had never snapped the ball and reluctantly went over and tried it. It's really difficult to do when you've never snapped the ball, but he's adjusted to it well. He's a very smart young man. You wouldn't believe it, but he can put a computer together with spare parts. He's a video guru.
"I said, 'Now, this is a little easier than that. You just point and go that direction.' He's had a lot of fun. Time will tell. We've been working Gage Cervenka there, who moved over from defense. Gage, too, never played much offense and he's taken really well to snapping the football. He looks great. Ran great the other day and he's about 320 pounds now. We've got a chance to have some pretty good bulk in there, as well. You've got Zach Giella and a few guys like that. We may even work Cade Stewart there some. He's a local product. He's doing really well. At the weigh in this week, he weighed 298 and running well. He's just doing a great job. I couldn't be more excited about him."
The Tigers got valuable snaps from freshman Tremayne Anchrum last season, and he will battle Pollard for a starting spot.
"Tremayne had a great spring playing both left and right tackle. He's really making up ground," Caldwell said. "It's always a learning curve and some go a little faster than others. Having recruited Sean directly myself, obviously I talked a little more offensive line play with him, and he really was intrigued by it. He loves it and studied it and knew a little bit more about it, but now Tremayne has acclimated and he's played both right and left. He's a shorter guy by most people's standards. He's done great. I'm excited about him. He looks good."
Losing Guillermo means more than losing just a good player – he was also a vocal leader who didn't mind being the comedian of the group.
"We need that. I like to have fun and sometimes they take me too seriously. They don't understand when I'm joking sometimes, but those two (Eric Mac Lain and Jay Guillermo) did and they could get it," Caldwell said. "We need that. In our world, the only thing you get are boos. Coming in today, I was listening to the radio and there wasn't one mention of the offensive line. These guys love the game, too. My wife is always the first to notice if they're not having fun or if they're too serious. They're coming around and they're coming out of their shells a little bit. They've learned they can cut up with me some, but there's a time for play and there's a time for work and that's all I ask of them."
It helps to have Hyatt at the left tackle spot – he's the first Clemson sophomore offensive lineman to make first-team all-conference in school history. Hyatt allowed just two sacks last season while playing a whopping 994 snaps.
"Mitch is one of those that's a rare breed. I do not have to raise my voice at Mitch," Caldwell said. "This a motivating, loud, get after it group that we're in, but he listens. He usually gets it the first time. You don't have to coach attitude or effort. He's 100%. Everyone always says, 'You don't ever fuss at Mitch.' Well, I don't have to. Does he do it right all of the time? No, he's human, but it's a joy to be around. In that regard, he fits right there with the best of them. What does he need to work on? He's added some bulk. He ran the other day as fast as he's ever ran. He works on his hands. The boy is just a sophomore going to be a junior, so it's pretty neat."
Freshman Blake Vinson enrolled last January, went through spring practice, and now welcomes fellow freshmen Matt Bockhorst and Noah DeHond into the fold.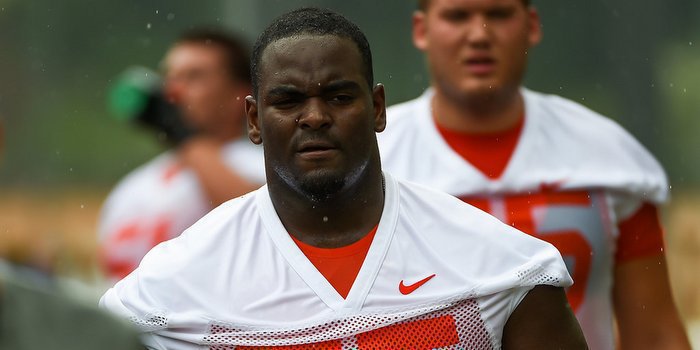 "Blake has informed Matt Bockhorst and Noah DeHond that the remembers how it was to be a first-term freshman. He's been here one term and a summer, so he's now an experienced guy," Caldwell said, with a laugh. "He came in with a hurt shoulder so he's getting his strength up. Great attitude. Very smart. Learning what to do. His shortcoming right now is in the weight room and Coach Batson and them are doing an unbelievable job building him up. Matt and Noah just got here. Matt Bockhorst will be the next Jay Guillermo as far as entertaining the troops and being the leader. He's very out-going and a really good player. I think yesterday after workouts he did 225 24 times, so for those who don't know it's well over 400 pounds."
Cervenka came in as a defensive tackle, but with depth the Tigers have at that spot moved to the offensive line last season and logged 61 snaps in six games.
"Gage is going to be something special. Having never played offense much at all and moving over. My group is what a lot of people like to say is the last stop before the bus station, but I don't look at it that way. I tell them we are the skill position," Caldwell said. "I tell all of the kids at camp to look at the wide receivers and dbs and they can step with the wrong foot or use the wrong hand and still make a play, but if we take one wrong step, it's a tackle-for-a-loss or a quarterback sack and everybody is booing us. Now, he's bought in and you ought to see him. He's 320 and quick as a cat. He can fight a chainsaw with it running. He's just what you're looking for. We'll keep him at center right now.
"I've always said that I'd love to play 10 people. Obviously, it's hard to rotate a center. Poor Justin Falcinelli deserved to play more last year, but it's just hard to do. We played him some at guard. You certainly didn't want to upset your quarterback by throwing wild snaps, but he played some there and some at guard. He's one that should have played more and deserved to play more, but due to the position it's hard to do. We talked about it and he says he understands but they don't understand. I tell them everything we're going to do, but they only hear what they want to hear."
**NOTE: If you didn't see a player listed here, don't worry, we have plenty more from Robbie Caldwell from the media day.

Tags: Clemson Football
,
Justin Falcinelli
,
Gage Cervenka
,
Mitch Hyatt
,
Tyrone Crowder
,
Taylor Hearn
,
Sean Pollard
,
Zach Giella
,
Cade Stewart
,
Tremayne Anchrum
,
Eric Mac Lain
,
Blake Vinson
,
Matt Bockhorst
,
Noah DeHond
,
Robbie Caldwell