| | |
| --- | --- |
| Quotable: Coaches and players talk Tigers' dominant win over Wake Forest | |
---
| | |
| --- | --- |
| Sunday, November 22, 2015 1:09 PM | |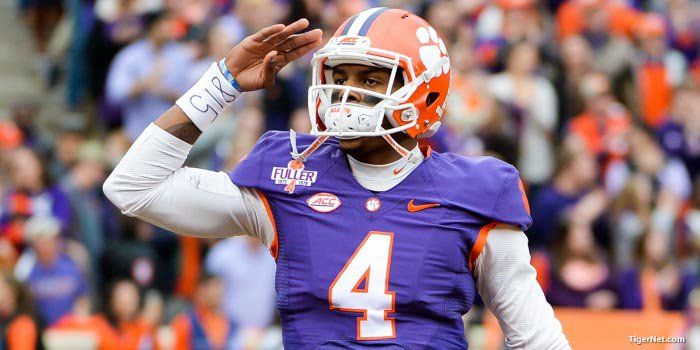 CLEMSON – Clemson players and coaches and Wake Forest head coach Dave Clawson react to top-ranked Clemson's 33-13 victory over Wake Forest Saturday afternoon in Death Valley.
The Tigers jumped out to a 20-0 lead and went on cruise control, picking up over 500 total yards of offense for a school record seventh consecutive game. Next up for the Tigers is arch-rival South Carolina, who lost 23-22 to FCS foe The Citadel Saturday in Williams-Brice.
Wake Forest Head Coach Dave Clawson
Overall thoughts
"I think we lost the battle on the line of scrimmage, and I think that's probably an understatement. Again, at times when we were on offense, we were efficient, but we did not make explosive plays. Conversely, we gave up four touchdowns over our heads, and that's the football game. Clemson has really skilled receivers and we didn't get much of a pass rush to help in covering them and, with that being said, we aren't going to score a lot of points against that defense right now."
On how good of a football team Clemson is
"They're really good. They are a good football team, and I think that showed today."
On using two quarterbacks to give Clemson different looks
"When Kendall (Hinton) is out there, at times, he doesn't get the ball with John (Wolford) at the helm, so using him in a two-quarterback scheme allows him to still influence the play. He (Hinton) is our best open-space athlete on the football team. We create opportunities for him to get the ball in space. If it's at receiver, running back, quarterback, etc., when he gets the ball in space, he is dynamic. John is our most knowledgeable quarterback. He understands our offense the best and he is our most accurate passer. Using this scheme against a defense like Clemson gave us opportunities. It's a good problem to have, figuring out ways to play both of them and maximize both of their talents, but today, it just didn't translate into points."
On having and traveling so many freshmen and sophomores
"We look forward when we're an older football team and an experienced football team. We played one today. And we have to be so perfect against a team like that. And we're just not there yet. They get their touchdowns and their points so easily."
Clemson Head Coach Dabo Swinney
Overall thoughts
"The fun is in the winning, and we've done a great job of accomplishing the objective. For these seniors to win their 43rd game on Senior Day, this is a great group, I'm really proud of them. I want to thank our fans, too. It even rained today. It was supposed to be a perfect day, but it rained again and our fans still came out.
"The defense held them to 152 yards and we outgained them by 400 yards. We really were a dominant team tonight. Deshaun (Watson) had another big night. He had one throw he really would like back, but he played well.
"We got to play a lot of guys tonight, and some of them even got to touch the ball, which is really exciting for them on Senior Day. I'm excited to be 11-0. That's what this senior group has done...they've won and made this program better and they're leaving it better than when they came, which is what a legacy is all about. We have state championship week now and a chance to go 12-0, so we have to play our best game of the year, and we are going to prepare to do that."
On staying undefeated
"Tim Bourret was telling me about some of the things that happened in college football today. Florida needed overtime to beat Florida Atlantic. There are only three teams left undefeated, and I went in there and talked to the players and said, 'we may not always be perfect, we make mistakes, but we win.' To win 20 out of 21 and 14 in a row, it speaks volume for the type of guys we have, but also for the kind of culture that we have created."
Clemson defensive coordinator Brent Venables
On giving up less than 200 yards of total offense
"Yeah. That same offense had about 400 on the road last week, so it was a good performance — clean, disciplined, had a great week of preparation. I thought we respected the game and showed some humility in our preparation, and then I thought they went out and played with a great focus and really played well."
Pleased with no big plays?
"Yeah. They took away about like everything. I was very happy. I'm not beating my chest, but I don't want anybody to take away, either. It's hard in modern-day football. They move the ball on everybody and just nickel-and-dime it and possess it. We played clean, and just very pleased with positioning and discipline and really consistency. I love the focus, and we were physical today, and I thought it was a good, strong performance. Just what we needed."
Does the playing time today help Jalen Williams?
"I think it'll be big. We went into the game wanting to play more guys, and we continue to develop depth there. We played three different nickels, and Jalen played most of the game and Judah Davis got in there too, and there's a bunch of other guys that played. That's always big in their maturation, development, confidence, experience, all that."
South Carolina lost to a FCS team. Does that make them more dangerous?
"These kind of games are always emotional regardless of what happened. I did not know that, but they've got the players and they're tough and they've got good coaches, so it's something we're really looking forward to."
Co-Offensive Coordinator Tony Elliott
Does the game play out perfect for getting a lot of players reps?
"Of course. Just hats off to our senior group. There's still opportunity for more. You talk about where we're at as a result of the hard work that they put in as freshman throughout their career, laying the foundation, buying into the culture and really driving that culture. So, it's great to get out and honor those guys, and then have an opportunity to play the guys that are the unsung heroes. You look at two of the guys on offense — you have Brennan Goodnature and Jordan Bianchi had an opportunity to get in there and have a little bit of success, touch the ball because those are guys that worked their tail off on scout team throughout the course of the week. They don't get the recognition that some of your starters get, but without those guys, you're not in the position that we're in within this program. So, it's good to send our seniors off with a win, get a lot of guys an opportunity and just continue to push forward."
Could Wayne Gallman have played if needed?
"I think Wayne was in a position in warm-ups. He looked really good, but then also, too, right there in warm-ups, I saw where he caught a pitch and kind of made a cut, and saw a little bit of a grimace, and so, again, we told him go in, get yourself ready to play, it'll be a game-time decision. And again, you have the two seniors ahead of him we wanted to give an opportunity to play, and the course of the game allowed us to get them some reps."
Why did you put Deshaun Watson at WR and let him run a route?
"That's a package that we've been wanting to work on. It started with the Syracuse game last week and provide an opportunity here, and we felt like the schemes that we have in there are going to keep him kind of out of the way, so it's just a package we wanted to work on. He poses a threat. Whatever he's doing out there, obviously you have to honor him, and you saw that they did have a corner over the top of him respecting his ability to catch the ball, but then also possibly setting up some other things."
Co-Offensive Coordinator Jeff Scott
Talk about the play of Germone Hopper
"I think we do a good job of rolling guys in there, and he's actually playing with Artavis Scott on the outside. That's been the change since Ray-Ray went down with his injury. G-Hop's gone outside and has really been rolling with Artavis. He's gotten good opportunities, really, and he's made plays when given those opportunities, so I'm very pleased with him. And really, today, we had five receivers with three catches or more, and that's one thing we always preach is the depth and being able to have a lot of guys be able to go up there and make plays, and not just have to count on one or two guys. It helps you as you have a long season and you play a few extra games maybe than everybody else, and being able to spread around those touches throughout the year really helps."
How did RT Jake Fruhmorgen play today?
"We're going to have to go back and watch it on video. I'll know a little bit more on Monday, but overall, he did a good job in there. We would like to have more in the running game, but I think it was a positive there were no sacks in the passing game, so we did a good job in the protection, and a lot of it was what Wake Forest was doing. Give those guys credit up front and really what they were doing scheme-wise, but I was pleased overall, but we'll have to grade the video and see how Jake did overall."
Clemson Offensive Guard Eric Mac Lain
General thoughts of his last game in Death Valley
"We got every single last one of us in there. Jordan Bianchi had a great catch on a screen play. It was great to see those guys get a chance to play. Last home game in Death Valley and the fans definitely showed up. I've got much love for all of them."
On the other seniors that don't get as many reps but saw playing time tonight
"Them being able to play tonight is special. A little tear drop came from my eyes...that was the only time, though. It was a great day."
On taking control of the game early
"Yes, we were really excited that those guys got a shot. We knew coming in that we would have a chance to throw the ball and we're thankful we could take advantage."
On what has made this senior class so special
"I think the leadership that we have been able to acquire and growth throughout the year. The love and compassion this team has for each other, not just on the senior level, but the freshmen on up, it is honestly the most I have ever been around."
Clemson Quarterback Deshaun Watson
On the fast start
"Yes, we started off fast. That is our goal each and every week, to start off fast and jump on the other team. The defense did their job to get us the ball back."
On if they need to work on finishing teams off rather than letting them hang around
"It is what it is. It was Senior Day, so we wanted to get a lot of guys playing time. We wanted to rotate a lot of guys in and let them have a chance to play in their last game in Death Valley."
On Wake Forest selling out against the run
"Yes, they tried to stop our run game. If you do that, then you're going to have to stop the passing game, so we were very versatile and balanced."
Clemson Wide Receiver Charone Peake
On scoring a touchdown in his final home game
"It meant a lot. There was a lot of emotion coming into this game, so it meant a lot to score in my last home game."
On if he walks away from this game feeling good about the win or feeling bad they they didn't play as well in the second half
"Yes, I feel like we didn't finish as well as we could have, we started off great, but then we started turning the ball over like last week at Syracuse, and turnovers are never good. We will correct those."
On how good it feels to finally be the guy getting the downfield shots
"It feels good to finally be one of the guys that is counted on to make the big plays. I take pride in that and enjoy doing my job."
On South Carolina
"When we play, records go out the door and it comes down to who wants it more."
Clemson Defensive End Kevin Dodd
On coach Venables being upset
"We just haven't played the way we're capable of playing. It's not talent-wise. It was just minor stuff that we just had to get corrected, and we got it done tonight."
On the South Carolina game
"We haven't won up there in awhile, and this would be a really special win for us."
Clemson Safety Jayron Kearse
On coach Venables challenging the defense
"It's our decision to go out and show the world what we wanna be and what we're made of. He didn't really challenge us...he told us we are what we put on tape."
On the team's performance
"We should play better. We gave up 13 points...that's too much. But it's definitely indicative of how we should play. We go out there and our guys give the effort every time in all three levels, special teams, offense and defense. We've gotta go out there and show that we are the best team in the nation."
On playing South Carolina next week
"I know they're gonna give their all. You know everybody who plays Clemson is gonna give their all. We're the No. 1 team in the nation. Everybody is going to try to spoil what we've got. Wake Forest was trying to do the same thing, so I don't see it being any different than what South Carolina is going to try to do. We have to go out there and give it everything we have and try to come out on top."
Clemson Defensive Tackle D.J. Reader
On coming down the Hill for the last time
"It was emotional. It was good to get down there early. It's been a good ride and good to play at home. I'm excited for the rest of the season. You never get to play at a place like this unless you're here. It was very emotional for me, but I got through it."
On the defense the week after the Syracuse game
"We've got challenges, and I feel like we stepped up to the challenges. That's what defense is all about. We get backed into a corner sometimes, but we have to answer. I think this week we really answered those questions."

Tags:
Eric Mac Lain
,
Charone Peake
,
Kevin Dodd
,
Germone Hopper
,
D.J. Reader
,
Wayne Gallman
,
Jayron Kearse
,
Deshaun Watson
,
Artavis Scott
,
Judah Davis
,
Jalen Williams
,
Jake Fruhmorgen
,
Jordan Bianchi
,
Brent Venables
,
Tony Elliott
,
Jeff Scott