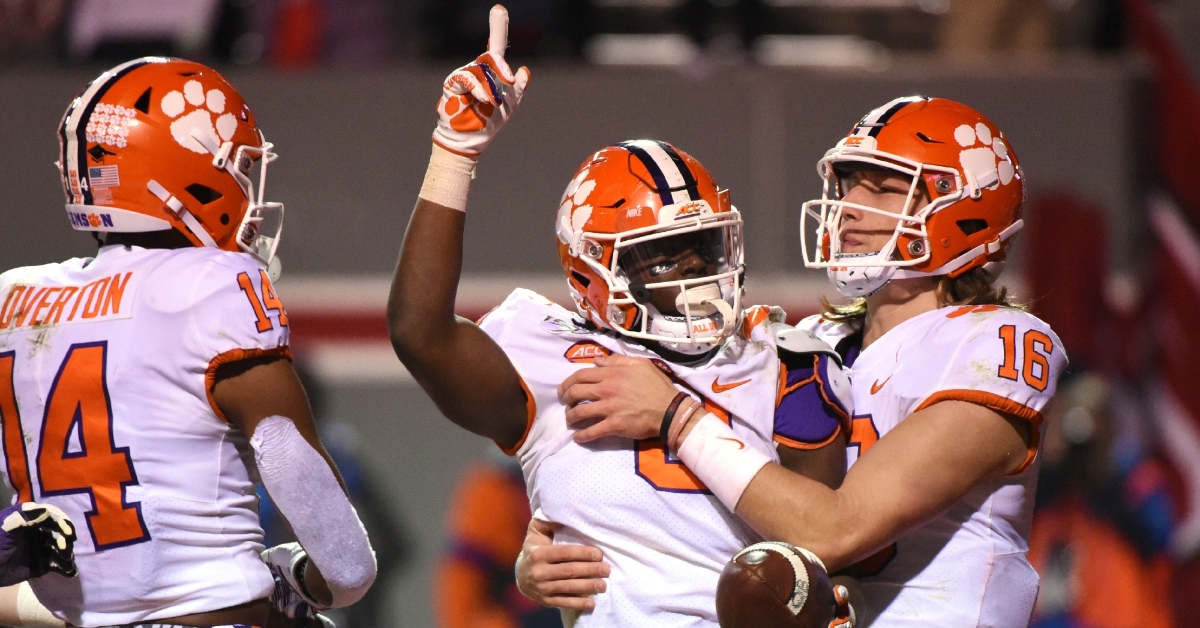 | | |
| --- | --- |
| On to Charlotte: Tigers clinch ACC Atlantic in rout of NC State | |
---
| | | |
| --- | --- | --- |
| Saturday, November 9, 2019, 11:11 PM | | |
RALEIGH, NC – On to Charlotte.
No. 5 Clemson raced to a 28-0 first-quarter lead and never looked back in defeating NC State 55-10 Saturday night at Carter-Finley Stadium. Clemson improves to 10-0 overall and 7-0 in the ACC with the win and clinches the ACC Atlantic Division title and a berth in next month's ACC Championship Game.
Wake Forest lost at Virginia Tech earlier in the day and the Tigers came out of the locker for pregame warmups in their regular white jerseys and white pants. Once the final score of the Wake Forest game was known, the Tigers retreated to the locker room and came out in their orange britches, which are reserved for championship games.
Clemson plays host to Wake Forest at 3:30 pm next Saturday on ABC.
Quarterback Trevor Lawrence put together another solid effort, finishing 20-of-27 for 276 yards and three touchdowns. Lawrence also had eight carries for 59 yards and another score. Running back Travis Etienne carried the ball 14 times for 112 yards, his fifth consecutive 100-yard effort.
Clemson held NC State to 290 total yards, the 10th consecutive game the Tigers have held an opponent under 300 total yards.
"I'm super proud of our guys. It was a tremendous performance by our guys. We were ready," head coach Dabo Swinney said. "We had a great week of practice. This has always been a difficult place to come to play, and the crowd does an amazing job here. It's a great environment, but our guys were locked in and just really ready to play. Our execution was tremendous in that first half. We played about as clean as you can play and didn't make many mistakes. Trevor (Lawrence), he was tremendous.
"He set a Clemson record with five games in a row he's had three touchdown passes or more. That's never been done. Travis Etienne, I think that's his fifth in a row with 100 yards or more. That ties a record. For our defense, that's 10 in a row with less than 300 (yards). I'm super proud of that, and the four turnovers were huge, especially the tow early when it gave us short fields and we were able to capitalize and really kind of put the game away. They were unfortunate mistakes on their part, and we were just able to capitalize and the game kind of got away early."
Swinney said he was proud of the division title.
"Again, just really proud of our guys. So many good things in the game that were good to see," he said. "In the second half, we were kind of a little sloppy. We subbed a lot of guys, got mostly everybody in there. I'm really proud of these guys. It's hard to make history. It's hard to do things that have never been done, especially with some of these teams that we've had over the last few years. This team just continues to separate itself and kind of live its own legacy if you will. This is our fifth division title in a row, and I think it's eight out of 11 years. They have the opportunity to go back to Charlotte and represent the Atlantic division. That's one of our goals every year, and we got a chance to, if we win that game, that'll be five championships in a row. That's never been done. Just a lot of good things that this team has been able to accomplish."
The Tigers took the opening kickoff and marched straight down the field for the score. The drive covered nine plays and 84 yards and ended with a seven-yard run to the right by Lawrence. Early in the first quarter, the Tigers held a 7-0 lead.
Clemson's defense forced a 3-and-out and after a punt and a penalty the Tigers took over at their own eight. Ten plays later the Tigers were back in the endzone. Facing a 3rd-and-14 at the Pack 33, Lawrence found Tee Higgins down the left sideline at the ten and Higgins walked in for the score and the 14-0 lead.
On the first play of the ensuing possession, the Pack's Jordan Houston was stripped of the football by James Skalski and the loose ball was picked up by Chad Smith nine yards to the Pack three. Two plays later Lawrence tossed a shovel pass to Etienne and he carried it in from four yards out for the score. With a little over four minutes to play in the first quarter, Clemson led 21-0.
Two holding penalties put a crimp in NC State's next drive, and quarterback Devin Leary made it worse when he fumbled on the drive's fourth play. The ball was recovered by Clemson's Tyler Davis at the Pack 21. Two plays later Etienne ran untouched up the middle for a 19-yard score, and with 1:31 to play in the first quarter the Tigers held a 28-0 lead.
Midway through the second quarter the Tigers put together their fifth scoring drive, and it covered 74 yards in seven plays. Facing a second-and-goal at the one, the Tigers brought in Nyles Pinckney as a fullback and Logan Rudolph and Tyler Davis as tight ends. That left offensive lineman John Simpson at tailback and Simpson fell over the goal line for the score and the 35-0 lead.
Simpson became the first Clemson offensive lineman to score a touchdown since Brandon Thomas recovered a fumble in the end zone at Georgia Tech on Oct. 29, 2011.
A six-play, 70-yard scoring drive followed for the Tigers. Midway through the drive, facing a 4th-and-5 at midfield, the Tigers elected to go for it and Lawrence completed 17-yard pass to Lyn-J Dixon. One play later Lawrence hit Justyn Ross on a seam route into the endzone to complete a 33-yard touchdown and Clemson led 42-0 late in the first half.
The Pack put together a quick drive that reached the Clemson 10 with 34 seconds to play in the half, but Leary fumbled the ball back to the Tigers and Clemson ran out the clock on the half.
The Wolfpack found lightning in a bottle to start the second half. Zonovan "Bam" escaped the defense for a 53-yard score to make it 42-7 early in the third quarter. The Tigers responded with an 11-play, 75-yard drive that ended with an eight-yard Etienne scoring run that made it 49-7.
Etienne's 8-yard touchdown was the 50th rushing touchdown in his career. He is just the third player in ACC history to run for 50 plus touchdowns, behind James Conner's 52 and Lamar Jackson's 50.
The Wolfpack added a long field goal to account for the final points for the Pack. Clemson got a one-yard run by Mikey Dukes with 11 seconds remaining for the final points. Linebacker James Skalski missed the extra point.

Tags: Clemson Football
,
Trevor Lawrence
,
Travis Etienne
,
Tee Higgins
,
James Skalski
,
Chad Smith
,
Tyler Davis
,
Nyles Pinckney
,
Logan Rudolph
,
John Simpson
,
Brandon Thomas
,
Lyn-J Dixon
,
Justyn Ross