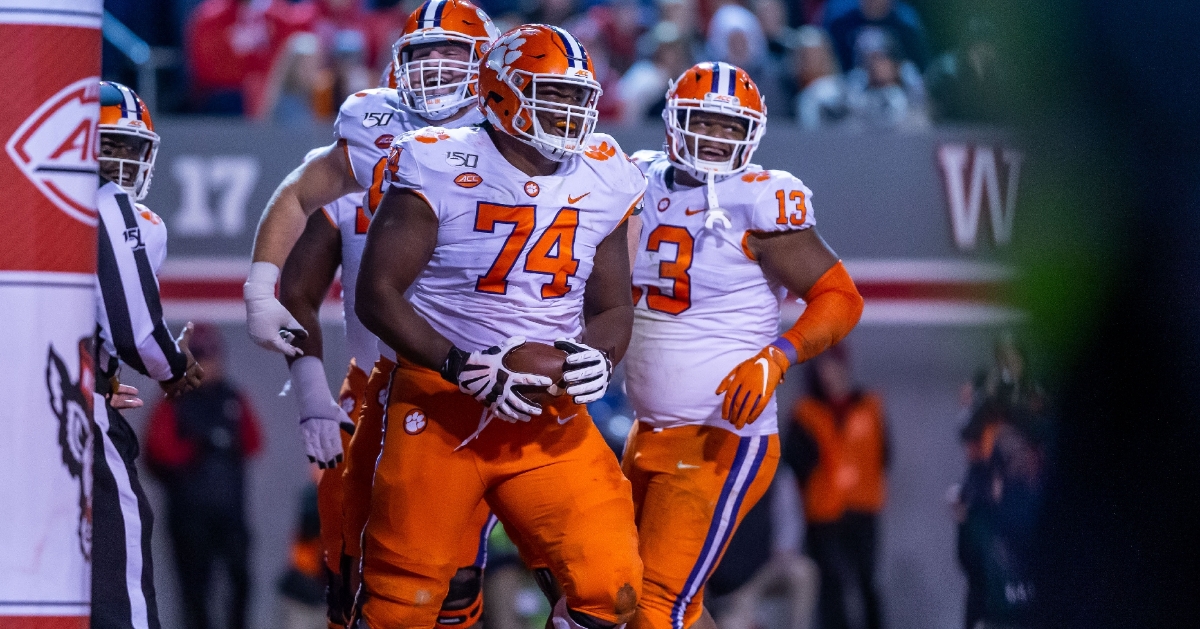 | | |
| --- | --- |
| John Simpson: Big left guard avoids a penalty, scores first career touchdown | |
---
| | | |
| --- | --- | --- |
| Sunday, November 10, 2019, 10:33 AM | | |
RALEIGH, NC – John Simpson wanted to celebrate in a way that would draw a penalty flag. Until he thought about it. And then he didn't.
No. 5 Clemson was so far ahead of ACC rival NC State that late in the second quarter Saturday night at Carter-Finley Stadium that the coaches decided to let the senior left guard – all 330 pounds of him - line up in a jumbo package and carry the ball for a touchdown.
Quarterback Trevor Lawrence handed the ball off to Simpson, who followed defensive tackle Nyles Pinckney (playing fullback), defensive tackle Tyler Davis (playing tight end) and defensive end Logan Rudolph (also playing tight end) into the end zone from one yard away.
It wasn't as aesthetically pleasing as a Travis Etienne scamper, but it didn't have to be.
"He's one for one," co-offensive coordinator Jeff Scott said with a smile after the game. "That's all that matters."
Simpson returned to the Clemson sideline – no penalty flags in sight - where he found head coach Dabo Swinney waiting with a hug instead of a scowl.
"I've never scored in my life until today, so that's big news. I wanted to get a penalty but I knew Coach (Swinney) wouldn't like that," Simpson said of his score. "I did want to get a penalty but I didn't because that was the first time I've ever scored in my life. Especially being an offensive lineman, you don't get too many of those opportunities, so I was just trying to keep my composure as much I could but I was pretty much going crazy.
"I wanted to toss the ball but I was like, no, Coach Swinney will kill me. I just decided to do what everybody else does and just yell."
Simpson was unsure if he had even scored.
"All week. I was like I'm a big guy so I've got to cheat up a little bit so I can get a little extra yardage. Just getting in there was just insane," Simpson said. "I was looking at the ref like, 'Am I in?' When I saw him give the signal, I was like, 'Oh, I'm in.' It was a once in a lifetime experience."
The coaches approached Simpson with the idea a few weeks ago.
"We have done it probably four times. We started practicing it two or three weeks ago and then I ended up hurting my ankle so I didn't do anything for like the last two weeks on it.," Simpson said. "We practiced it a little this week and then they put me in and I was like, 'Oh yeah, it's going down!'
"The most difficult part is probably getting the handoff. If you're going to the right then you've got to have your left arm up and all of that kind of stuff with ball handling and skills. I just watched guys like Travis (Etienne), Lyn-J (Dixon) and Mikey Dukes run the ball. I was like, 'Okay, I can do this.' I was practicing on it all week. Even when I was by myself, I was like I'm getting this. I'm going to score.It was just out of the blue. Coach was just like, 'Whenever we are one yard away, we're going to run it.' I was like alright I'm expecting it but he's probably not going to run it today. We ended up running it and it was a pretty big deal."
The only bad part of the score was that Simpson forgot to keep the ball.
"I didn't. I was going crazy. I like legit forgot about everything," he said. "I was just like, 'I got in the endzone,' so I didn't get to keep it but I'm probably going to find one and claim one. Nothing like that has ever happened before so getting a touchdown was huge. I'm excited."