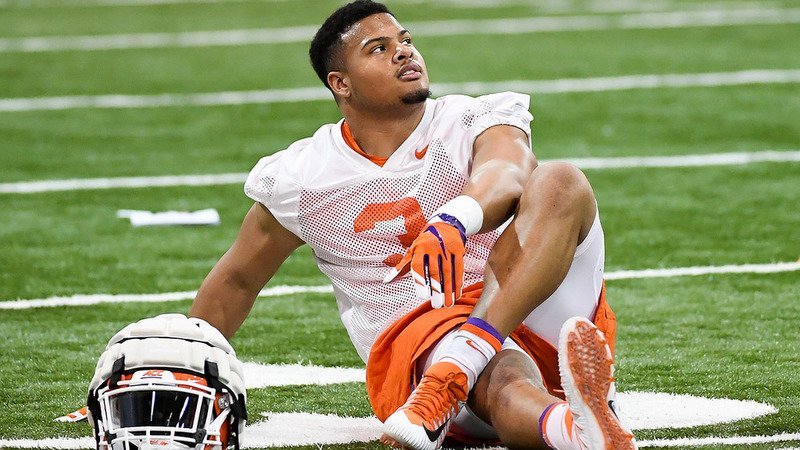 | | |
| --- | --- |
| Five freshmen who will make an impact in 2018 | |
---
| | | |
| --- | --- | --- |
| Friday, April 27, 2018, 8:10 AM | | |
CLEMSON – Clemson boasts one of the most talented rosters in all of college football and will likely start the season in one of the top two spots. Led by a bevy of talented upperclassmen, there isn't much room for the freshmen to shine.
A few will make their mark, however, and today we take a look at five we think will have the best opportunity to shine this fall.
XAVIER THOMAS
The good news for Brent Venables and the Clemson defense is that Thomas doesn't have to be "The Guy" this year. Clemson has two potential NFL draft picks in Austin Bryant and Clelin Ferrell at defensive end, with veterans Chris Register and Justin Foster there to provide depth.
Thomas won't be kept off the field, however, and it was obvious during spring practice that Thomas was paying attention to everything Ferrell had to say. It has to be comforting for Venables to know that if Ferrell gets a little winded he can bring in a guy like Thomas, who is a whirlwind of energy and talent.
Thomas' size (6-3, 260) has him ready for the college game and he showed his speed and athleticism with two sacks in the spring game.
DERION KENDRICK
Yes, Clemson is loaded at wide receiver, but Kendrick is a special talent who will only get better with a summer of conditioning under his belt.
The coaches agree that he is special but couldn't agree on who he compares with – Sammy Watkins or Nuk Hopkins.
"He reminds me of Sammy," Tony Elliott said. "It's just a different gear. When (Kendrick) moves, when he takes off at the line, it's just a different speed."
Head coach Dabo Swinney agreed – for a moment that the comparison is legit – but said he has someone else in mind.
"I think that is kind of fair," Swinney said after practice. "He has that type of explosiveness. He is tough. That guy has a great edge to him that sometimes is not always present when you go recruit a receiver. He played quarterback like a linebacker.
"But he is a lot like Nuk," Swinney said, meaning DeAndre Hopkins. "DK is faster than Nuk, but you knew when you stepped on the field with him you were fixing to go against the most competitive guy on the practice field. DK has a lot of that in him. That is something that has jumped out at me these first four days. He is highly, highly competitive."
BRADEN GALLOWAY
Clemson's offense missed the playmaking ability of Jordan Leggett last season. Tight ends combined to catch 28 passes a year ago, a season after Leggett hauled in 46 alone.
Enter Galloway, an under-the-radar recruit from nearby Seneca. Galloway has the frame and athletic ability to bring a little zip back to the position.
He underwent offseason foot surgery and spent most of the spring in non-contact drills. However, the coaches wanted to see him in action and he played in the spring game. If he heals he can be the receiving option the coaches are looking for.
KYLER MCMICHAEL
McMichael won't arrive on campus until summer, but I think he has a chance to make an impact once he does. Venables and Swinney were very vocal about the lack of depth in the secondary this spring, and injuries didn't help matters. McMichael is versatile enough that he can play anywhere in the secondary, and if someone gets hurt he can step into the breach.
Without injures, he's talented enough to get there on his own merit.
If you don't think Trevor Lawrence was built for this, then you haven't been listening.
Lawrence dazzled observers during spring practices and introduced himself to the fans with a 50-yard laser touchdown strike to Tee Higgins in the spring game. Where will he start the season on the depth chart? It is, of course, way too early to tell, but he will be heard from before the season is over.
ESPN analyst Tom Luginbill agrees.
"This is what I think is going to end up happening and they know it's coming," he said. "In fact, I was standing right next to Dabo behind the scene when Trevor Lawrence threw that 50-yard deep touchdown to Tee Higgins and I looked at Dabo and I said, 'Oh, that's all you needed, buddy!' He looked at me and said, 'Bring it on. This is what the program is about. These kids know it. The fans are going to find out that we've got a great problem to have, but bring it on.' Our broadcast crew was talking and saying that this is going to create a lot of problems for the coaching staff if for some reason Kelly Bryant doesn't have a great day and Trevor Lawrence has a great day. Now you spend all of the rest of the spring and summer and that's all of the talk and all of the clutter and that's not necessarily healthy, but that's exactly what was created yesterday (Saturday)."

Tags: Clemson Football
,
Austin Bryant
,
Clelin Ferrell
,
Chris Register
,
Justin Foster
,
Sammy Watkins
,
DeAndre Hopkins
,
Jordan Leggett
,
Trevor Lawrence
,
Tee Higgins
,
Kelly Bryant
,
Brent Venables
,
Tony Elliott