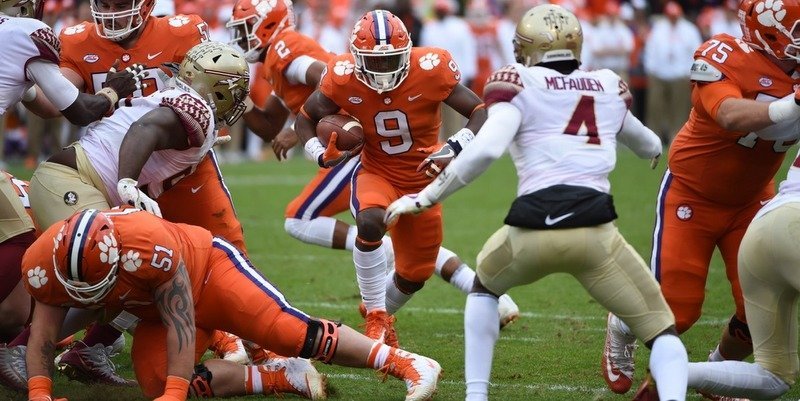 | | |
| --- | --- |
| 2112, Assume Control. Canadian rock band Rush and Travis Etienne | |
---
| | | |
| --- | --- | --- |
| Tuesday, November 14, 2017, 8:00 AM | | |
CLEMSON – As the final minutes ticked off the clock in Saturday's victory over Florida St., there probably weren't many fans in the stadium thinking about the Canadian rock band Rush, but Tiger running back Travis Etienne had the lyrics from one of their songs running through his head.
Assume control. 2112 (pronounced twenty-one twelve). Assume control.
Etienne took handoff after handoff from quarterback Kelly Bryant, his legs moving and dancing to a beat that only he hears, but with each step the lessons learned in his hometown of Jennings, La., seeped into his consciousness.
Etienne scored a critical touchdown for the Tigers with just over three minutes remaining in the 31-14 victory over the Seminoles, and back in Jennings the high school football team historian smiled to himself. Randall Fuselier knew exactly what Etienne was doing.
"I wish he would have gone to LSU, but I will cheer for him at Clemson and I have no problems with him going to Clemson," Fuselier told TigerNet. "Jennings isn't a big town, but everybody knew Travis. They would come from miles around to watch him play on Friday nights. Two years ago we didn't have a defense. We had a lot of games that ended up 60-50. People would stay around to watch him perform. He would do something spectacular and two minutes later he would do something else that would top that. Last year he broke the all-time rushing record for Jennings that had stood since 1926.
"But whether we were behind or ahead, he would take control of the game."2112, Assume Control. Canadian rock band Rush and Travis Etienne
Fuselier became the Jennings historian several years ago, and presents the Top Dog Award at the end of each season. A huge fan of Rush, Fuselier was reading a book about the legendary band and the chapter on 2112 and Assume Control stuck with him.
"My two favorite worlds came together," Fuselier said. "Rush and Jennings High football. So whenever I would hand out the award, I would say 2112, Assume Control. It kind of went from there."
Etienne smiled Tuesday when he was asked about it.
"Assume control. Back in high school, we had somebody who had been around the program come talk to our team," Etienne said. "He started that my senior season. Guys just took to it and it's been that ever since."
Etienne dropped a kickoff earlier in the quarter that gave the Tigers bad field position, and he wanted to atone for that mistake the only way he knew how – he wanted the football in crunch time. He wanted to assume control.
"Kind of. After I dropped that ball, I was kind of mad," he said. "I felt like I had to prove myself and show folks that it was a mistake and it's not who I am. I had to go out there and get that mindset."
Etienne knows he isn't a finished product, and he's happy doing whatever he can to help his team win games.
"To be honest, I'm not really thinking too much about it. It really doesn't hone in on me until after the game or someone tells me about it," Etienne said of his stats. "Just being in the game and playing, I'm just having fun and trying to help the team be the best that we can be.
"There's still a lot of things I can improve on. As far as my running technique just running the ball and finding those extra yards. Just being patient and getting to mesh all of the way and the way I carry, hold the ball. There's a lot of things I can improve on."
Fuselier made a bold prediction for the kid from Jennings, the one who drew fans from all over Louisiana.
"Not next year, but in 2019 you can go ahead and tell the Heisman people to go ahead and put his name on the trophy," he said. "He is such a wonderful young man, and we will all be cheering for him. We have heard wonderful things about the Clemson program."
Etienne just smiles and deflects any praise.
"All of my success from this year goes to the offensive line and the receivers," Etienne says. "Them blocking and Coach (Tony) Elliott just puts me in the right position to make plays and he's really coaching me up and the other running backs just telling me what I need to do and what I need to work on and just helping me out because before that touchdown run C.J. (Fuller) was just like, 'Be patient man, just be patient.' I went in there and I did what he said. I really just credit that to him."
Clemson co-offensive coordinator Jeff Scott says he's glad the Tigers have Etienne.
"He's dynamic. I'm glad that we've got him," Scott said. "When he touches the ball, he has the potential to score at any moment he gets it. And again, this is game 10. He's in a lot better place than he was game three, four or five as far as understanding the entire big picture, all of the little things that go with it. He's doing better and better and played one of his best games. So I think he's in a good spot and only going to improve, and we'll continue to find ways to get him the ball."
Fuselier will be watching the rest of the season from Jennings and thinking about his two favorite worlds.
"When Travis had the ball and he scored a touchdown that put us up by touchdowns, we had assumed control of the game," Fuselier said. "Or if we were behind and he scored the go-ahead touchdown, we were assuming control. That is where it came from."