---
| | |
| --- | --- |
| Tuesday, December 31, 2013 4:40 PM | |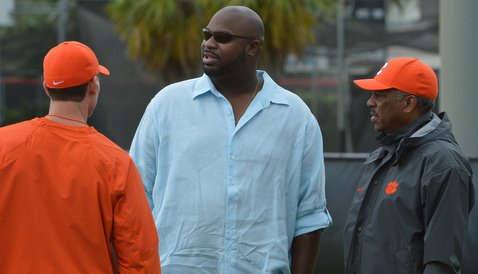 MIAMI SHORES, FL – The Clemson football team practiced under cloudy and cooler conditions at Barry University Tuesday afternoon, the next-to-last practice before taking on Ohio St. Friday night in the Orange Bowl at Sun Life Stadium.
The team practiced in full pads on Monday, but were down to just helmets shoulder, pads and thigh pads Tuesday, which simulated a typical Wednesday practice during the season.
We were once again allowed to watch to watch the first couple of practice periods, and once again all of the coaches were involved in special teams work. A few different guys working with the kickoff return unit - Sammy Watkins

Sammy Watkins
Jr. Wide Receiver
#2 6-1, 205
Fort Myers, FL
View Full Profile , Martavis Bryant

Martavis Bryant
Jr. Wide Receiver
#1 6-5, 200
Calhoun Falls, SC
View Full Profile , T.J. Green

T.J. Green
Fr. Athlete
#82 6-2, 189
Sylacauga, AL
View Full Profile and Germone Hopper

Germone Hopper
RS Fr. Wide Receiver
#5 6-0, 170
Charlotte, NC
View Full Profile . Watkins, Hopper and Adam Humphries

Adam Humphries
Jr. Wide Receiver
#13 5-11, 190
Spartanburg, SC
View Full Profile were fielding punts.
Clemson head coach Dabo Swinney

Dabo Swinney
Head Coach
View Full Profile said the team was close to being ready for the Buckeyes.
"We are close to ready," Swinney said. "This was our 13th practice for this bowl game and we are at the point of polishing off some things. You need to put your gameplan in for a bowl game back at Clemson and we did that. We have had two solid days of preparation in terms of practice and meetings."
The Tigers will hold their third and final Florida practice at Barry University on Wednesday afternoon.
Albert Haynesworth in the house
We walked into practice, and I noticed that former Tennessee All-American Albert Haynesworth walking around with Woody McCorvey. Haynesworth was recruited to Tennessee and coached at the school by current Clemson defensive line coach Dan Brooks

Dan Brooks
Assistant Coach / Defensive Line
View Full Profile .
I caught up with Haynesworth as he was leaving practice, and he said he came at the invite of "Coach Gimp", the name he has bestowed on Brooks, who has a torn Achilles tendon and is in a walking boot.
"I came out to catch up with Coach Gimp and see how he was doing, and he is the same guy I remembered," Haynesworth told me. "I came out watch the defensive line, and they definitely have a lot of talent and a lot of guys that can be like John Henderson and I were at Tennessee. Coach Brooks is doing the same thing he has always done. I like looking at the young guys, and they look really good. There is a lot of talent on that defensive line."
Swinney on whether underclassmen should turn pro
"I've always been consistent with that. Unless you're a first-round guy you benefit coming back from a business standpoint, a down-the-road standpoint in life by graduating. He has legitimate high first-round ability. He has some things he has to do to put himself there. Whatever decisions those guys make, I support them. They don't owe me anything. I just want what's best for them."
Swinney on last winter's meetings with the Ohio St. staff
"We didn't know we were going to play each other in a bowl. We lied to them though on a lot of the stuff though," Swinney said with a smile. "We just talked football for a couple of days, something most teams do each spring."
On Ohio St. running the football
"They've got a 4.4 quarterback. Our guy doesn't quite run 4.4. He runs well. But you just play to your strengths each and every year whatever they are. Some years you run it more, some years you throw it more. Some years maybe you've got a quarterback you want to involve more. We've tried to strive for balance the last few years. This year it's been a little more heavy toward the passing game, but it's all designed to give us the best chance to win."
On how well Nick Schuessler

Nick Schuessler
RS Fr. Quarterback
#3 6-3, 185
Grayson, GA
View Full Profile has been emulating Miller on scout team
"Not very good. He does great throwing the ball, but no one is going to mistake him for Braxton Miller running the ball."