| | |
| --- | --- |
| Final Spring Game Thoughts | |
---
| | |
| --- | --- |
| Tuesday, April 15, 2014 2:30 PM | |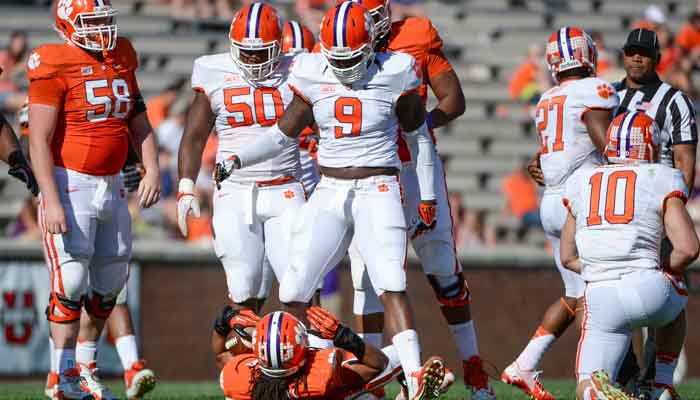 CLEMSON – The benching incident with quarterback Chad Kelly
Chad Kelly
RS So. Quarterback
#11 6-2, 210
Buffalo, NY
View Full Profile overshadowed a lot things from the spring game, and we spent the few hours after the end of the game trying to get a handle on exactly what had happened and making sure the information was released in the right away.
Unfortunately, that led us to overlook a lot of the good things we saw during the game, and before we get too far removed from the game itself I wanted to get a few of those thoughts out there.
I thought the defense was as good as advertised – on both sides – and it looks like Brent Venables

Brent Venables
Defensive Coordinator / Linebackers
View Full Profile is beginning to build depth across the board. Heck, I was even impressed with the younger defensive backs.
But there were a number of good things that came out of Saturday, not a lot of bad except for the Kelly situation, and here is my take on a few of those.
Other thoughts
Cole Stoudt

Cole Stoudt
Sr. Quarterback
#18 6-4, 205
Dublin, OH
View Full Profile
I recently spoke to a former member of Alabama's staff, and we talked about the quarterback situation here at Clemson. I was told that Bama head coach Nick Saban – because of the type of defense he was able to put out on the field – wanted a quarterback who could manage the game, make all the throws, and stay away from the critical mistake.
In case you haven't noticed, Clemson's defense looks to be in pretty good shape this season, and that strategy could work well here at Clemson. Stoudt is more than just a boring game manager, however; he actually made some really nice throws Saturday, didn't get rattled under pressure and hit his check downs when he had to.
Should be fun to watch.
Defensive line
The White defeated the Orange 24-5 as the Orange offense struggled most of the day. But did you see the White's starting defensive line? Vic Beasley

Vic Beasley
RS Sr. Defensive End
#3 6-3, 225
Adairsville, GA
View Full Profile , Grady Jarrett

Grady Jarrett
Sr. Defensive Tackle
#50 6-1, 290
Conyers, GA
View Full Profile , D.J. Reader
D.J. Reader
Jr. Defensive Tackle
#48 6-2, 335
Greensboro, NC
View Full Profile and Tavaris Barnes
Tavaris Barnes
RS Sr. Defensive End
#9 6-3, 270
Jacksonville, FL
View Full Profile . On a split squad. I daresay about 90 percent of the schools in the country would take that "split squad" as their front four any day.
When the news broke that starting defensive end Corey Crawford

Corey Crawford
Sr. Defensive End
#93 6-5, 270
Columbus, GA
View Full Profile would be suspended for the opener at Georgia, I assumed (like many people) that Shaq Lawson

Shaq Lawson
So. Defensive End
#90 6-4, 260
Central, SC
View Full Profile was first in line to get the start in Crawford's spot. Barnes has changed that thinking – people say he has been light's out at practice, and he was a force Saturday. He made the first tackle of the game and just wasn't really blocked all game. He says he has his swagger back, and he told us after the game that he is preparing for a monster season.
An unsung hero on the day was defensive tackle DeShawn Williams

DeShawn Williams
Sr. Defensive Tackle
#99 6-1, 285
Central, SC
View Full Profile , who played 80-plus snaps after Josh Watson

Josh Watson
RS Sr. Defensive Tackle
#91 6-4, 285
Wilmington, DE
View Full Profile went out with an injury in the first half.
Defensive standouts
There were many, but I asked defensive coordinator Brent Venables to name five that stood out to him, and he said Stephone Anthony

Stephone Anthony
Sr. Linebacker
#42 6-2, 235
Polkton, NC
View Full Profile , Robert Smith

Robert Smith
Sr. Safety
#27 5-10, 210
St. George, SC
View Full Profile , Tavaris Barnes, Williams and MacKensie Alexander

MacKensie Alexander
RS Fr. Defensive Back
#2 5-11, 185
Immokalee, FL
View Full Profile .
Grayson connection
Two summers ago, Grayson High School and the saga surrounding Robert Nkemdiche was the topic of conversation around these parts. Some people blasted the Clemson coaches for taking Wayne Gallman

Wayne Gallman
RS Fr. Running Back
#9 6-1, 195
Loganville, GA
View Full Profile and later Ryan Carter

Ryan Carter
RS Fr. Defensive Back
#31 5-10, 175
Grayson, GA
View Full Profile and even adding quarterback Nick Schuessler

Nick Schuessler
RS So. Quarterback
#3 6-3, 185
Grayson, GA
View Full Profile , thinking that Swinney was using other players as bait for Nkemdiche. People groused about Gallman, especially, and many said he wasn't a natural runner and might even be moved to linebacker. Of course, those same people will probably now claim they knew all along that Gallman would be a force.
Let's face it, Gallman looked pretty dang good Saturday. He was shifty, powerful and explosive, and that echoes what I've heard about him since bowl practice. Heck, even Boyd said that while Gallman was on scout team last season, the veterans were always watching him, knowing he could be special.
Another Grayson standout was Carter, who was all over the field in the secondary and wound up with eight tackles. That doesn't even count Schuessler, who looked pretty good during his stints on the field. With the loss of Kelly, Schuessler now takes on an even more important role. It looks like Clemson might have gotten the best end of the deal, considering the drama that has followed Nkemdiche and that the Tigers got three players who might all contribute at some point this season.
Running backs
Speaking of the running backs, Zac Brooks

Zac Brooks
Jr. Running Back
#24 6-1, 185
Jonesboro, AR
View Full Profile was asked where he thinks he sits on the depth chart, and he said second or third. He told us he knows he has work to do this summer and this fall. C.J. Davidson

C.J. Davidson
RS Jr. Running Back
#32 5-11, 185
Clemson, SC
View Full Profile looked like he could be special, building off what he did last season, and D.J. Howard

D.J. Howard
RS Sr. Running Back
#22 5-11, 195
Lincoln, AL
View Full Profile ran hard. That is another competition that should be interesting to watch once fall camp starts. Right now, could you argue with Gallman and Davidson as the co-starters? And don't forget about big, rumbling Kurt Fleming, the former outfielder in the Braves system. He's raw, but did break off a big run.
WILL linebacker
Another competition is out at the weakside linebacker spot. Tony Steward

Tony Steward
Sr. Linebacker
#7 6-0, 235
Hastings, FL
View Full Profile has been penciled in as the starter all spring, but it looks like Ben Boulware

Ben Boulware
So. Outside Linebacker
#10 6-1, 230
Anderson, SC
View Full Profile is pushing for playing time. I spoke to Boulware after the game, and he said he is going to do everything he can to convince the coaches he deserves to play. However, he also said that Steward has been a great mentor and teacher throughout the spring. More to come on Boulware later.
Tight ends
Yep,I like what Clemson has going on at wide receiver, but with an emphasis on the running game and the lack of a Sammy Watkins

Sammy Watkins
Wide Receiver (2011 - 2013)
#2 6-1, 205
Fort Myers, FL
View Full Profile on the outside, the tight end might play an even bigger role in the offense this season. Jordan Leggett

Jordan Leggett
So. Tight End
#16 6-6, 235
Navarre, FL
View Full Profile flashed a lot of his potential Saturday, showing he can be a dangerous weapon.
Kicking game
More to come on Ammon Lakip

Ammon Lakip
RS Jr. Kicker
#36 5-10, 185
Alpharetta, GA
View Full Profile later as well, but he and punter Bradley Pinion

Bradley Pinion
Jr. Punter
#92 6-5, 230
Concord, NC
View Full Profile have shown that Clemson's kicking game and special teams should be in good hands this season. I would still like to see a solid return guy step forward, especially in kickoff return, and see the mistakes in the punt return game eliminated.

Tags:
Ammon Lakip
,
Ben Boulware
,
Bradley Pinion
,
Brent Venables
,
C.J. Davidson
,
Chad Kelly
,
Cole Stoudt
,
Corey Crawford
,
D.J. Howard
,
D.J. Reader
,
DeShawn Williams
,
Grady Jarrett
,
Jordan Leggett
,
Josh Watson
,
Mackensie Alexander
,
Nick Schuessler
,
Robert Smith
,
Ryan Carter
,
Sammy Watkins
,
Shaq Lawson
,
Stephone Anthony
,
Tavaris Barnes
,
Tony Steward
,
Vic Beasley
,
Wayne Gallman
,
Zac Brooks