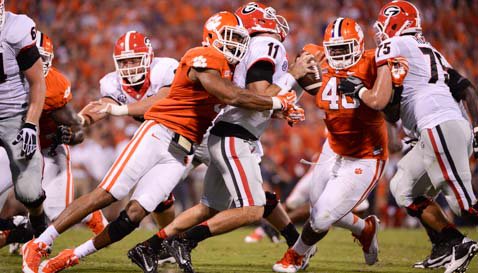 | | |
| --- | --- |
| Swinney talks about faking injuries and Clemson's health in Sunday media call | |
---
| | | |
| --- | --- | --- |
| Sunday, September 1, 2013, 7:15 PM | | |
A clip made the rounds and became a bit of a viral sensation Sunday, showing a Georgia defensive player look to the sideline, then fall to the ground with an injury. Many have said that Georgia's players were faking injuries during Clemson's 38-35 victory Saturday night, and head coach Dabo Swinney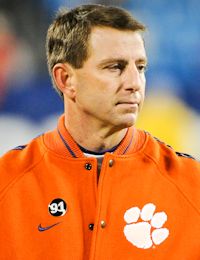 Dabo Swinney
Head Coach
View Full Profile said someone sent him the clip.
Swinney said he wouldn't comment on the allegations, but did say that faking injuries affects the "ethics" of the game.
"You know, I don't know. Someone sent that clip to me today," Swinney told the media during his Sunday afternoon teleconference. "I'll let others speak on that. I'm not worried about that. We just have to execute and worry about that. I don't try to get into second-guessing that stuff. You are getting into ethical behavior there. If you really aren't injured and have guys do down that gets into ethics of game."
Other notes from the call
Injuries
"For that type of game, I don't think we have anything significant. I think everybody will be back and ready to go. We have some bumps and bruises and some guys who may be slowed down Monday and Tuesday. Martin's [Jenkins] shoulder kind of popped out but I expect him to be back. The rest of the other things are just injuries you get when you play a tough game."
Robert Smith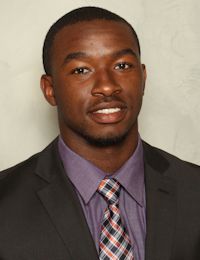 Robert Smith
Jr. Safety
#27 5-10, 210
St. George, SC
View Full Profile injury
"He just got banged up and was cramping, mostly. Just some bumps and bruises and nothing major."
Availability of Jordan Leggett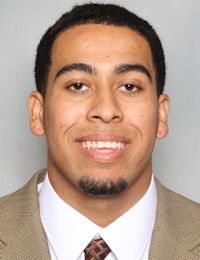 Jordan Leggett
Fr. Tight End
#16 6-6, 235
Navarre, FL
View Full Profile and MacKensie Alexander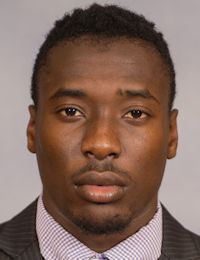 MacKensie Alexander
Fr. Defensive Back
#2 5-11, 185
Immokalee, FL
View Full Profile
"I expect both Mackensie and Jordan to be ready. Both will be full go tomorrow. I expect them to be ready to play on Saturday. I feel good about where Mackensie is. He can go. As far as Jordan, I think he'll be ready."
Big night from Bradley Pinion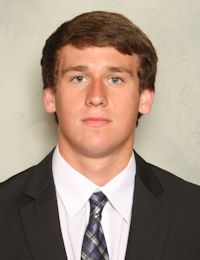 Bradley Pinion
So. Punter
#92 6-5, 230
Concord, NC
View Full Profile
"He'll definitely be our special teams player of the game. He was awesome. His kickoffs were incredibly consistent. I thought he was ready for the moment. He's just a true sophomore."
Progress of defensive line
"I thought our d-line was incredibly physical and disruptive all night. They were just outstanding. When they did have some running success, it wasn't on our d-line. It was missed alignment or a missed tackle. Our d-line was incredibly consistent and dialed in all night long. I don't think we had four sacks until about the fourth game last year. To get four sacks in a game like this against a veteran offensive line, it's what I've been talking about. It's a group of competitors up front. We really like our depth there. Vic Beasley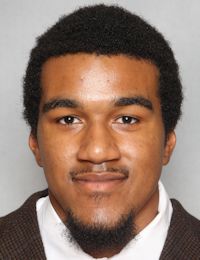 Vic Beasley
RS Jr. Defensive End
#3 6-3, 225
Adairsville, GA
View Full Profile , Corey Crawford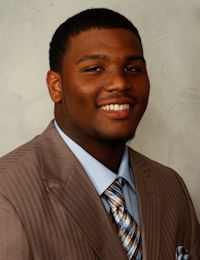 Corey Crawford
Jr. Defensive End
#93 6-5, 270
Columbus, GA
View Full Profile played great. Shaq Lawson

Shaq Lawson
Fr. Defensive End
#90 6-4, 260
Central, SC
View Full Profile was solid for a true freshman. It was good to see Tavaris Barnes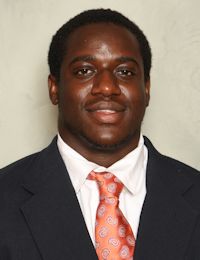 Tavaris Barnes
RS Jr. Defensive End
#9 6-3, 270
Jacksonville, FL
View Full Profile play well. All those guys inside did well. We just feel like we have a good group we can roll. Encouraging seeing them play like they did against a team like that. We just have to be consistent and have an effort like that every week."
Drops at receiver
Some of it was technique. One was the DB just knocking one out and the transition to the tuck on another one. We had another one where the positioning of the ball and the ground caused a fumble. We certainly weren't as sharp as we needed to be at wideout. I'm not very concerned about that. It's disappointing to see Martavis [Bryant] not transition some things from the practice field because he's been so outstanding during camp. Last year we saw the same thing with Brandon Ford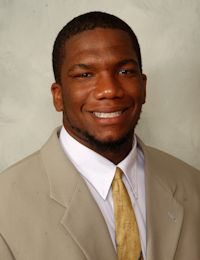 Brandon Ford
Tight End
#80 6-4, 240
Wando, SC
View Full Profile and he was so good. He was Robin and then Batman against Auburn. Martavis, it's the first time he's been put in there as the guy. It's a learning opportunity for him. Don't forget about him. He'll be back."
Stanton Seckinger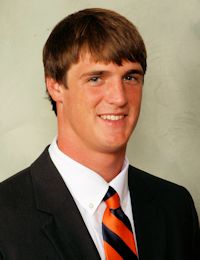 Stanton Seckinger
RS So. Tight End
#81 6-4, 210
Isle of Palms, SC
View Full Profile and Darrell Smith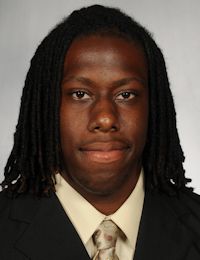 Darrell Smith
Gr. Fullback
#40 6-1, 250
Gadsden, AL
View Full Profile
"It was good to see him come through. It was good to see him transition some things from practice. Darrell Smith had a nice catch, too. Seckinger is a long, athletic guy. That last touchdown was a tremendous effort on his part. He's going to be a good player. I really like him. Darrell Smith, again, he's just a tremendous football player for us. And I thought Patrick DeStefano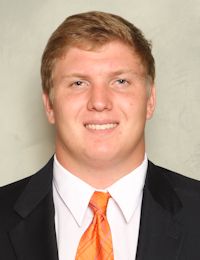 Patrick DeStefano
RS Fr. Offensive Line
#71 6-5, 275
Spartanburg, SC
View Full Profile gave us some good snaps. He gave us about 13 snaps. I think he's going to be a heck of a player for us. We're asking him to help us out until we get everybody back in the fold."
Safety Korrin Wiggins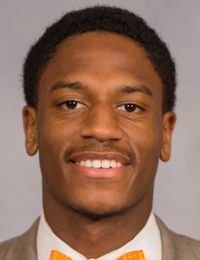 Korrin Wiggins
Fr. Defensive Back
#12 6-1, 185
Durham, NC
View Full Profile
"I felt like he had a chance to play for us in the recruiting process. He was just one of those guys in camp who was not overwhelmed mentally. A lot of them do get overwhelmed mentally. It bogs them down and they can't compete physically. They're not processing it like everybody else. He's very mature and I think he gave us some good snaps last night. He's going to be a good player."

Tags: Clemson Football
,
Bradley Pinion
,
Brandon Ford
,
Corey Crawford
,
Darrell Smith
,
Jordan Leggett
,
Korrin Wiggins
,
Mackensie Alexander
,
Patrick DeStefano
,
Robert Smith
,
Shaq Lawson
,
Stanton Seckinger
,
Tavaris Barnes
,
Vic Beasley