| | |
| --- | --- |
| Sunday night update: Watson's hand, starting center and Miami's best shot | |
---
| | | |
| --- | --- | --- |
| Sunday, October 18, 2015, 7:27 PM | | |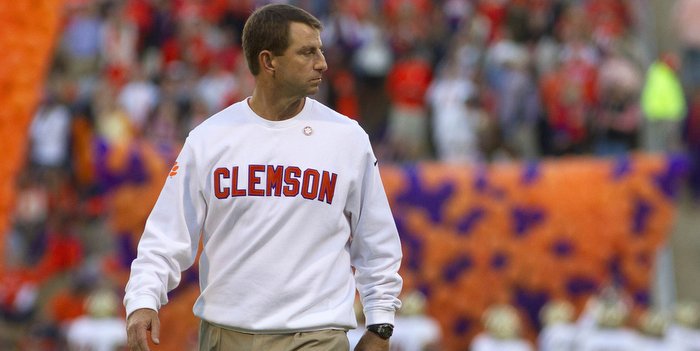 CLEMSON – The Clemson Tigers sit at 6-0 and are ranked 6th nationally, but face a stretch of games where they play four of the next six on the road. That starts Saturday with a trip to 4-2 Miami, and Swinney said he knows the Tigers will get the Hurricanes' best shot.
Swinney recapped the 34-17 win over Boston College and looked ahead to Miami during his Sunday afternoon teleconference with the media, and started out by saying he was proud of his team's Homecoming win over Boston College.
"We're just kind of putting this one to bed and getting ready to move on to the Hurricanes, but I'm really proud of our team. It was an outstanding, physical, competitive matchup last night. I like all the positives we had in the game," Swinney said. "There were so many of them we don't have time to go through everything. Having said that, we have a lot we have to correct. Offensively, we had 532 yards on the No. 1 defense in the land. I think that kind of speaks for itself. Certainly, there were plays that we wish we had made and then there were some negative things that we didn't do a good job of, but give them credit they're No. 1 for a reason. I'm just really proud of what we were able to do - the big plays that we created, obviously, 420 yards of passing."
Quarterback Deshaun Watson

Deshaun Watson
So. Quarterback
#4 6-2, 207
Gainesville, GA
View Full Profile wasn't sharp early, but managed to get several receivers involved in the offense in a big second half.
"We missed some throws, but Deshaun was 27-of-41 or 64 percent, and it was tight coverage all night, so I'm really pleased with that," Swinney said. "I love the amount of guys who were involved and the guys who touched the ball. I thought Artavis Scott
Artavis Scott
So. Wide Receiver
#3 5-10, 191
Oldsmar, FL
View Full Profile was just outstanding. I thought he was the spark in the first quarter. Jordan Leggett

Jordan Leggett
Jr. Tight End
#16 6-5, 252
Navarre, FL
View Full Profile continues to be a guy that's showing up on a weekly basis. I'm really pleased with the preparation we had.
"I thought our offensive line - we had a couple of offensive linemen who didn't play their best game but from a preparation standpoint these guys really presented a lot of challenges, and I thought the communication was very good. Our line as a whole played well. I'm really proud of Deshaun Watson and the way he played. He missed five or six throws that he would like to have back, but man he responded and played great in the second half. It was really a tale of two halves offensively. He got us into some great checks. He had one bad decision all night and that was the first interception. That was just a bad decision and a bad throw. I'm proud of our guys."
The Tigers won despite not winning two key phases of the game.
"The biggest thing offensively was that we lost the turnover margin and we lost the field position battle, and yet we were still able to put together a bunch of drives," he said. "We had to earn everything we got. We had a 75-yard drive for a touchdown, an 98-yard drive for a touchdown, an 85-yard drive for a touchdown, and 80-yard drive for a touchdown, and then we had two field goals off of 66 and 69 yard drives, so we played on a long field all night and were able to put drives together against the best defense in the country. I'm really, really proud of what we did there.
"Defensively, a ton of big stops. 10 punts. We held them to 87 yards passing. They did bust a couple of runs on us. We probably gave up a few more big plays in the run game than we have in a while, but those are all things that we can improve from. We have to do a better job of communicating. We had a bust on the fourth-and-six at the end of the game with man coverage. Overall, very physical game. I thought our guys responded to that. They were 3-of-15 on third down. A bunch of tackles for loss and a couple of sacks. It was just a complete team effort."
Clemson travels to Sun Life Stadium to take on the Canes in a noon kickoff and Swinney said the Tigers expect Miami's best shot.
"Yes. This is a really talented team. We don't expect anything but their best effort. We're going to get everyone's best A-game. I think our guys know that every where we go, we're not going to get anybody's B-game or C-game. We're going to get the best they've got, and that's why it is important that we are dialed in each and every week and putting our best foot forward preparation-wise and with our focus. This is the University of Miami.
"They're coming off a big win and we have a long way to travel down there. They're getting ready to play a top-ranked undefeated team. There will be great energy from their standpoint and we've got to match that. This is a team that's very talented. This quarterback is very impressive. We're just kind of getting going into looking at these guys today, but they're capable of playing with anybody. There's no doubt about that. They're certainly capable of beating us. We're going to have to play a great ballgame on the road to have a chance to win."
The contest is the first of two straight on the road, with four of the last six being played away from Death Valley.
"It's just different when you go on the road in that you're not playing in front of your home crowd and all of that type of stuff. I've always enjoyed going on the road," Swinney said. "I like the challenge, even the hostility of going on the road and everyone cheering against you if you will. I've always enjoyed that part of it. Your routine is a little different. Your Friday routine is different because now you have to go to the airport. We try to keep things as normal as possible. We still do our game-prep on Friday here. At the end of the day it's about how you play and how you execute. That's what we focus on. For us to have a great second half of the season, we have to win on the road."
OTHER NOTES
Players of the game
" Ammon Lakip
Ammon Lakip
RS Sr. Punter / Kicker
#36 5-11, 200
Alpharetta, GA
View Full Profile was our special teams player of the game. He did a great job on kickoffs all night. We had a couple of field goals. We were solid punting again and were close on a couple of return opportunities. Just all three phases coming together. Our defensive player of the game was Ben Boulware
Ben Boulware
Jr. Outside Linebacker
#10 6-0, 241
Anderson, SC
View Full Profile . He had another great game. He was active all night long. He did a great job of communicating for us all night long. The offensive player of the game was Artavis Scott. He had 210 yards all purpose, and really got us going early in the first quarter and played consistent all the way through the game."
Midway point
"We're just kind of at the half-way point, and we've done what we've needed to do but we've got to keep getting better and guys have to take ownership of some of the mistakes that we're making and we've got to go improve. Miami is going to be another tough challenge for us especially going down there, but we look forward to it."
Injuries
"Injury-wise, it's a real positive because usually when we come out of a game with Boston College, it's usually a long list on the report. Justin Falcinelli

Justin Falcinelli
RS Fr. Offensive Tackle
#50 6-3, 293
Middleton, MD
View Full Profile and Stanton Seckinger

Stanton Seckinger
Gr. Tight End
#81 6-5, 238
Isle of Palms, SC
View Full Profile are the only two we had any issues with. Falcinelli just kind of hyperextended his left elbow, but he should be okay. We'll put him in a brace. Seckinger looked pretty good this morning. We're going to get Ryan Norton
Ryan Norton
RS Sr. Offensive Line
#58 6-3, 284
Simpsonville, SC
View Full Profile back this week. We should get Ryan Carter
Ryan Carter
RS So. Cornerback
#31 5-9, 177
Grayson, GA
View Full Profile and Austin Bryant

Austin Bryant
Fr. Defensive End
#91 6-4, 268
Pavo, GA
View Full Profile back as well. Hopefully, we'll be at full capacity as we get ready to make this tough trip down to Miami."
Ryan Norton's status
"He could have probably played had we just had to have him. We plan to cut him loose this week and get him back to going full go. He'll take second-team reps and Jay Guillermo

Jay Guillermo
RS Jr. Center
#57 6-3, 324
Maryville, TN
View Full Profile will be the starter. I think Jay has really performed well and has done a great job stepping in and filling in for Ryan. We'll see where Ryan is and we'll let those guys get back to work and go compete. We're really glad to have him back. We're very thin. Zach Riggs
Zach Riggs
RS So. Center
#54 6-5, 270
Greer, SC
View Full Profile was out this past game, then Falcinelli goes out, so we were down to our last center in Harrison Tucker
Harrison Tucker
RS Sr. Offensive Line
#79 6-3, 290
Ninety Six, SC
View Full Profile who went in and finished the game for us."
Deshaun Watson's hand
"Oh yeah he's fine. He had a little cut, but he's alright."
The play of Mitch Hyatt

Mitch Hyatt
Fr. Offensive Line
#75 6-6, 285
Sugar Hill, GA
View Full Profile
"It was real important this year because we had a big need. It's the first time that's happened here since 1944, so it doesn't happen very often. It's not something that you can count on, but that's what our situation was. We're really fortunate because he enrolled in January and went through spring practice with us. He got a little bit of a head start, but he's just very committed, very talented. He and Joe Gore

Joe Gore
RS Sr. Offensive Tackle
#73 6-5, 294
Lake Waccamaw, NC
View Full Profile probably had their worst games last night but on the season he has been tremendous. As I said last night, he's not even close to what he's going to be as he continues to mature through our program."

Tags: Clemson Football
,
Joe Gore
,
Ryan Norton
,
Stanton Seckinger
,
Ammon Lakip
,
Harrison Tucker
,
Jay Guillermo
,
Ben Boulware
,
Jordan Leggett
,
Ryan Carter
,
Zach Riggs
,
Deshaun Watson
,
Artavis Scott
,
Justin Falcinelli
,
Mitch Hyatt
,
Austin Bryant