| | |
| --- | --- |
| Morris on South Carolina: "We had all better take it personally" | |
---
| | | |
| --- | --- | --- |
| Monday, November 25, 2013, 2:31 PM | | |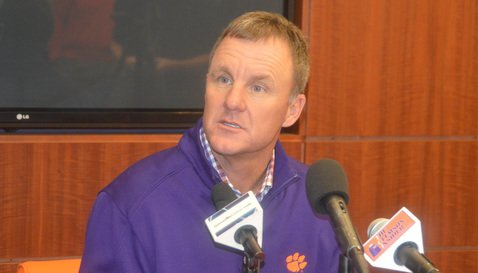 CLEMSON – Offensive coordinator Chad Morris

Chad Morris
Offensive Coordinator / QBs
View Full Profile said Monday that Saturday's rivalry game against South Carolina will come down to football in its simplest forms.
The Tigers and Gamecocks renew acquaintances Saturday in Williams-Brice Stadium in a 7 p.m. kickoff, and all eyes will be on Morris and quarterback Tajh Boyd

Tajh Boyd
RS Sr. Quarterback
#10 6-1, 225
Hampton, VA
View Full Profile to see how they handle South Carolina's defense.
In last season's 27-17 loss to the Gamecocks, Boyd was 11-for-24 for 183 yards and two interceptions as the Tigers managed just 328 total yards. In the 2011 loss at South Carolina, Clemson managed just 153 total yards and Boyd was just 11-for-29 for 83 yards. In those two games, Boyd has been sacked a total of 11 times.
As a result, I asked Morris Monday if the key to Saturday's game will be Clemson's ability to block for Boyd.
"Can we block? Yeah, we can block. I think it's going to come down to basic football," Morris said during his Monday interview session in the WestZone. "Blocking. Tackling. Hanging onto the ball. But that is every week. They have a very good defense, there is no doubt about it. They have as good a front as we have seen this season. We have to execute well."
Junior defensive end Jadeveon Clowney had four sacks against the Tigers last season, but Morris said that he has faith that left tackle Brandon Thomas

Brandon Thomas
Gr. Offensive Line
#63 6-3, 305
Spartanburg, SC
View Full Profile will be able to play better this time around.
"He is one of the best players in college football, there is no doubt about that," Morris said of Clowney. "We've played against him the last two years, and he has had some success against us. We haven't played that well against them from an offensive standpoint against those guys. Brandon didn't play well against him last year, but Brandon has been playing really well this year and is the most consistent player we've got and it will be a big challenge for him."
Morris was asked if Thomas will take the challenge personally, and he said that taking the game personally doesn't stop at just Thomas.
"We had all better take it personally," he said. "It ain't just Brandon. It's all of us. We all are. This is a game that is about Clemson and we are going to focus extremely hard. Can we continue to improve on the level we've been improving at over the last four weeks? We had better execute and hold onto the football and go out and make plays."
One reporter asked Morris if Clemson's players have had a "deer in the headlights look" against South Carolina, and he said no.
"I don't know if it's so much a deer in the headlights look as the fact that they have made plays and we haven't," he said. "I am not going to make any bones about it – they've beaten us. Our guys, we haven't executed well, we haven't coached well and they have beaten us. They have had two good football teams the two years I have been here and two of the top defenses in the country. But it comes down to us. Can we make plays? If we can do that, we have a chance."
He then said the Tigers will have to run the football in order to have a chance to win.
"We haven't been able to run the football like we've wanted to," he said. "We've gotten better over the last four weeks. But we are going to have to run the football this Saturday, I will tell you that. We are going to have to run the football and do a good job of it. But that is any time you go on the road."
On Isaiah Battle

Isaiah Battle
So. Offensive Tackle
#79 6-6, 280
Brooklyn, NY
View Full Profile
"He has done well. He has made some mistakes. Obviously, his athleticism is a huge advantage for us. We will see. He is going to continue to get better and that excites you."
On other receivers stepping up
"When you start looking at the development of Martavis (Bryant) and Mike Williams

Mike Williams
Fr. Wide Receiver
#7 6-5, 205
Vance, SC
View Full Profile , that is something we didn't have earlier in the year. Tajh didn't have the confidence in those guys. He has gained that throughout the year, like he did with Nuk (Hopkins) last year. We needed that. Adam Humphries

Adam Humphries
Jr. Wide Receiver
#13 5-11, 190
Spartanburg, SC
View Full Profile has been consistent and you know what he will bring to the table. Stanton (Seckinger) has made some plays the last couple of weeks. We have to have that. There will be four or five different plays in this game you have to make. We will have 85 or 90 plays, and it will come down to those four plays. When you have two evenly-matched football teams that is what it will come down to."
Who is best blocking tight end you have?
"Obviously Sam Cooper

Sam Cooper
RS Jr. Tight End
#86 6-5, 250
Brentwood, TN
View Full Profile , then Darrell Smith

Darrell Smith
Gr. Fullback
#40 6-1, 250
Gadsden, AL
View Full Profile and Stanton Seckinger

Stanton Seckinger
RS So. Tight End
#81 6-4, 210
Isle of Palms, SC
View Full Profile . Those three."
Running back health
"We hope to get C.J. Davidson

C.J. Davidson
RS So. Running Back
#32 5-11, 185
Clemson, SC
View Full Profile back, but he is a guy that hasn't practiced for a while. We've been working Jay Jay McCullough

Jay Jay McCullough
RS Fr. Tight End
#89 6-3, 230
Fort Mill, SC
View Full Profile at running back over the last three weeks, just to try and get him into a game mode. With a young guy, the first thing you worry about is ball security. But he did a good job and we will see how that goes. I think Zac (Brooks) will be an option Saturday. I think he will be suited up and ready to go. I think he will be an option but to what extent I don't really know right now."

Tags: Clemson Football
,
Adam Humphries
,
Brandon Thomas
,
C.J. Davidson
,
Chad Morris
,
Darrell Smith
,
Isaiah Battle
,
Jay Jay McCullough
,
Mike Williams
,
Sam Cooper
,
Stanton Seckinger
,
Tajh Boyd