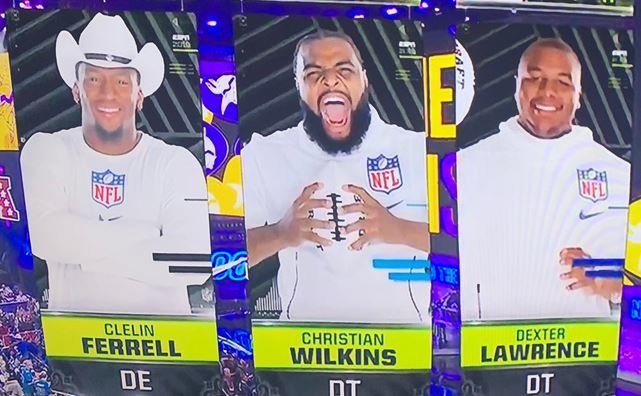 | | |
| --- | --- |
| Twitter reacts to Dexter Lawrence going No. 17 overall in NFL Draft | |
---
| | | |
| --- | --- | --- |
| Thursday, April 25, 2019, 10:27 PM | | |
Former Clemson defensive tackle Dexter Lawrence was selected No. 17 overall in the 2019 NFL Draft on Thursday night.
The three first-round selections with No. 4 overall pick Clelin Ferrell, No. 13 overall pick Christian Wilkins, and No. 17 overall pick Dexter Lawrence is a school record for first rounders in one NFL draft.
It's only the second time since the AFL-NFL merger that three from one position group were selected in the first round (2006 NC State DL the other).
Check out some of the instant reactions on Twitter:
Members of the Armed Forces announce the selection of Dexter Lawrence with the 17th pick in the #NFLDraft! ???? pic.twitter.com/X4yesNfdY7

— New York Giants (@Giants) April 26, 2019
BIG DEX!!!! #ClemsonNFL #DLU

— Coach Jeff Scott (@coach_jeffscott) April 26, 2019
Big Dex!!!!!

— ???????? ?????????????? (@BigJohn74_) April 26, 2019
Took this pic in September. All three go in the Top 17. pic.twitter.com/yqyyKDT6PD

— Andrea Adelson (@aadelsonESPN) April 26, 2019
Woooo hoooo #ClemsonFootball #NFLDraftDay2019 pic.twitter.com/gHqzPkgbfA

— Ricky Sapp (@Sapp91) April 26, 2019
ACC now leads #NFLDraft with 6 of the first 17 picks ?????

— Coach Jeff Scott (@coach_jeffscott) April 26, 2019
Sexxxyy Dexy yea baaaby ?????? @llawrence2139

— KJ Henry (@thekjhenry_) April 26, 2019
DLU period!

— Dj Reader (@Djread98) April 26, 2019
Mood. pic.twitter.com/as28euLcQE

— Tiger Commenter (@TigerCommenter) April 26, 2019
Congrats to Dexter Lawrence on being drafted by the @Giants! Excited to see what his future holds! #ClemsonNFL #NFLDraft @llawrence2139 https://t.co/87fUdSsEry

— Jim Clements (@ClemsonPrez) April 26, 2019
A THIRD @ClemsonFB defensive lineman off the board after the @Giants select Dexter Lawrence with the 17th overall pick!#ACCFootball #ALLIN #NFLDraft pic.twitter.com/sQGQHeNnqP

— ACC Football (@ACCFootball) April 26, 2019
#DLU ?????? pic.twitter.com/zmvTBHLxGv

— Jordan Sorrells (@SorrellsJordan) April 26, 2019
Big Dex goes #17 in the draft to Giants. Gives Clemson three first rounders for first time. Clemson joins NC State (2006) as only school with three DL to be taken in first round.

— Tim Bourret (@TimBourret) April 26, 2019
Hey Dex. pic.twitter.com/7E4tJfBJn8

— Clemson Football (@ClemsonFB) April 26, 2019
Mood pic.twitter.com/M3NTldMXAP

— Clemson Football (@ClemsonFB) April 26, 2019
Dexter Lawrence is really good, but also projected to go late in the first round. So Gettleman uses the 6th overall pick, Odell Beckham Jr, and $20 mil to get a projected late 1st rounder and late 1st/early 2nd rounder. Boy, that's some GMing. #NFLDraft

— Max Kellerman (@maxkellerman) April 26, 2019
Welcome to Big Blue, Dexter Lawrence??#GiantsDraft | #NFLDraft pic.twitter.com/2u60No5JVA

— New York Giants (@Giants) April 26, 2019
So the first player the Giants get back in the Odell Beckham trade is Dexter Lawrence.

— Adam Schefter (@AdamSchefter) April 26, 2019
History, y'all. Clemson now has three first-round picks in a single draft for the first time ever.

— Ross Taylor (@ClemsonFBRoss) April 26, 2019