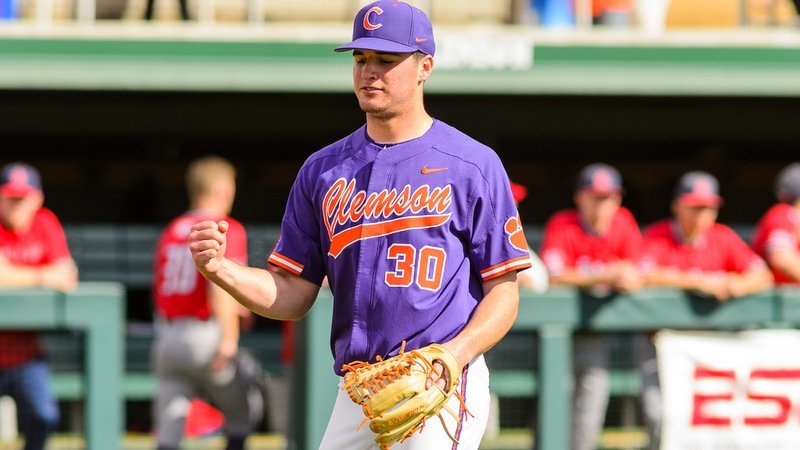 | | |
| --- | --- |
| Rankings: Tigers maintain position in D1Baseball, Baseball America polls | |
---
| | | |
| --- | --- | --- |
| Monday, February 18, 2019, 10:44 AM | | |
The opening weekend of the college baseball didn't see much for movement in the major polls - Clemson included.
The Tigers took the first two games of their two-day, three-game series with South Alabama over the weekend before a 4-3 loss spoiled the sweep Saturday evening. The results didn't affect their place in the rankings for Baseball America (No. 14) or D1Baseball (No. 24).
"Without the services of Seth Beer and Chris Williams, the Clemson offense will likely be less power-oriented in 2019, but that wasn't the case in their series win over USA," Baseball America analyzed. "They got two homers in each victory, including a three-run shot by shortstop Logan Davidson in Game 1 that turned a 2-0 deficit into a 3-2 lead. Freshman righthander Davis Sharpe was a hero in the Game 1 win, throwing five shutout innings with eight strikeouts."
Sharpe also hit two homers in the series finale to knock in three runs. In addition to Davidson and Sharpe, Bryce Teodosio, Michael Green and Sam Hall also powered shots over the wall.
In the national picture, Vanderbilt maintained its ranking atop both polls as well.
Clemson returns to action Monday afternoon at 4 p.m. versus Charlotte.
Clemson rankings (updated as they come in)
Baseball America: 14
D1Baseball: 24
Collegiate Baseball: 15
Other ACC rankings
D1Baseball: UNC (6), Louisville (8), Florida State (13), Wake Forest (20).
Baseball America: UNC (5), Florida State (6), Louisville (12), Duke (22).