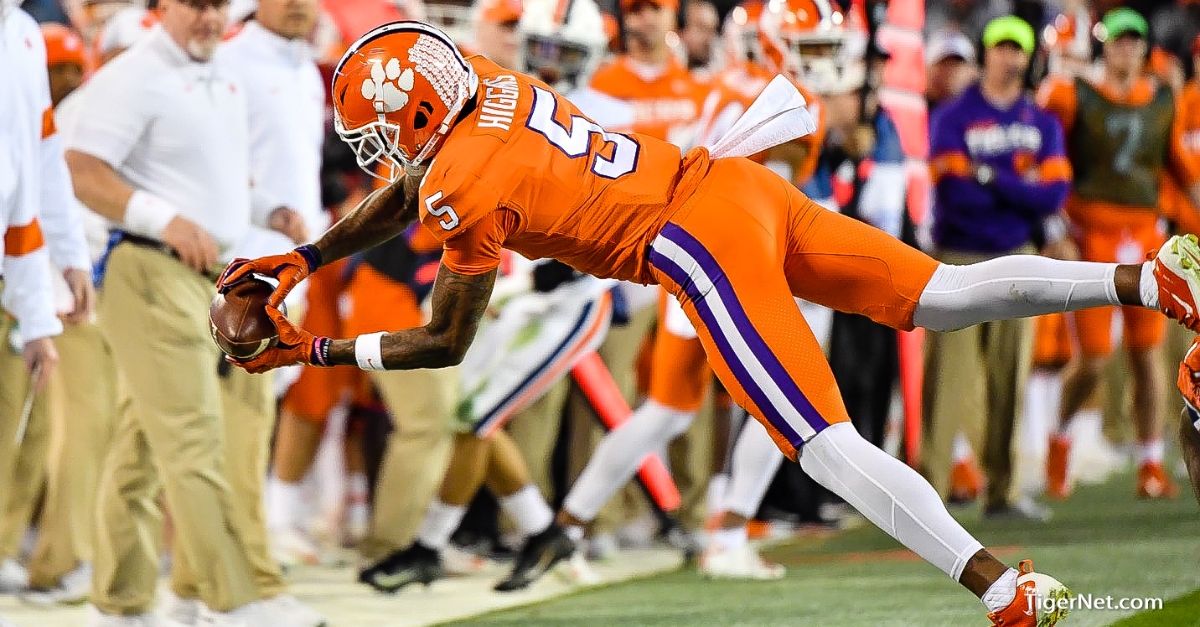 | | |
| --- | --- |
| Postgame notes for ACC Championship | |
---
| | | |
| --- | --- | --- |
| Saturday, December 7, 2019, 11:33 PM | | |
Clemson Notes
· Clemson joins Oklahoma (2015-19) and Alabama (1971-75) as the only members of any active FBS conference to win five straight outright football titles … Clemson is the only program to win five consecutive conference championship games since the creation of such contests in 1992.
· The Tigers extended their record number of total ACC football championships to 19. Florida State ranks second with 15.
· Clemson is first team in ACC history earn five consecutive outright league titles … Florida State earned at least a share of the championship nine consecutive years from 1992 through 2000, but never more than three titles outright.
· The defending national champion Tigers are 13-0 for the third time in school history (also 2015 and 2018).
· Clemson won its 28th consecutive game, dating to the outset of the 2018 season, to extend the second-longest streak in ACC history … Florida State's 29-game streak from 2012 through 2014 stands as the ACC record.
· The Tigers have won 71 of their last 74 games … Clemson's 116-22 record in the 2010s represents the winningest decade in school history, far surpassing the 87-25-4 mark set in the 1980s.
· The Tigers are the sixth team in ACC history to win at least 13 games in a season … Clemson's teams of 2015, 2016 and 2018 were the most recent prior to Saturday night, posting respective records of 14-1, 14-1 and 15-0.
· Clemson's season-high 62 points scored set a record for the ACC Championship Game, bettering the 45 by Florida State versus Duke in 2013 (45-7), and Clemson versus North Carolina in 2015 (45-37).
· Clemson's 408 yards passing set a new mark for the ACC Championship Game, surpassing the 335 by Virginia Tech in the 2005 inaugural game versus Florida State.
· Clemson's 621 total yards set a Championship Game single-team record … The combined 1,006 yards by the Tigers and Cavaliers also established a new two-team record.
· Sophomore QB Trevor Lawrence's four touchdown passes set an ACC Championship Game record, bettering the previous mark of three set seven times prior to Saturday night.
· Junior WR Tee Higgins' 182 yards receiving and three touchdown receptions (on nine catches) are also new ACC Championship Game marks … Higgins, voted the game MVP, surpassed the previous receiving yardage mark of 143 yards set by Virginia Tech's Danny Coale in 2010 … Five players – including Higgins – shared the previous single-game touchdown reception record of two prior to Saturday night.
· Lawrence and Higgins have teamed up for five touchdowns in the last two ACC Championship games (two last year versus Pitt and three Saturday night).
· Two-time ACC Player of the Year Travis Etienne followed up last year's 156-yard rushing game by rushing for 114 yards and a touchdown on 14 carries versus the Cavaliers.
· Clemson allowed a first-quarter touchdown for only the second time this season when Virginia QB Bryce Perkins connected with Hasise Dubois on a 20-yard scoring play at the 6:22 mark of the opening period … The Tigers have outscored their opponents 170-17 in the opening quarter this season … The Cavaliers had opened the game by driving to the Clemson 12, but Tiger S Nolan Turner made his first interception of the season in the end zone to stifle that threat.
· Lawrence's 59-yard touchdown pass to WR Justyn Ross with 4:46 left in the first quarter was the second-longest pass in ACC Championship Game history … Georgia Tech QB Joshua Nesbitt's 70-yard pass to WR Demaryius Thomas versus Clemson in 2009 stands as the longest.
· Clemson's 31 points set an ACC Championship Game record for points scored in a first half, breaking the previous mark of 28 first set by Florida State versus Georgia Tech in 2014 and matched by the Tigers versus Pitt last year … Clemson's 31 points in the second half were also a record.
· Clemson's eight consecutive wins by 30 points or more is the longest streak in the AP Poll era, per ESPN Stats and Info … The Tigers' seven straight wins by 30 or more points entering the game were tied with 2011 Houston and 1976 Michigan.
· The No. 3 Tigers solidified their pending bid to the College Football Playoff … The winner of the ACC Championship game has gone on to play in the National Championship Game or compete in the College Football Playoff in each of the previous six seasons.
· The Atlantic Division team has now won 11 of the 15 ACC Football Championship games, including the last nine. Clemson (6) and Florida State (4) have the most titles. The last Coastal Division team to win the championship game was Virginia Tech in 2010.
· Clemson now leads the all-time series with Virginia, 39-8-1.
Virginia Notes
· Virginia recorded 387 yards of total offense, a season high for a Clemson opponent (previous high was 294 by Georgia Tech in season opener).
· UVA allowed its most points allowed by since a 63-21 loss to Illinois in the 1999 Micronpc.com Bowl.
· With 266 yards passing, Bryce Perkins moved into first place on the UVA single-season passing list with 3,215 yards (Kurt Benkert, 2017, previously held record with 3,207 yards).
· Perkins also moved into third on the UVA career passing list with 5,895.
· Perkins rushed for 56 yards and now owns the most career rushing yards for a UVA quarterback with 1,666, passing Bill Dudley (1939-41) with 1,631.
· Perkins matched a career high with 43 pass attempts. He also had 43 attempts earlier this season at Notre Dame.
· Hasise Dubois caught a career-high 10 passes for 130 yards. His previous career high for receptions in a game was nine, set at Notre Dame earlier this season.
· The 130 receiving yards by Dubois is the most given up by Clemson to one receiver this season.
· With 10 receptions, Hasise Dubois moved up two spots into sixth place in all-time receptions at UVA with 141.
· Billy Kemp recorded career highs in receptions (9) and receiving yards (66). His previous highs were four catches and 51 yards, both earlier this season against Georgia Tech.
· Virginia recorded a pair of sacks and now has 45 this season, setting a single-season program record (previous record was 43 in 2007). UVA entered the game No. 6 in the nation in sacks.
· Virginia's defense surrendered 31 points in each half, its most points in any half this season (previous was 24 in second half last week vs. Virginia Tech).
· Virginia allowed 619 yards of offense, its most since giving up 632 in a 2016 loss to Oregon.
· UVA gave up 345 yards in the first half. Coming in, the Cavaliers' defense was allowing an average of 336.5 yards per game this season.
· Clemson's touchdown on its game-opening drive was just the fourth TD allowed on an opening drive by the UVA defense in 13 games this season.
· First-Team All-ACC WR/KR Joe Reed did not play because of injury.