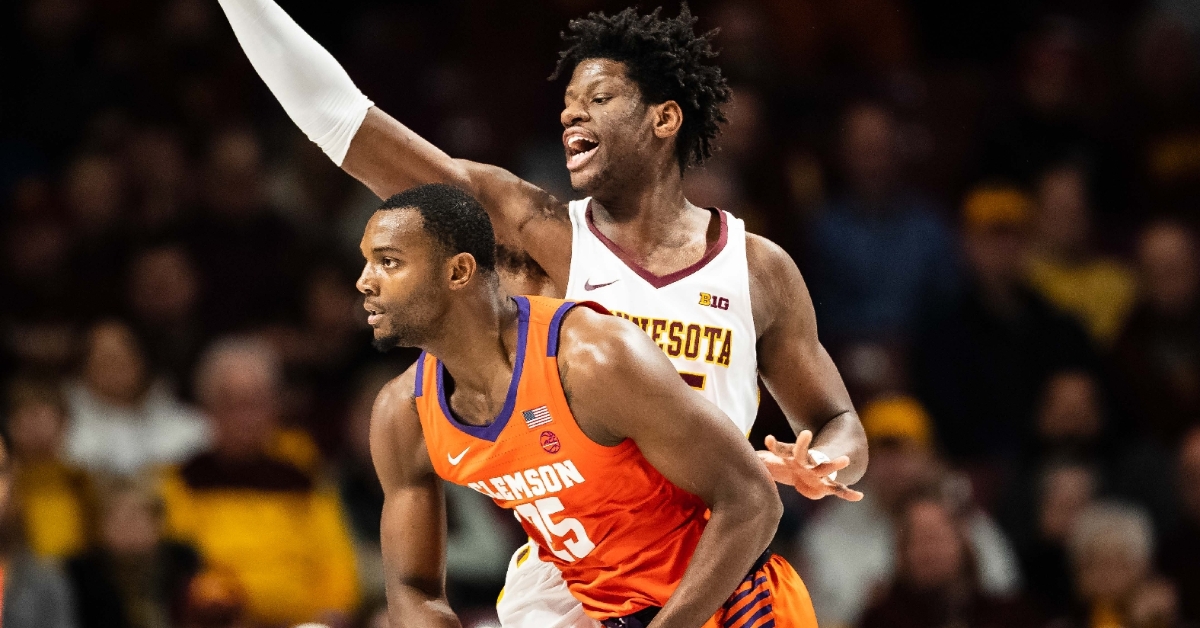 | | |
| --- | --- |
| Minnesota tops Tigers in Big Ten/ACC Challenge | |
---
| | | |
| --- | --- | --- |
| Monday, December 2, 2019, 11:10 PM | | |
Minnesota controlled the action from start-to-finish to top Clemson 78-60 in the schools' Big Ten/ACC Challenge game in Minneapolis on Monday evening.
The Golden Gophers held the lead for over 18 minutes of the first half (18:28) where the Tigers shot 44 percent from the field but didn't make one of three 3-point attempts. Minnesota (4-4) led by as much as 11 points in the first half and held on to a 35-29 edge at the break.
The Tigers (5-3), in the midst of a four-game jaunt away from Littlejohn Coliseum, went on to be held without a lead in the game.
Minnesota started with an 8-1 run out in the second half to prompt a Clemson timeout and get their largest lead to that point, 3 1/2 minutes in. Continued struggles from beyond the arc didn't help the Tigers' comeback hopes, as Clemson finished 2-of-11 on 3s.
Conversely, Minnesota shot 53.8 percent from the field and made 8-of-22 treys.
Hunter Tyson led Clemson with 12 points, with Aamir Simms (11), Khavon Moore (10) and Curran Scott (10) joining him in double-figures. Marcus Carr paced the Golden Gophers with 24 points -- Alihan Demir also topping 20 points (21).
Clemson freshman starting guard Chase Hunter (foot) missed a second-straight and third-in-four games due to injury.
The Tigers return to ACC action next on Sunday at Florida State (2 p.m./ACC Network).
Brad Brownell Quotes
Opening statement:
"We didn't play very well tonight, and I didn't think we did some of the things we prepared to do in practice. In the second half, things got away from us defensively. I've got to give credit to Minnesota. They played well. [Marcus] Carr was a big problem, and [Daniel] Oturo was very efficient."
On the keys to the game:
"We were just on our heels offensively. Maybe it was 'first road game jitters.' It took us a long time to get a comfortable feeling in the game. They played the ball screen well. Having a shot blocker and length at the rim helped them. We didn't get many kick-out threes. We weren't able to get in transition with the way they were playing."
On the impact of Clemson's bench:
"Our bench guys gave us a big lift. Curran [Scott], Hunter [Tyson] and Khavon [Moore] played well. They were eager and excited and got off to great starts."