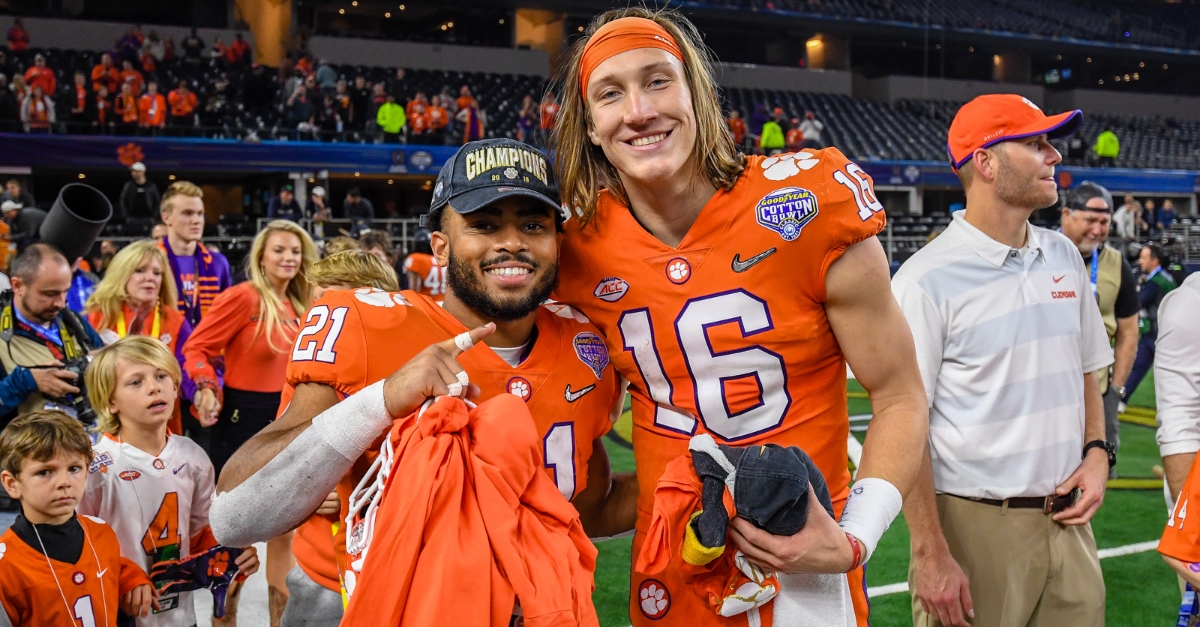 | | |
| --- | --- |
| Lawrence, Rencher unite with Power 5 players to push for playing season, players union | |
---
| | | |
| --- | --- | --- |
| Monday, August 10, 2020, 12:35 AM | | |
Clemson quarterback Trevor Lawrence kicked off the next phase in a push to save the 2020 fall college football season by uniting with players across the country in the #WeAreUnited movement to the #WeWantToPlay movement.
Lawrence posted late Sunday on social media six tenets the groups are seeking:
- Playing football this season.
- Establishing universal mandated health and safety procedures and protocols to protect college-athletes against COVID-19 among all conferences throughout the NCAA.
- Give players the opportunity to opt out and respect their decision.
- Guarantee eligibility whether a player chooses to play the season or not.
- Use student's voices to establish open communication and trust between players and officials: ultimately create a college football players association.
- Have a representative of the players of all Power 5 conferences.
Clemson running back Darien Rencher said on social media that Lawrence and him were on Zoom calls with representatives from all Power 5 conferences to decide upon the key points.
"Hail Mary to win 'the game' hopefully," Rencher posted on Twitter.
This all comes in the wake of a series of reports Sunday that the Big Ten is pushing to postpone its fall sports and the other Power 5 conferences possibly following them in doing that. Al.com reported that the SEC is favoring a wait-and-see approach on postponement.
An ESPN article early Monday shed more light on how it all came together for the players:
"The beautiful thing is now we're all on the same page," said Stanford defensive lineman Dylan Boles, one of the players who organized Sunday's message. "We made history tonight."
Boles said he received a direct message on Twitter at 5:30 p.m. PT Sunday from Clemson running back Darien Rencher. The two had never talked before, but Rencher wanted to discuss the Pac-12 players' unity movement with which Boles was involved. Boles is one of the leaders of a group of roughly 400 players in the Pac-12 who published a list of demands early last week and said they planned to sit out of practice and potentially games if conference officials were unwilling to meet with them and address their concerns. Players from the Big Ten and other conferences made similar demands thereafter, and others showed their support with the hashtag #WeAreUnited on social media throughout the week.
Rencher was one of dozens of college football players -- a list that included his Heisman Trophy-candidate teammate, quarterback Trevor Lawrence -- who shared the hashtag #WeWantToPlay this weekend as college football administrators met to debate the merits of a 2020 season. Rencher and others felt that fans and commenters were unfairly pitting the #WeWantToPlay contingent against the #WeAreUnited group, Boles said. Rencher, Boles and Lawrence talked briefly on FaceTime before deciding to loop in more players from around the country.
"We got down to talking and agreed that both of our goals are aligned with each other," Boles said. "We all want to play this year. We just want to make sure players have a say in this thing."
#WeWantToPlay pic.twitter.com/jvQhE7noGB

— Trevor Lawrence (@Trevorlawrencee) August 10, 2020
@Trevorlawrencee & I got together with representatives from every Power 5 conference via Zoom Call and this is what we decided upon

Pac 12 movement and #BigTenUnited were in collaboration with us. All together — a step toward one collective voice

— ???????????? ?????????????? (@D_Rench_) August 10, 2020
#WEWANTTOPLAY pic.twitter.com/vCd7qCvnTm

— Mike Jones Jr?? (@_mjones24) August 10, 2020
#WeWantToPlay pic.twitter.com/C1EYXM54bY

— James Skalski (@JamesSkalski) August 10, 2020
#WeWantToPlay #WeAreUnited ????? pic.twitter.com/5dGxsQcg2v

— T H E J I A N T (@Jackthejiant) August 10, 2020
#WeWantToPlay pic.twitter.com/NgKG9Nab9c

— Justin Fields (@justnfields) August 10, 2020
#WeAreUnited #WeWantToPlay pic.twitter.com/QC7651JMRR

— Cody Shear (@Codyshear7) August 10, 2020
Hail Mary to win 'the game' hopefully #WeWantToPlay x #WeAreUnited https://t.co/zDU33A3H0I

— ???????????? ?????????????? (@D_Rench_) August 10, 2020