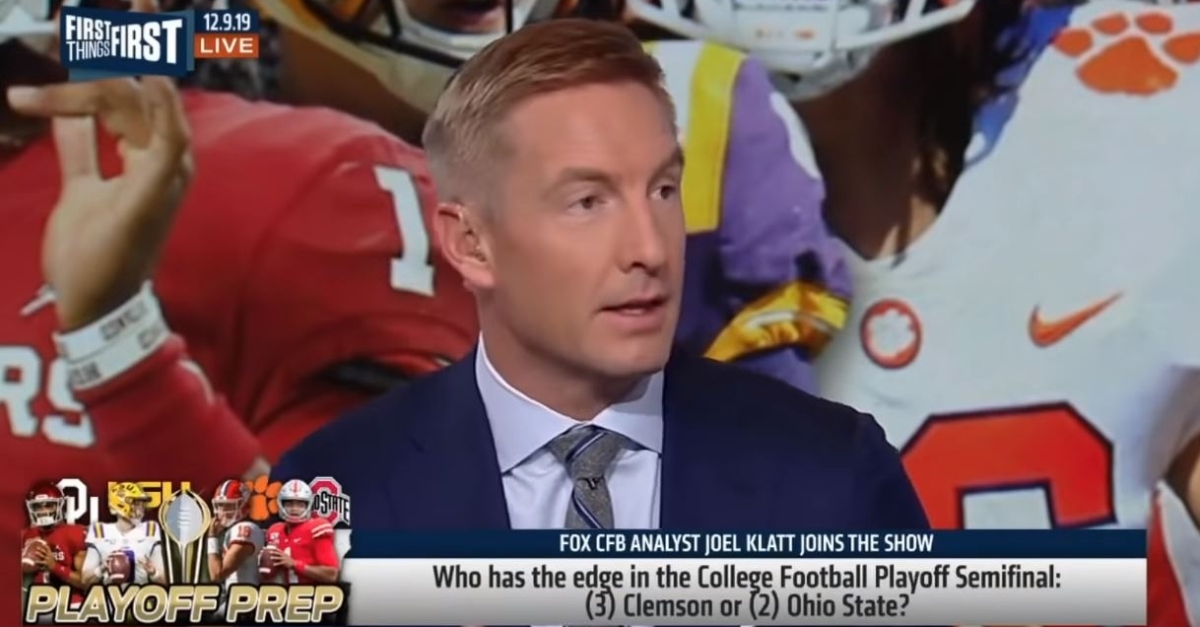 | | |
| --- | --- |
| FOX's Joel Klatt: Clemson a 'looming giant' for LSU, Ohio State in Playoff | |
---
| | | |
| --- | --- | --- |
| Monday, December 9, 2019, 1:14 PM | | |
Clemson takes the nation's longest winning streak into the College Football Playoff as a three-seed in the Fiesta Bowl versus fellow unbeaten Ohio State.
FOX Sports lead college football analyst Joel Klatt said this morning on FS1 that being the top seed mattered -- LSU coming out on top on Sunday -- as neither the Buckeyes nor the Bayou Bengals wanted a piece of Clemson out of the gate.
"The No. 1 spot was so important this year because of this looming giant that has won 28-straight games," Klatt said. "They're the defending national champion. And everyone was angling towards trying to avoid playing Clemson in the national semifinal. Because they still have Trevor Lawrence who won the national championship a year ago. They still have Dabo Swinney. Their defense has played dominant football the entire year. This is a team that can, candidly, they may still win it all still because somebody has to go out there and actually beat them."
Klatt hasn't settled on his game pick yet but he sees the game coming down to quarterback play.
"Trevor Lawrence is this generational talent at the quarterback position and we've got this great pass rusher (Chase Young) from Ohio State, who has been double and triple-teamed now for three-straight games," Klatt said. "I can't wait to watch that play out. I think it's a coin flip. I think it actually comes down to the inexperienced quarterback for Ohio State. If Justin Fields plays well, Ohio State will have a great chance to win."
Klatt says he thought Clemson was "bored" during the regular season but look primed for a strong postseason.
"It's so different. If you look at where they were strong a year ago, they were so great at the line of scrimmage," Klatt said. "They have all of those guys in the NFL right now ... Now, you've got a defense that is much stronger at the second-level and the third-level. They are a secondary-oriented team -- Isaiah Simmons at the linebacker position. I think that's difficult. From a year-to-year shift, they have had to completely change where they're strong and how they develop pressure, how they stop the run ... So what you saw is that they didn't understand how to really play early ... Late in the season they were able to play better and better and better.
"Lawrence was bored early in the season and turning the ball over. He got better and better and better toward the end of the season. And now, they've been bored all year long, untested and they're the defending champion winning 28 games in a row. It's going to be tough to beat Clemson. I really do. Even if it's Ohio State in Phoenix -- that's a tough game for Ohio State."