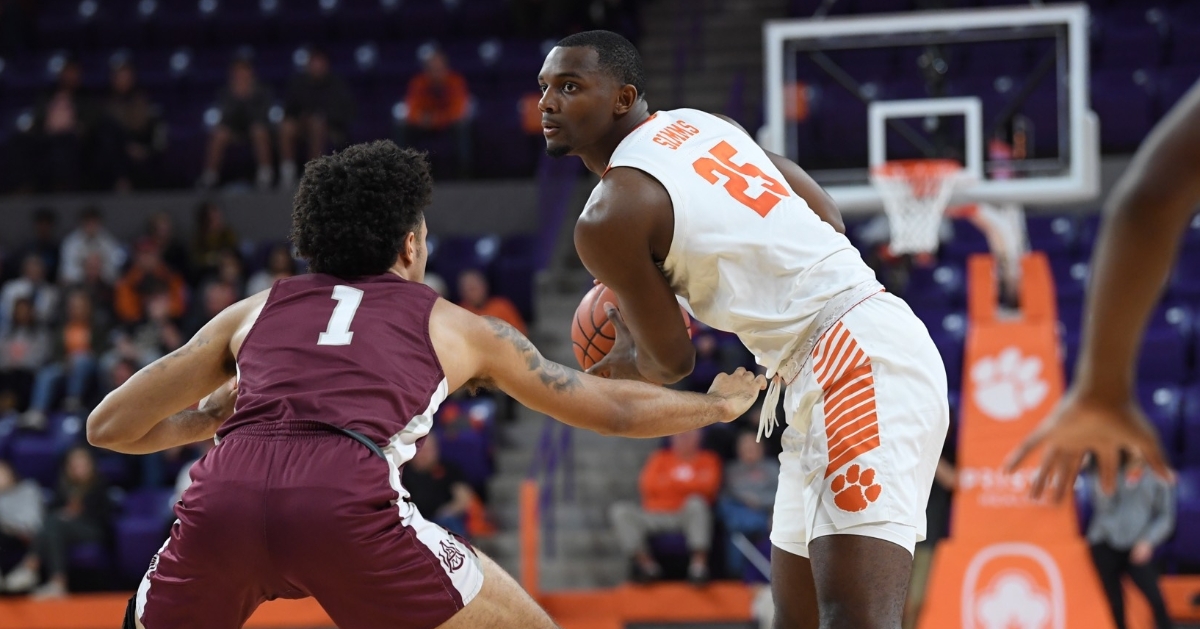 | | |
| --- | --- |
| Clemson streak snapped by No. 21 Colorado | |
---
| | | |
| --- | --- | --- |
| Wednesday, November 27, 2019, 1:46 AM | | |
Clemson's five-game winning streak was snapped in a 71-67 loss to No. 21 Colorado to wrap the Tigers' stay in Las Vegas Tuesday.
Clemson (5-2) held a 36-33 edge at the halftime break, where Aamir Simms picked up where he left off in the second half and overtime of the 62-60 win over TCU on Sunday.
Simms scored 10 of the Tigers' first 18 points and finished the first period with 14 points and four rebounds. He posted a double-double versus TCU much in thanks to 11 points and seven rebounds over the final 25 minutes of the game. Simms finished Tuesday by tying a career-high of 23 points.
Clemson led by as much as 10 in the first 20 minutes but the Buffaloes crawled back in it at the free throw line, eclipsing their average free throws made per game in the first half on 13-of-14 shooting.
Clemson then started strong out of the break to take its biggest lead of 12 points with just under 15 minutes left. Colorado (5-0) answered with a 16-3 run of its own -- a McKinley Wright breakaway dunk giving the Buffaloes their first lead of the game with just under eight minutes left, prompting a Tigers timeout.
Brad Brownell's Tigers pushed back on top into the late-going thanks to some standout free throw shooting, hitting 9-of-10 second-half attempts.
A D'Shawn Schwartz trey gave Colorado back the lead with 3:31 left, however, as part of a 9-0 run to go up six with under three minutes left. With it a two-point game under a minute to go, a Schwartz layup attempt went off the mark and gave Clemson the ball back with 22 seconds left after a timeout.
Freshman guard Al-Amir Dawes was stripped on the possession as the shot-and-game clock wound down and Wright hit a pair of free throws to put the game away.
Clemson narrowly out-shot Colorado, 41 percent to 39 percent, and hit one more 3-pointer (8) but Colorado hit five more free throws (24).
Tevin Mack continued his streak of scoring double-figures in each game as a Tiger since his graduate transfer from Alabama this season (11 points).
Tyler Bey led Colorado with 18 points -- half coming from the free throw line.
Freshman starting guard Chase Hunter was held out of the game due to injury (foot) after playing 15 minutes in the win over TCU and missing the Alabama A&M game last week.
Clemson returns to action for the ACC-Big 10 Challenge next week at Minnesota (Dec. 2/9 p.m./ESPN2).
BRAD BROWNELL POSTGAME QUOTES
Opening statement:
"This was a hard-fought game. I thought we played well for large portions of it. I also thought our zone defense was really good and threw Colorado off. We made a couple of defensive errors toward the end that cost us, but I'm proud of the way our kids fought. This one stings because we probably played well enough to win. We outplayed Colorado for a good portion of the game. We just didn't close this one out."
On the keys to the game:
"Colorado's good players elevated their play. Tyler [Bey] and McKinley [Wright IV] made a couple of big plays down the stretch. Colorado defended well late. They have a versatile lineup. We just had to ride our horses as long as we could. There was a lot of fight and a high energy level on our part."
On the tournament experience:
"I'm proud of our kids for winning against TCU with our backs against the wall and then playing right with a good Colorado team for 40 minutes. Our guys are getting better. We're fighting. We've got to get better at executing a few things, but we're getting there. Our players work hard for us, and I love coaching them.