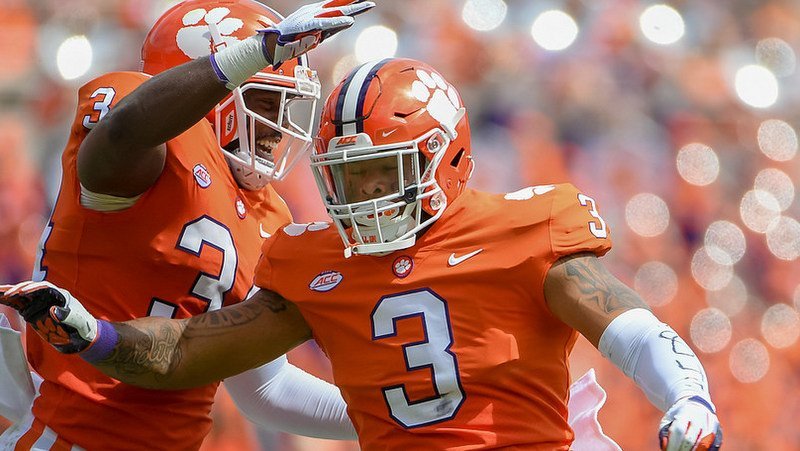 | | |
| --- | --- |
| Clemson ranked No. 3 in preseason CFB ranking | |
---
| | | |
| --- | --- | --- |
| Monday, February 11, 2019, 12:08 PM | | |
SB Nation released its 2019 S&P+ preseason rankings on Monday, where Clemson starts in the same place it did in 2018.
Clemson is No. 3 in the metric, ranking third-best nationally in returning production with a 5-year average also at No. 3.
Alabama has a bigger edge on the rest of the field in this ranking compared to 2018 - almost five points clear of No. 2 in Georgia (35.4-30.7). Nick Saban's Crimson Tide sweep No. 1 rankings in the three fields of recruiting impact, returning production and 5-year average. Clemson ranks 10th in recruiting impact, while Georgia is No. 2 there and in returning production (7th in 5-year average).
Two Clemson opponents rank in the top-20 with Texas A&M (No. 13; No. 8 in recruiting impact and No. 13 returning production) and South Carolina (No. 18; No. 19 in recruiting impact and No. 20 in returning production).
The highest-ranked ACC foe is Florida State (28th), followed by NC State (47th), Syracuse (56th), North Carolina (61st), Wake Forest (62nd), Boston College (72nd), Louisville (87th) and Georgia Tech (89th).
Clemson is projected with a top-10 offense (3) and defense (8), joining Alabama (No. 2 offense/No. 10 defense) and Georgia (No. 4 offense/No. 6 defense) with that distinction.
Alabama was last S&P+ preseason No. 1 in its 2017 national title season, where it was projected as eight points clear of the No. 2 team (Ohio State). Ohio State paced the metric preseason last year (12-2 final record).
While projecting a dead-heat in the title game, the S&P+ metric did favor Alabama quite a bit last year - the Crimson Tide finishing No. 1 (36.3) with Clemson (29.7) third behind Georgia (32.9).
S&P+ Preseason Top-5
Alabama - 35.4
Georgia - 30.7
Clemson - 29.9
LSU - 25.8
Oklahoma - 25