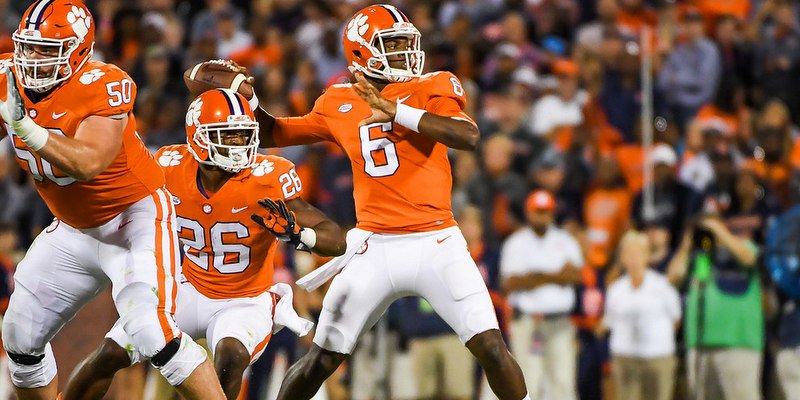 | | |
| --- | --- |
| "Zerrick's been here." Elliott breaks down Cooper-Johnson QB battle | |
---
CLEMSON – Questions surround Clemson's offense this week as the seventh-ranked Tigers prepare to take on Georgia Tech, and many of those questions are about the health of starting quarterback Kelly Bryant and backups Zerrick Cooper and Hunter Johnson.
Bryant was injured late in the first half of Clemson's 27-24 loss at Syracuse 10 days ago, and Zerrick Cooper played the entire second half.
Co-offensive coordinator Tony Elliott met with the media Monday in the Poe Indoor Practice Facility, and he said that Clemson is in unfamiliar territory.
"We're not used to this situation having time to sit and think about coming up short. So, obviously, we want to get that taste out of our mouth," Elliott said. "It was a really, really good week last week of just getting back to the basics of what our system is about, correcting the little things, but I know the guys will come back with a lot of energy this week playing at home, 8 o'clock, looking forward to the atmosphere. So, definitely ready to get back out there."
Elliott then said that Bryant didn't practice last week as he recovers from ankle and head injuries.
"Kelly was with the strength staff most of the week working on getting himself back into playing shape, but was over there for some of the periods just to make sure he was up on the game plan," Elliott said. "Zerrick and Hunter took most of the reps, but we're anticipating he's (Bryant) going to be back today and we're excited to see where he's at."
Elliott said Bryant has cleared concussion protocol "as far as I know" and said Cooper and Johnson split the reps last week 50-50 "for the most part."
I asked Elliott about the decision to play Cooper over Johnson – specifically saying that the fans and media can only go off of what we see in games – and Elliott said the decision on who plays is made by quarterbacks coach Brandon Streeter and head coach Dabo Swinney.
"That's mostly Coach Streeter and Coach Swinney that make that determination. Obviously, Coach Streeter is with those guys all the time in the meeting room, so he knows their temperament--he knows where they're at," Elliott said. "But Coach (Swinney) always has that gut feeling of who he feels needs to be in the game. So, really that's a discussion I'm not really involved in that other than I'm trying to focus on the next play call and then they determine who's in there and we just roll with it. And then the biggest thing is making sure there's no drop-off once those guys come in the game."
Elliott said Cooper's knowledge of the system keeps him ahead of Johnson.
"I think the biggest thing is in our system, there's a lot of things that the quarterback has to control and it just takes experience," Elliott said. "If you go back and watch Kelly when he was a young guy going in there behind Deshaun, there was a lot of things, just the nuances of when to send guys in motion, when do you need to pull the ball on your RPOs. Just those little things, and really when we're on our practice field it's hectic things are moving fast, so it's just the complete command of the system.
"One thing that he's given us confidence, is when he goes in the game it seems like that stuff comes a lot more natural to him. But in practice, there are just a couple of things that you've got to remind him on that you don't have to remind Zerrick on, just because Zerrick's been here. Zerrick's been in the system, he's been around the terminology, he's actually orchestrated the motions and adjustments that we have."

Upgrade Your Account
Unlock premium boards and exclusive features (e.g. ad-free) by upgrading your account today.
Upgrade Now