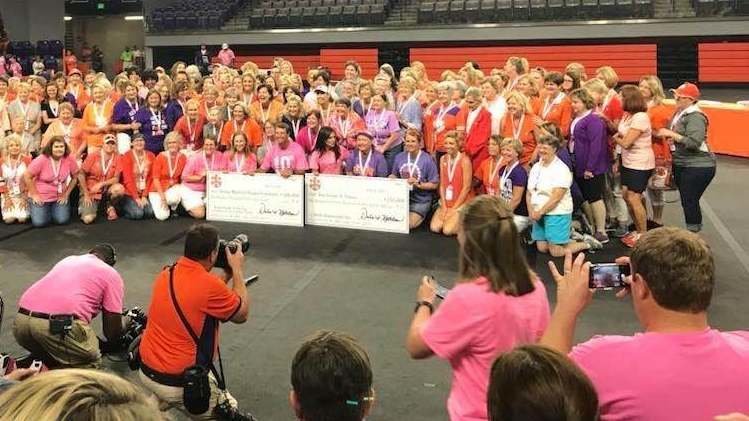 | | |
| --- | --- |
| Woman at center of Ladies Clinic firestorm says media erred in accounts | |
---
| | | |
| --- | --- | --- |
| Tuesday, July 24, 2018, 6:50 PM | | |
CLEMSON - Gina Tindall attended last Saturday's Dabo Swinney's Ladies Clinic hoping to raise money for breast cancer, hang out with fellow Clemson fans and have fun along the way. Instead, the reckless actions of the media and social media have turned what was supposed to be a great day into a nightmare.
The clinic, held each year in late July, is used to earn money for breast cancer research and awareness. Each year, members of the coaching staff give football lessons to those in attendance, and towards the end of the event, a segment is done in the weight room that shows off Clemson's success in the weight room.
However, because 3400 women were in attendance at last Saturday's event, it was held in Littlejohn Coliseum. The football team came under criticism Monday when a video circulated around Twitter of Christian Wilkins, the Tigers' senior defensive tackle, giving a woman at the clinic a dance on the floor of Littlejohn Coliseum that included him ripping his shirt off. A photo of Clemson players also in rolled up shorts that looked like undergarments-only also raised some questions from outsiders, who criticized the event for its behavior.
One newspaper even went as far as to proclaim that players were parading around in underwear and jock straps (not true) and called Wilkins' dance a striptease. All of the misinformation has made life hard for Tindall, the recipient of Wilkins' dance. She had to deactivate her Facebook account for a time on Monday because of the uproar from opposing fans who called her a booster (she isn't).
"It is super sad that The State newspaper has made this out to be something that it isn't. I know the video can seem to be more than it really was, but I promise Christian Wilkins did nothing out of the way nor did I," Tindall told TigerNet Tuesday. "He tore a black tank top off and that was gym shorts he was wearing. I can tell you he is one of my favorite players because he has such a big personality. He was the sweetest thing to all of the ladies on Saturday.
"He stopped every time someone wanted a picture and autographed every item that he was asked to sign. Also, not one of those players came out in a pair of underwear nor a jock strap either. They tucked the short legs up so we could see the muscle definition in their legs. This thing has almost made me sick literally with all the meanness that some are spreading. They don't know me."
The $350,000 raised goes directly toward breast cancer research in the form of $250,000 paying for a mobile mammography van to help breast cancer detection and the other $100,000 going directly to donations at the Oconee Memorial Hospital. However, all of that has been overshadowed after several media outlets took the word of outraged rival fans on Twitter over those actually in attendance.
"I have loved Clemson long before Dabo came along. To me, he is the BEST and he's just icing on the cake when it comes to my love for the Tigers," Tindall told TigerNet. "I love all that he stands for and I know personally he is just a great guy and I will love them long after he is gone (which I hope it's no time soon).
"I wrote The State and told them that they had many things wrong and that maybe they should come to the Clinic next year so they can see firsthand and their writing could depict what happens accurately. What was supposed to be a great day for me, a dream come true, has turned into a nightmare because of The State paper and the cruel people who followed it up."
Tindall said the overblown criticism has overshadowed the real reason for the event.
"One husband said it was more than just the money, it was the fact that she (a wife with cancer) could forget about it for a little while and laugh and smile," Tindall said. "If you could have seen the ladies with cancer that stopped me on my way out and at the Esso Club afterward to thank me for having a spunky attitude to keep up with Christian, you would have seen it was worth it all. Some who had to wear hats because they didn't have hair. Those are things I take for granted so lightly. The fact that I could walk the long distance from Littlejohn to the practice field and the facilities and they were having trouble, that hurt my heart."
Tracy Brown, the mother of Clemson wide receiver Will Brown (the subject of many photos, wearing a cowboy hat), said her son's part in it all was harmless and she's ashamed of the way the media and social media have attacked the event.
"I thought the bodybuilding contest was harmless and all in fun. My son, Will Brown, had gym shorts on that came to his knees," Brown said. "I saw many of the guys up close before it started. I know for certain that they were all in shorts. Some had simply rolled them up. It was a great event, for a great cause. It's sad to see members of the media reporting things that are not true, tarnishing the great image of Clemson Football and their effort to help fight breast cancer."
Tindall says the best way to silence the crowd is to make next year's event even bigger.
"The best way to show all those who have been so negative is to make the 2019 Ladies Clinic even bigger than this year. If selling out in 8 minutes after they went on sale was a record, let's do even better than that," she said. "I really think this will fuel attendance to the point where the Clinic has to be held in the stadium because Little John won't hold them all. I had a lady message me and tell me she is going next year and they are taking a charter bus because she is bringing over 100 women with her! I hope we raise enough money to buy 3 of those mobile mammography vans! All I know is if this event helps to save one life of a woman who is less fortunate to be able to afford a mammogram because of early detection, it was worth all the negative comments!"
More from TigerNet: Dabo Swinney reacts to Ladies Clinic controversy