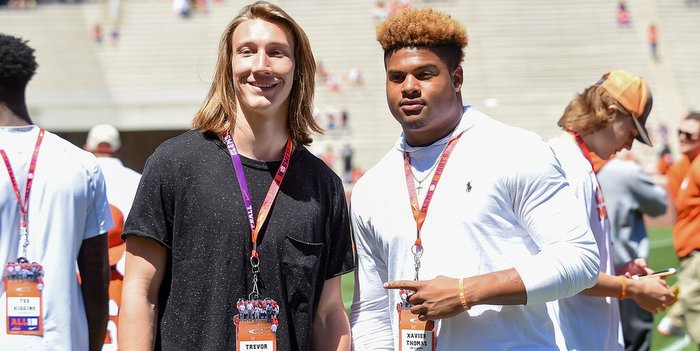 | | |
| --- | --- |
| What's the latest with Clemson's recruiting? Coaches showing patience | |
---
| | | |
| --- | --- | --- |
| Sunday, August 27, 2017, 1:23 PM | | |
Clemson hasn't received a verbal commitment in a little over two months, and many of the fans are growing restless. They expect commitments to flow in on a regular schedule, and any variance from that routine causes angst and the board posts flow as people question the coaches and wonder what is wrong with recruiting?
The answer? Nothing. Nothing at all.
Let's start with the obvious: The current crop of 2018 commits was absolutely brilliant this past weekend. Derion Kendrick was 18-for-18 through the air with 324 yards passing for South Pointe, Jake Venables was impressive for Daniel despite having the offense run away from him all night, B.T. Potter continues to impress and Mike Jones and Xavier Thomas gave Clemson fans a glimpse of the future Saturday night as both were impressive on national television in IMG's win over Chandler (AZ).
Then there's Trevor Lawrence, whose performance was simply staggering. His 82-yard touchdown pass in the first half was as impressive of a throw as you will ever see, high school or not. His across-the-body touchdown toss as he was pushed out of bounds? Jaw dropping.
He finished with the following line: 18-of-22 through the air for 403 yards, and he was impressive with his legs as well. Several times he rolled away from pressure and either completed a pass on the run or gained positive yardage while escaping the rush. He's more athletic than people think.
That's great, you say, but these guys have all been committed for a while. Where are the big names now? Why haven't the coaches reeled in yet another top prospect? The answer is one we've heard over and over, yet it doesn't click for some people.
This is a small class, and the coaches plan on taking as few as 14 or 15 and maybe as many as 17 or 18, depending on attrition (transfers, juniors leaving early) at the end of the year. With 11 commitments, already on board and no idea on attrition yet, space is tight. And, the coaches are going after some of the nation's best prospects, and many of them want to wait until December or even National Signing Day before making an announcement.
I spoke with co-offensive coordinator Tony Elliott this week, and he said that with the small class the coaches are making sure they get the right player for the program. In other words, not just any player will do.
"You want to make sure you fill your needs, but you want to make sure you get the right fit. It's easy to go out and hurry up and fill up," Elliott said. "Our brand is so strong right now that a lot of people are interested, but we also want to make sure we do our due diligence and take our time and get the right kind of young men. Because it's Coach (Dabo) Swinney's desire for us to be the model program. For us to sustain the consistency, we've got to have the right kind of pieces in place."
Elliott says he understands the "what have you done for me lately" mentality, but it simply isn't reality.
"Recruiting is sped up, and we try to do our business up front and honest, so when a young man commits we're committed to him. That means we're ready to tell everybody else no and take that young man in that spot and not recruit anybody else in his spot," Elliott said. "I think that sometimes that gets lost in the translation because people see other schools that may fill up, but then there's a lot of attrition at the end, and things change. Whereas, that's not our model. We want to make sure we get the right young men, and you look at the class we just brought in with the caliber of the young men, the quality of players and it takes time. You don't want to rush."
Players, especially teenagers, develop at different speeds. Some might peak early but never get better, while others take time to reach their full potential. That's why Clemson isn't out offering every freshman and sophomore with an impressive highlight tape.
"Exactly. If you look at a lot of the guys that have gone on to play in the NFL, one thing is they were developmental guys that fourth and fifth-year guys that came into their own," Elliott said. "One thing that we're always mindful of, too, is there have been some examples in college football of people getting too far ahead in their recruiting and by the time those young men get on campus, they're not quite the player they want them to be.
"Coach always tells us that there's no rush to hurry and get freshmen and sophomores to commit because there's going to be a lot of juniors and seniors that are going to be really good football players that are available. It holds true, especially at certain positions - the offensive line. The biggest transition, development, and growth for a young man is usually between his junior and senior year, and you don't want to be locked into a situation because then now you start damaging relationships and that's not how we want to be known."