| | |
| --- | --- |
| WestZone Notes: A different vibe with Watson back | |
---
| | |
| --- | --- |
| Tuesday, November 11, 2014 7:01 AM | |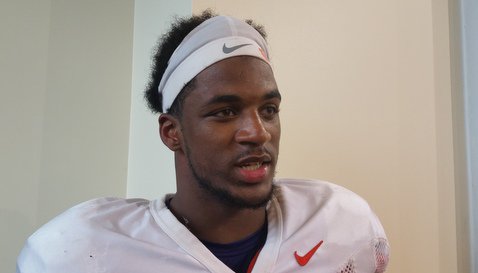 CLEMSON – It never fails. If my Facebook inbox, Twitter feed, email inbox and text messages begin to pile up, people have injury questions.
The biggest question of the last few weeks has centered, of course, on the right hand of quarterback Deshaun Watson

Deshaun Watson
Fr. Quarterback
#4 6-3, 204
Gainesville, GA
View Full Profile . Will he play at Wake? No. Will he play at Georgia Tech? Yes. Is he one hundred percent? I don't know but hard to say yes he is better than before the surgery.
Watson will start Saturday at Georgia Tech, and it was obvious in the WestZone Monday that there is a different feel in the air with the return of the freshman signal caller. Watson's return means Chad Morris

Chad Morris
Offensive Coordinator / QBs
View Full Profile can open the playbook to pre-injury status, and it takes pressure off of running back Wayne Gallman

Wayne Gallman
RS Fr. Running Back
#9 6-1, 209
Loganville, GA
View Full Profile and the running game. It should also mean more touches for receiver Mike Williams

Mike Williams
So. Wide Receiver
#7 6-5, 208
Vance, SC
View Full Profile , who is a deep threat each and every week but has seen his numbers dip since Watson's injury.
Watson made his way into the WestZone Monday and he wasn't wearing any type of splint or brace, and he didn't favor his hand as he prepared for interviews. Once he arrived at the interview table, he held his hands under the table and out of sight for most of the interview. Subterfuge? Not likely….he later showed off his small scar to anyone that wanted to look.
I asked him if he could tell me a percentage of how he feels…..is he 90 percent? A hundred? Eighty percent? He smiled and said he just feels "normal." That one word alone should make everybody feel better.
Gallman said that the addition of Watson into the offensive attack helps to keep defenses off balance.
"Yeah, because they don't know what to expect," Gallman said. "A defense can look at you and be prepared for whatever, but when you come at a defense with speed and catch them off guard, they don't know what to do."
*Sophomore safety T.J. Green

T.J. Green
So. Safety
#15 6-3, 205
Sylacauga, AL
View Full Profile will be the center of attention for much of Saturday's first half against the Jackets. Starter Robert Smith

Robert Smith
Sr. Safety
#27 5-11, 211
St. George, SC
View Full Profile is suspended for the first half, and Green has the unenviable task of trying to figure out Tech's offense. Green was asked Monday if he could take anything from the game against Boston College – Smith missed a big portion of that game with an injury and Green fell victim to a few big pass plays.
"It just taught me that you have to be disciplined when you go out there," Green said. "You have to watch film and prepare like a starter every week, because you never know when your opportunity will come."
Green said he and Smith haven't spoken since the Wake game, but he fully expects Smith to give him an in-depth course in what to expect against the option. Green said his only experience with the option was in high school.
"My offense in high school ran it, but I've never played against it as a safety," he said. "I just have to be disciplined with my eyes. That's the main thing I have to do is be disciplined. It is going to take a lot of film study and watching everything they do to get my eyes ready."
*Right guard Tyrone Crowder

Tyrone Crowder
RS Fr. Offensive Guard
#55 6-2, 322
Marston, NC
View Full Profile started the Wake Forest game, but admitted his struggles in pass protection led to Reid Webster

Reid Webster
RS Sr. Offensive Tackle
#77 6-3, 300
Woodstock, GA
View Full Profile being moved from center back to guard.
"Right now, my run blocking is better than my pass blocking," Crowder said. "In pass pro, I have to calm my feet down a little bit. It's the small stuff that kind of gets me in trouble a little bit with my feet."
Crowder said he graded out at 85 for the Wake game, but said one play stands out in film review.
"There was one play where I had my hands outside, and I have to fit them up inside more," he said.