| | |
| --- | --- |
| Trevor Lawrence, elite recruits react to Junior Day, new ops center | |
---
| | |
| --- | --- |
| Sunday, January 29, 2017, 8:01 AM | |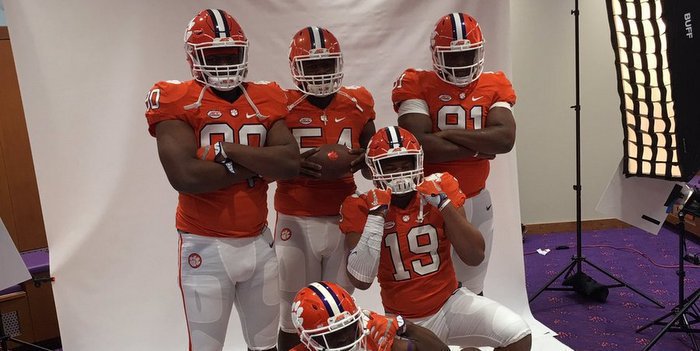 The Clemson coaching staff debuted the new football operations center Saturday afternoon as they held an elite junior day and played host to several of the nation's top players in the 2018 recruiting class.
On hand for the event were all three commits for the 2018 recruiting cycle – linebackers Mike Jones, Jr. and Jake Venables and quarterback Trevor Lawrence.
The opportunity to play for the defending national champions and spend four years in the new digs playing football and putt-putt, bowling and napping was too much for Rock Hill (SC) South Pointe wide receiver Derion Kendrick, who pulled the trigger to become Clemson's fourth commitment for the 2018 class.
Clemson also hosted 5-stars Patrick Surtain – cornerback from Plantation (FL) American Heritage – Xavier Thomas – defensive end from Bradenton (FL) IMG – and Taron Vincent – defensive tackle from Bradenton (FL) IMG.
When asked about their favorite part of new facility, recruits responded with everything from the slide to the basketball court to the movie theater, the outdoor games and, of course, the nap room.
Mike Jones, 4-star linebacker, Bradenton (FL) IMG
"I had a great time with my guys. I can't wait to get back up there for the spring game. Xavier Thomas and Taron Vincent both had a great time."
Jake Venables, 3-star linebacker, Central (SC) Daniel
"The visit was amazing. I really saw some things I didn't know about Clemson. I learned more about the academic side of the school, some of the buildings and Vickery Hall. Once I had that uniform on, they had to make me take it off."
Trevor Lawrence, 5-star QB, Cartersville (GA)
"The facilities are incredible! Great visit with the 2018 recruits today."
James Mitchell, 4-star tight end Union (VA) Big Stone Gap
"It went very well. I finally got to see the whole campus and some of the other building outside of football. Then the new football facility was amazing, and it was great getting to sit down and talk with the coaches. It was an overall great visit."
Mustapha Muhammad, 4-star tight end, Missouri City (TX) Ridge Point
"It was a great visit. My family and I had a great time. The new facility was impressive and the whole day was just unique. It really felt like home."
Josh Belk, 3-star defensive tackle, Richburg (SC) Lewisville
"It was fire."
Jordyn Adams, 4-star wide receiver, Blythewood (SC)
"It was great. The new facilities were mind blowing. They're the best in the country. It was great to spend time with the coaches and the academic advisors and talk about the academic side more so than the athletic side like it's been the past."
???????? pic.twitter.com/90ocSHTLwi

— Jake Venables (@jvenables_) January 29, 2017
???? pic.twitter.com/KIpz5YyQCy

— Xavier Thomas 1??9?? (@atxlete) January 29, 2017
#ALLIN???? Great Visit???? pic.twitter.com/dqyAChz1HK

— ??Trey Hill?? (@hilldeontrey) January 29, 2017
I'd never thought you could take me this far?? pic.twitter.com/KB1TTUFe9y

— ??ike Jones Jr (@_mjones24) January 28, 2017
It was a fun day at Clemson ! ?? (not committed!!) pic.twitter.com/cZiq8eRUPu

— J2 (@jordynadams10) January 29, 2017
Enjoyed My Visit At Clemson... #allin ?????? pic.twitter.com/iaZPbcuj0y

— PS2 (@SurtainJr) January 29, 2017
???? @hilldeontrey @jamareesalyer69 pic.twitter.com/gg2NLoYXOh

— Trevor Lawrence (@Trevorlawrencee) January 29, 2017
Check out my photo. pic.twitter.com/DHqJhCYSdx

— Josh Belk (@jbelk50) January 28, 2017
Good visit today at Clemson ???? pic.twitter.com/6yI8KKFeNV

— Derrik Allen (@DsmoothAllen) January 28, 2017
#IMG2CU ?????? pic.twitter.com/v1DLW7U1GP

— ??ike Jones Jr (@_mjones24) January 28, 2017
Da ?? pic.twitter.com/VpyvVV6P6P

— ??ustapha (@MustaphaM_) January 29, 2017