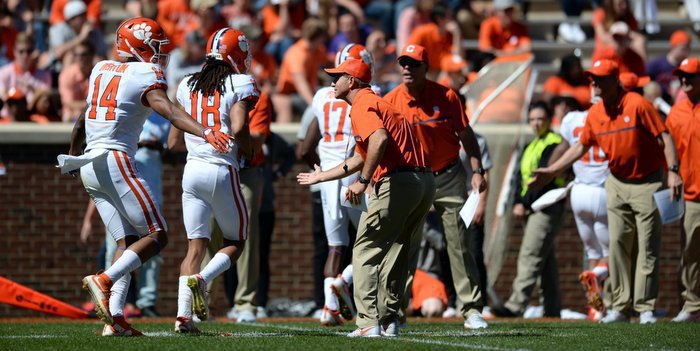 | | |
| --- | --- |
| Swinney on Saturday's scrimmage: "This is our preseason game" | |
---
| | | |
| --- | --- | --- |
| Saturday, August 12, 2017, 5:01 PM | | |
CLEMSON – With no preseason games in college football, Dabo Swinney and the Clemson coaching staff have just three scrimmages to prepare the Tigers for Kent State and the 2017 football season.
Saturday was the first scrimmage inside of Death Valley and Swinney said the offense did some good things but the defense overwhelmingly won the day.
"There were some good things on both sides. I thought the defense was very solid and consistent all day, but I just didn't like how we finished on the goal line," Swinney told the media Saturday. "I didn't think we finished well. We were a little undisciplined. We had some penalties down there, offsides.
"Offensively, we just didn't ever get into a rhythm that I'd like for us to see. Again, you have some bad plays. Sometimes it's an incomplete pass, but did you make the right decisions. Sometimes it's a bad call versus what they do, but are we making the right decisions? Are we in the right places? It's not like we're game planning to go play this opponent. We're trying to evaluate and we've got to make sure we put them in the best situations possible to get a good evaluation so we can grow them up."
Swinney said all of the quarterbacks did some good things but all have plenty they can learn and improve on.
"They all four did some good things. Kelly had a couple of tough breaks," Swinney said. "He gets an interception on Tanner Muse, but we don't cut the end. He's counting on us to cut the end and we don't. It's a tipped ball and it's a pick. He had a couple of tough breaks like that but he made the right decisions and did what we asked him to do. Outside of one series, he went against the one defense the entire time.
"Zerrick (Cooper) made some nice plays. I thought Diondre Overton, it was good to see him finish on three really good balls. Hunter (Johnson) came in and threw a touchdown pass and made another couple of really nice throws. We didn't finish on them but put them where they needed to be. Made the right decision. Chase (Brice) made a couple of good plays. Tee Higgins' first catch was a big play. Chase made a great throw there."
With just three weeks to go before the season opener, Swinney said there's still plenty left to do and learn.
"This is our preseason game. This is all we've got and we try to get as many guys opportunities as we can," he said. "We tried to just cut them lose as much we could today. We'll come back Wednesday and have a little bit more of a situational scrimmage because sometimes when you just go play you don't get enough work situationally like you need. We'll come back Wednesday and make sure we get a lot of situational work, some special situations and cover some things at the end of the scrimmage. This is a good start for us. These guys need to go play. We have our former players back so we had a little bit of an environment out there.
"We play three weeks from today. It's a good start for us. We got a lot of knowledge that we'll get out of this tape. I thought they competed well. We did not have a lot of penalties until the end. Offensively, we had some big plays. We had a couple of nice runs, but not the consistency that we need. We had three penalties on the receivers and those are things that get you beat. Some of those discipline things, we have to clean up. Overall, it was a good solid day and I'm anxious to watch the tape and get a good evaluation on all of these guys."
Other notes
More on the quarterbacks
"He probably had as good of a day by a quarterback around here in a long, long time. It was unbelievable and then today in a little different environment and a little different situation. He didn't finish on a couple of plays. He had a couple of things go wrong, but I still liked how he responded. I liked how he pushed the group. He didn't have the production that he had yesterday but he still did what he needed to do. He's been incredibly consistent as far as doing what we needed him to do. I think it's the same thing with Zerrick and Hunter and then that little Chase, he just won't go away. He's got a little swag to him and a lot of talent. I think all four of those guys are progressing the way we want."
"He played really well. He probably had the best run of the day on our short yardage rack. He broke one of 30-something yards and just kind of made it. He somehow found a little crease and he's got a gear he can go get it. He's going to be a really good player. I'm excited about Travis. He's a tough runner. Ran tough on the goal line. He's a strong kid. He's got the mentality that you love."
Special Teams
"I thought Will Spiers was really good today. We're trying to rep three guys. We did live everything today - kickoff return, kickoff coverage, punt, punt return. We got a bunch of field goal work. We're mixing and matching a lot. I thought they all did solid today. Will probably won the day today."
Defensive depth
"Defensively, I think we're going to have good depth. I think we can have strength in numbers over there. I mixed it up and made our Swarm (third) group go against our first offense and we had two three-and-outs. It was good to see our defense go play and respond when I put them in some different situations."

Upgrade Your Account
Unlock premium boards and exclusive features (e.g. ad-free) by upgrading your account today.
Upgrade Now