| | |
| --- | --- |
| Swinney on Smith hit: "We need to take off the pads and put flags on" | |
---
| | |
| --- | --- |
| Sunday, November 9, 2014, 6:56 PM | |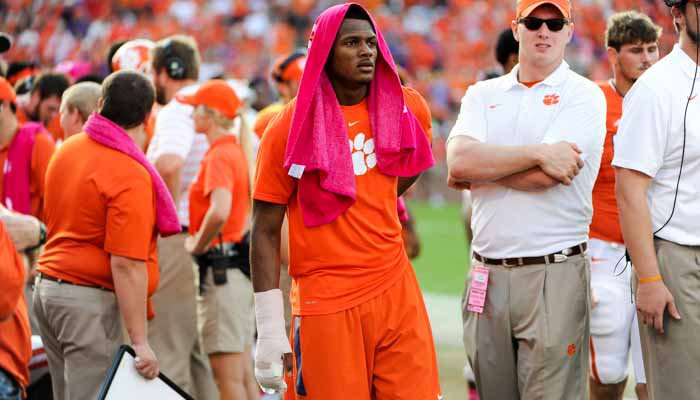 CLEMSON – Clemson head coach Dabo Swinney

Dabo Swinney
Head Coach
View Full Profile told the media Sunday evening that he hasn't heard from the league office regarding safety Robert Smith

Robert Smith
Sr. Safety
#27 5-11, 211
St. George, SC
View Full Profile 's suspension for the first half of Saturday's game at Georgia Tech, but he made it clear he is not a fan of the rule…or the call.
Smith was ejected after a hit on a Wake Forest tight end late in Clemson's 34-20 win over the Demon Deacons, and a replay confirmed the call on the field.
"I haven't talked with them (ACC). Dan Radakovich

Dan Radakovich
Director of Athletics
View Full Profile talked to them," Swinney said on his Sunday conference call "We appreciate the conference being receptive to communication. They made the call and we have to live with it. We have to move forward."
Swinney said that the new rules aren't helping the officials on the field.
"The biggest thing is at the end of the day we have put our refs in a bad situation. First of all, it's a matter of opinion and subjectivity as to what the call is," he said. "It's difficult for our refs. Everyone wants to have great player safety. That's the bottom line. The rule is, when in doubt you call it and go from there. My frustration is Robert Smith's play was as good a play as you'll ever see. The intent of the rule was to take out targeting, leading with the crown of the helmet, hitting above the neck. Really, trying to protect players on both sides from a targeting standpoint, that's what you want. That's the intent of the rule. I don't think the intent of the rule was meant to eliminate the play Robert made."
He then went on to say Smith made a great football play and said it's almost to the point that players will have to start wearing flags.
"We spend a lot of time talking about this as coaches. I think I'm qualified to have an opinion after 25 years of coaching. At some point you have to stand up for the defensive guys," Swinney said. "I thought Robert did what he needed to do. He was trying to lead with the shoulder, which is what we coach. It's a bang-bang play. At the end of the day this is a violent, physical, contact sport. If we're going to eliminate the play Robert Smith made, we need to take off the pads and put flags on. At some point you have to protect the defensive player. You have offensive guys who create helmet to helmet contact play all the time. I saw a lot of plays in college football yesterday, a lot of plays that should have been called that weren't called and even one that was reversed that shouldn't have been. That just speaks to the subjectivity that's there.
"When they put it in, we all knew what we were trying to eliminate the obvious cheap shot. You want to protect the defenseless player and the guy making the hit the guy launching with the crown of the helmet. We have to live with the call because of the subjectivity of it. I think it's put our refs in a tough situation. Refs aren't perfect either. We all understand that. I just think we put them in a bad situation. We'll move forward. We have a great player who will have to miss a half of football. That's the opinion of the people in charge. I'm just talking about the intent of the rule. I think it's something as coaches we'll have to go back and look at. If we don't, the game of football won't be the same. This is a game that is meant to be a full-speed, contact sport."
Other notes
Recapping Wake game
"Our guys got an extra day to heal up some bumps and bruises and get ready for the stretch run. Good win for us the other night. We did a lot of good things in the game. A lot of mistakes, though. The 34 points and explosive plays and our rushing, we rushed for 213 yards with Artavis' play. It goes down as a pass but it's a run to us. I was pleased with how we controlled the game defensively. We should have had five possessions in a row if we catch the pitch play. We improved from the Syracuse game. We got Tyshon Dye

Tyshon Dye
RS Fr. Running Back
#23 5-11, 214
Elberton, GA
View Full Profile going. Cole Stoudt

Cole Stoudt
Sr. Quarterback
#18 6-4, 231
Dublin, OH
View Full Profile has continued to get better. He was the player of the game for us offensively. We had a 100-yard rusher and 100-yard receiver and both were freshmen, the first time in school history.
"We gave up two sacks, one was on the line and one was on the back. We made some good plays in the passing game. We had a big play by Seckinger, one by Gallman, a couple actually. We had some big plays in the passing game at wideout. Just a good night offensively as far as improving and finding a way to get some points on the board. I was proud of that. Still a lot we have to improve on. I thought we took a step backwards in run-blocking. A lot of things we can still get better on."
On the defense
"Defensively you look up and you only give up 119 yards, you ought to be real happy. We felt like we left a lot on the field and missed some plays fundamentally, alignment-wise, mistakes here and there. There were some technique things we can improve on. They only had seven yards rushing. We didn't create any turnovers. They averaged 1.9 yards a play. The biggest disappointment was the penalties. At the end of the day that was frustrating. A lot of yards involved there. Six first downs with penalties alone."
Special teams
"Special teams we were solid with the exception of the punt return muff. That was a critical error and just a poor decision there by Humph. He's been solid there handling the ball all year. A windy night and didn't handle it well."
Injury updates
"I think we're in good shape. I don't anticipate anyone being out. We hope we will get Charone (Peake) and (Jay) Guillermo back into the mix this week. We'll see where those guys are tomorrow."
Will Deshaun Watson

Deshaun Watson
Fr. Quarterback
#4 6-3, 204
Gainesville, GA
View Full Profile start the game?
"Yes. He'll take all first-teams on Monday. We wanted to get through Thursday and not play him. He was ready to go if we needed him. We weren't sure at one point that Cole would be able to make it through but he was able to gut it out."
Fun matchup against Georgia Tech
"Fun? I don't know about that. I don't think it's ever fun to play Georgia Tech. Our most difficult challenge defensively for sure. They're executing at a high level. They're always tough. They're always in the top ten in rushing every year. Their quarterback is really playing at a high level, making good decisions and is a good runner. I don't think he gets enough credit for his ability to throw the ball. He has made some big plays in the passing game. They're just much more confident throwing the ball. It's all about the decision-making of that quarterback. It's a big challenge for us, no doubt about it."
Players of the game on special teams and defense
"Special teams was (Michael) Sobeski. He's a guy that people don't really talk about a lot. You hope people aren't talking about your snapper a lot. It was really windy. Their snapper put one on the ground. For him, he was just perfect on his punt snaps, field goal snaps and did a nice job for us. Shaq Lawson

Shaq Lawson
So. Defensive End
#90 6-3, 269
Central, SC
View Full Profile was our defensive player of the game."