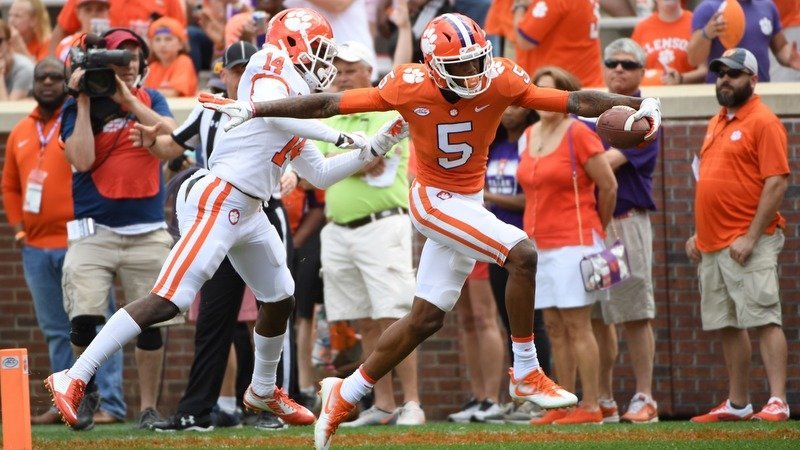 | | |
| --- | --- |
| Spring game final thoughts: A beautiful day, a QB battle, and commits galore | |
---
| | | |
| --- | --- | --- |
| Monday, April 16, 2018, 7:24 AM | | |
Saturday lived up to the hype. At least the hype I created in my own head.
We were preparing to leave the house Saturday morning when the bat phone rang. That is what I call it when I get the news that a commitment is about to happen or has just happened. Clemson had one Friday with Bryton Constantin and 5-star receiver Frank Ladson committed early Saturday.
We took the time to talk to Ladson, dressed and got the news that quarterback Taisun Phommachanh had met with head coach Dabo Swinney and given his verbal. Could it get any better?
We arrived in Clemson and made our way to Lot 5 to share a quick tailgate with friends, and I relaxed on the tailgate of a truck and took in the sights and sounds of another beautiful day in Clemson. A lovely spring day, good friends and a chance to see college football doesn't exactly stink, if you know what I mean.
I walked into the stadium and the bat phone started to buzz with the news that another commit would happen after the game. Four commits in a span of 24 hours is good, right?
Now, on to the game. I posted some quick thoughts as soon as the game was over, but I also like to take some time and re-watch the game. I have some additional thoughts to pass along, and we will start with the hot topic of the moment, which is, of course, the quarterback battle.
Late Saturday, we ran into some Clemson fans who asked me who I thought would start at quarterback against Furman. I told them that if they had asked me at noon on Saturday I would have told them it was 100 percent Kelly Bryant. After Saturday's spring game and talking with the coaches after the game, I'm not so sure.
Bryant didn't have the best game and his body language wasn't the best on the sidelines. He had to be frustrated because his strength – the use of his legs – was negated by the rules. But he needed to show the fans that he has improved as a passer and that didn't happen.
Trevor Lawrence and Hunter Johnson were as advertised, and I can see a scenario where one of those two overtakes Bryant in August. I had a coach tell me a few weeks ago that these situations tend to work themselves out. It could work itself out if one of those two guys – and even Chase Brice – make the decision easy. Trust me – the best quarterback is going to play. I got that from Swinney Saturday, and co-offensive Tony Elliott echoed those sentiments.
This team is good enough to win a National Championship. There is talent at every single position on the field, and the coaches won't jeopardize that out of any sense of loyalty. If Bryant is named the starter it's because they feel he gives Clemson the best chance to win. If it's Johnson or Lawrence or Brice, it's the same thing.
An interesting note, should Lawrence be handed the keys to the Ferrari at some point this season: only one true freshman quarterback has ever led his team to a National Championship, and that was Jamelle Holieway all the way back in 1985. Holieway took over for an injured Troy Aikman and led the Sooners to the title. He was the first until Tua Tagovailoa did so for Alabama in the 2018 College Football Playoff Championship Game, although Tagovailoa did not start.
Also interesting, at least to me, Holieway threw a whopping 64 passes during that season, completing just 27.
Back to Lawrence for a second – his touchdown pass to Higgins was a thing of beauty. Swinney admitted after the game that tight end Garrett Williams was the primary read on the play, but safety Denzel Johnson had the route covered. Lawrence read the coverage and then went back to his 1-on-1 matchup and looked for Higgins down the sideline.
On the replay, you can see the play unfold as Swinney described it. Swinney also praised Lawrence for hitting the check-down receiver on his first pass attempt. That's next-level stuff.
*I still can't get over Tee Higgins. Clemson missed having a big receiver that could make plays down the field last season, and Higgins looks like he wants to be that guy. In fact, Clemson's receiving corps was inconsistent last season, but Diondre Overton, Trevion Thompson, Hunter Renfrow, Derion Kendrick and Amari Rodgers all showed flashes Saturday.
That group will be a lot better in 2018, especially if the downfield passing game improves.
*Jackson Carman had a few rough moments during the game. He couldn't handle the speed of Justin Foster on a couple of occasions. He came to school in January several pounds over the weight the coaches would like to see him at, and he's worked hard to shed that weight. He will have to become even lighter if he wants to avoid a redshirt and contribute next fall.
*I've bragged on Xavier Thomas all spring, and he showed flashes of his talent Saturday. The coaching staff has the luxury of not having to push Thomas into playing time, and I've mentioned all spring that he's been in the hip pocket of Clelin Ferrell. He will only get better and will contribute this season.
*The secondary is talented but, as we've been told all spring by defensive coordinator Brent Venables, lacks depth. That group needs to stay healthy. Kyler McMichael and Mario Goodrich will enroll this summer and both have a chance to contribute early. Tanner Muse didn't play in the game and defensive tackle Christian Wilkins lined up at safety at one point. He came on a safety blitz and Lawrence wisely got rid of the ball early. Swinney joked after the game that Lawrence would have been creamed by Wilkins if it had been a real game.

Tags: Clemson Football
,
Kelly Bryant
,
Trevor Lawrence
,
Hunter Johnson
,
Chase Brice
,
Garrett Williams
,
Denzel Johnson
,
Tee Higgins
,
Diondre Overton
,
Trevion Thompson
,
Hunter Renfrow
,
Derion Kendrick
,
Amari Rodgers
,
Jackson Carman
,
Justin Foster
,
Xavier Thomas
,
Clelin Ferrell
,
Kyler McMichael
,
Tanner Muse
,
Christian Wilkins
,
Brent Venables
,
Tony Elliott