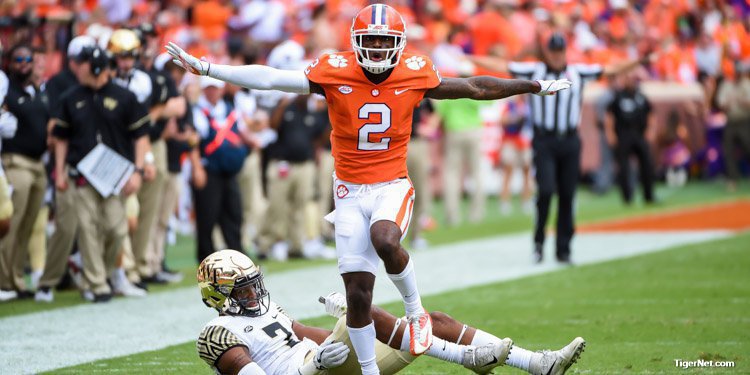 | | |
| --- | --- |
| Practice Insider: Defense responds, Swinney updates injuries | |
---
| | | |
| --- | --- | --- |
| Tuesday, August 14, 2018, 8:15 AM | | |
CLEMSON – The defense responded in a positive way in Monday's practice, Mark Fields is making big strides and the Tigers are getting injured players back on the field.
Welcome to Monday in Jervey Meadows.
The Tigers practiced for over two hours in Jervey Meadows (the open field behind Doug Kingsmore Stadium), and head coach Dabo Swinney said he was pleased with the defense after a rough scrimmage Saturday.
"Those guys take a lot of pride in what they do. The other day was just a day where the offense made a lot of plays. Watching the tape, there as a lot of good defensively," Swinney said. "They just couldn't ever really stay in synch. When they'd get a stop, they'd have a penalty. Offensively, it was pretty much what I thought. We didn't some good things and made a lot of plays. The biggest thing coming out of that is here's where we are and (raising hands) we have to get here from a detail standpoint, a focus standpoint, overall awareness. We've got a lot of that stuff on both sides and on special teams."
On the tight ends
"I'm really pleased with our tight ends. We're way ahead there of where we were a year ago. Getting Garrett (Williams) back has been a big addition for us. Got Braden (Galloway) back today. J.C. Chalk has continued to improve. We've got a good group. Solid day. We've got to clean some things up technically."
On wide receiver Justyn Ross
"That's what he did in high school. That's what he does all the time. You make a play like that and everybody is like, 'Oh my gosh, he's got to be in on every snap.' There's a lot you've got to do. He's still a freshman. He still makes mistakes and he's got to become a more complete player, but that's just a gift. He's incredibly blessed when it comes to his ball skills. The other thing is he's an effort guy. He's got a motor. He plays at a full-speed tilt. If he makes a mistake, he's very coachable. I'm really pleased with him. It was awesome to see him in that setting finish some of those plays."
On Adam Choice
"I think he can play in any situation. He's playing with a lot of confidence. He's protecting a lot better. He had a great step up in the pocket protection today where he was taking on a backer. He's just moving well. He's smooth. He's just different. I'm just really pleased with Adam - his knowledge and his leadership. I'd put Adam in kind of the same spot as Kelly. The game just looks slower to him. It looks like everything has slowed down and he's very confident and sure of himself. Hopefully, he'll stay healthy and if he does, I think he'll be a real factor for us and make a real contribution."
Travis Etienne adding good weight
"He was probably about 185 when he got here and he weighed in about 203ish. He's just put the work in. It's almost impossible to show up and buy into what Coach Batson ask them to do and Paul Harrington, the nutritionist. They do a great job and we track everything. Tony is very accountable to those guys as far as here's where you are and this is the plan you've got to commit to to get where you need to be. It's fun to see those guys when they start to see some results, they get more motivated and it takes care of himself."
Battle at cornerback
"Trayvon (Mullen), A.J. (Terrell) and Mark (Fields) - those guys are all going to play starter reps. Somebody is going to run out there first but you're splitting hairs. Those are three really good players. We're going to play a bunch of guys because that's where we are. I see that at d-tackle with Christian (Wilkins), Dexter (Lawrence) and Albert Huggins. I see it at corner with Trayvon, A.J. and Mark. Those guys have separated themselves, there's no doubt about it. They're going to play starter reps."
Mark Fields
"This is the best version of Mark Fields we've had since he's been here. He's been focused. He's been compliant. Outside of one day, I had to get on him for getting in a fight out there. He's really been very locked in in every area. I've been very pleased with him. I think he's grown up and matured. He's healthy and feels good. He's battled some injuries in the past which has been frustrating for him, but so far so good. He's really done a nice job."
Offensive line
"That's one area that I'm really encouraged, especially with what I saw Saturday because I thought they blocked well. They protected well. We had zero turnovers. We've really developed some versatility up front. I like what I'm seeing from a lot of those guys. I think that's a strength for our team. Just like the d-line is a strength of our team, our offensive line is a strength for us and I'm excited about that."
Injuries
"They're all doing better. Mario (Goodrich) was back in there today. I think he was in green. Trevion (Thompson) was out but doing better. Richard (Yeargin) went back to the doctor today for another check up so I don't. He had a stinger so that's why he was out but he went back to the doctor today. He was in yellow."