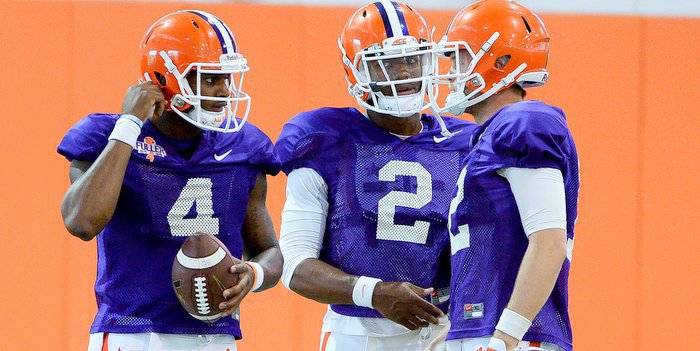 | | |
| --- | --- |
| No decision on backup quarterback as spring enters final stretch | |
---
| | | |
| --- | --- | --- |
| Thursday, March 31, 2016, 2:03 PM | | |
CLEMSON – Who will be the backup quarterback when Clemson takes the field at Auburn in early September? Will it be the talented Kelly Bryant or can the veteran Nick Schuessler lay claim to the job? Will Tucker Israel make inroads over the summer, or will newcomer Zerrick Cooper push his name into the fray?
With a week left in spring practice, the coaches don't even know that answer as Schuessler and Bryant are locked in a head-to-head battle behind starter Deshaun Watson. Both Bryant and Schuessler took first-team snaps in Wednesday's scrimmage and co-offensive coordinator Tony Elliott said he liked what he saw out of the top three quarterbacks.
"I thought they looked pretty good. They made some good throws and put the balls where they needed to be. The receivers made some competitive plays," Elliott said. "There were a couple of opportunities where I thought the ball was low, especially down in the red zone. But I thought we managed it pretty well with those top three guys.
"I thought Kelly looked pretty comfortable today. We really challenged him just to go play and turn it loose, and he was making good decisions. He was decisive. He was pulling the ball down and running and making some plays with his legs. He made a few good throws, and it looked like his decision making was good today. I am excited to get on the tape and see how he progressed today."
Watson took the majority of the first-team snaps early.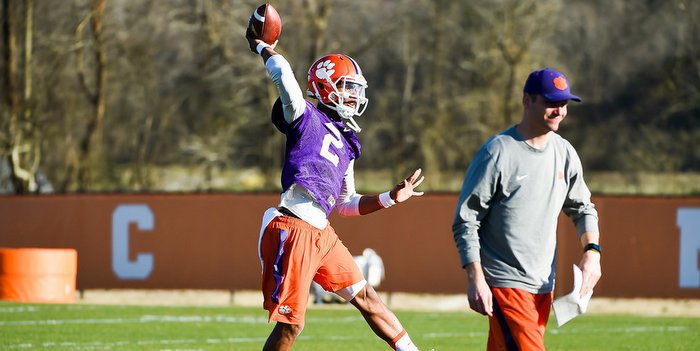 "Deshaun worked pretty well - he started out and worked the first part and then came back in there at the end to work a situation that we wanted to get him some work on," Elliott said. "I don't know the actual breakdown in terms of Kelly and Nick but they were both rolling, and they both got some first-team reps as well."
So who leads as the Tigers head into the last three practices and the spring game?
"It's day to day. Obviously, Nick has had a tough situation with his class schedule, so in terms of reps Kelly is probably getting more reps," Elliott said. "They both bring something different to the table, and it's tough when the snaps aren't live because there are several things in our system that we require our quarterback to do and with those guys not being live it's tough to tell if there's that much separation. We need both of those guys to push each other, and I know by the time we kick off we will have some separation, and we'll be able to determine but right now it's hard to tell."
The coaches would love to see Bryant take charge, and Elliott said he's beginning to see signs that Bryant is mastering the system.
"For us to play fast it's a lot on the quarterback from a terminology standpoint and from a communication standpoint," he said. "You are starting to see the confidence in the communication. The understanding of the progressions with the reads - (Brandon) Streeter challenges those guys to the utmost to make sure they can command the entire system, and for us to play fast, you have to have answers built in schematically to what you are doing. But you have to be able to diagnose what the defense is doing and make a split-second decision to get to the right progression. So you're seeing his communication get better and get to the right progression based off of what the defense is doing."