| | |
| --- | --- |
| No Pressure: Austin Bryant ready to be next great defensive end | |
---
| | |
| --- | --- |
| Tuesday, January 26, 2016 7:49 AM | |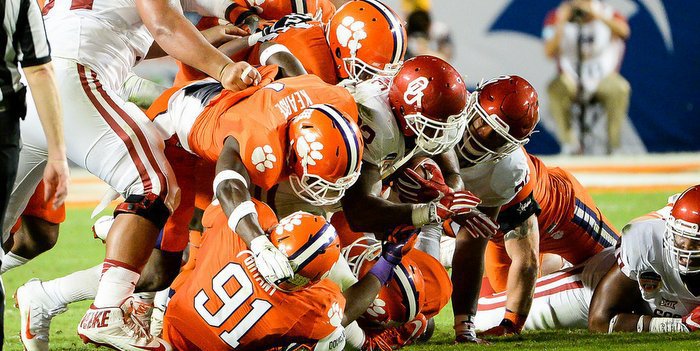 Austin Bryant understands that next season he will be replacing one of the nation's best players in defensive end Shaq Lawson. He also understands there is a tradition of great defensive line play at Clemson and that NFL players like Malliciah Goodman, Vic Beasley, Andre Branch and Da'Quan Bowers are a part of that tradition.
However, he also realizes that he doesn't have to be those players and try and be better than they were. He just has to be Austin Bryant, and he has to be better than his opponent.
The freshman defensive end out of tiny Pavo, Ga. – with a population of 627 and a claim to fame of being in Alan Jackson's "Little Man" video – arrived at Clemson last year as one of the most highly-sought after players in the state of Georgia. A 4-star out of Thomas County Central High School, he was rated as the nation's 15th-best defensive end prospect by ESPN.
Bryant was an early enrollee for the Tigers, and his learning curve was accelerated when Ebenezer Oguneko was dismissed in the spring. However, heading into the College Football Playoff's Orange Bowl against Oklahoma and playing behind the All-American Lawson, Bryant had logged just 59 snaps and made eight tackles in the previous six games.
However, Lawson went out early against the Sooners, and Bryant was thrust onto the big stage.
"It was my opportunity to play. I had prepared to play all week, so I wasn't scared to play," Bryant told TigerNet recently. "I was a little bit nervous - because you can't say you aren't ever nervous before a game - but I wasn't scared. I was ready, and I was glad I was able to come in and help my teammates win the game."
Bryant tallied 63 snaps and eight tackles against the Sooners. Included was one of the game's pivotal plays – a third quarter fourth-and-one stop of Oklahoma running back Samaje Perrine that allowed the Tigers to capture momentum.
The play proved to Bryant that preparation is key.
"We had practiced that all week. We had practiced that play probably 15 or more times all week, and to see that preparation and attention show through was great," he said. "It's why you play the game. I had practiced that play so many times and to finally see it come to light was one of those moments I will never forget."
Lawson decided to forego his final season of eligibility and move on to the professional ranks, and Bryant will be first in line to capture the starting spot.
"This is a great opportunity," he said with a bright smile. "You can't look at it as anything more than that or you will rattle yourself. I am looking at this as a great opportunity."
Spring practice will begin in a little over a month and Bryant will have the chance to prove to ends coach Marion Hobby and defensive coordinator Brent Venables that he can carry the load. Bryant said he knows he has things he can work on, but he doesn't worry about replacing Lawson. He just worries about being better than his opponent.
"I want to improve my game technically. I want to put on weight but not too much," he said. "But I want to improve my technique and understand the game more, understand the offensive line schemes more and just mentally make myself better than the opponent. That's the key."