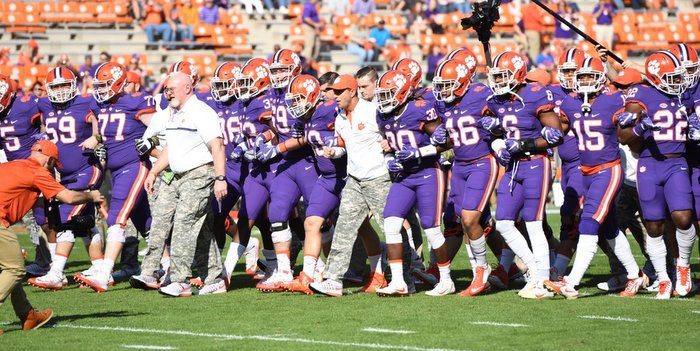 | | |
| --- | --- |
| Monday morning thoughts: Saturday was almost perfect | |
---
| | | |
| --- | --- | --- |
| Monday, November 7, 2016, 7:58 AM | | |
CLEMSON – Take away a banged up shoulder, and Saturday was about as perfect as it could be.
I sat in the press box as the final seconds ticked off the clock at the end of Clemson's 54-0 thrashing of Syracuse and watched the autumn sun settle over the northwest corner of the stadium. The smoke from hundreds of grills getting fired back up began to drift onto the playing surface, a fall chill descended on the stadium and the orange and purple hues of a perfect fall evening decorated the landscape.
It was the kind of afternoon we dream of during the long summer days when the first game of the college football season is still over 100 days away.
The Tigers won five of their first eight games by seven points or less, each week seeming to come down to a final play or kick. What happened Saturday was a salve for a football team and a fanbase that needed to exhale and enjoy the final half of a football game without the threat of a heart attack, hair loss or frayed nerves.
Here are some thoughts:
*The offensive line gets better every week. Granted, there aren't a lot of takeaways after the Tigers ran over an undersized Syracuse defensive line, but it was good to see the line being physical at the point of attack. That includes true freshmen Sean Pollard and Tremayne Anchrum. Pollard logged 54 snaps and Anchrum 37 snaps at the tackle spots. Anchrum has great feet and is only going to get better, while Pollard has that physical, nasty attitude you like to see.
*It was good to see Tavien Feaster get some carries, especially early in the game. I thought he ran hard between the tackles, as did C.J. Fuller. I still wanna see Wayne Gallman get enough carries to get lathered up one game, but at least we know he's fresh for the stretch run.
*It's nice to know there wouldn't be a huge dropoff if something happened to Deshaun Watson. Nick Schuessler came in and did an admirable job, throwing darts all over the yard. He doesn't have the wheels of Watson – at least not that we've seen – but the offense hasn't featured much of Watson running this season and Schuessler ran through his reads and was accurate on the majority of his passes.
When Kelly Bryant enters the game, the coaches use him as more of a runner and don't really let him pass. Why? I am sure the reasons will become clearer after this season.
But that Watson kid…..
He threw three incompletions Saturday, and two of those were drops by Mike Williams and one was the short wheel route that he simply underthrew to the back coming out of the backfield. He was as sharp as we've seen him all season, and he was accurate on the deep ball.
That's good because….
This offense is beginning to hit its stride at the right time. Some teams play well early in the season, other teams peak in the middle, and the teams that win championships usually begin their peak at the end of the season. Head coach Dabo Swinney will tell you that the Tigers haven't played their best game, and that's ok. There are three games left in the regular season, and this team needs to be playing well in all three phases starting in late November.
*I've been hearing for a few weeks now that safety Tanner Muse has been stellar in practice, and it showed Saturday. Defensive coordinator Brent Venables smiled when asked about Muse after the game, and used his hand to show that Muse was trending upward. Venables said Muse watches a lot of film and hasn't pouted because of a lack of playing time.
*I was more than a little shocked early in the game to see big defensive end Clelin Ferrell lined up on a slot receiver. Venables talked early last week about trying to combat what Syracuse does horizontally, and he used Ferrell, Christian Wilkins, Richard Yeargin and Austin Bryant all in coverage. It worked – Syracuse was never really able to attack the perimeter.
One media member told me that the Syracuse offense reminded them of Clemson's offense in the early years under former offensive coordinator Chad Morris – very finesse and unable to handle a defense that is physical and aggressive. Can't really argue with that.
*It looks like the Tigers will hold onto the second spot when the new College Football Playoff rankings are released Tuesday. Alabama will hold onto the top spot after beating LSU, and Michigan still hasn't play a team with enough of a pulse to warrant a jump. And while it's hard to look too far ahead, and we know that upsets are what make college football so special, isn't it beginning to look more and more like Clemson and Michigan could meet in a playoff semifinal in Phoenix?
*And finally, each week I try to post the incredible numbers this program continues to churn out:
o Clemson has won 23 consecutive regular-season games and 26 non-national championship games in a row.
o The Tigers have won 26 of their last 27 games, with the only loss coming against Alabama in the national championship last season.
o Clemson won its 15th consecutive game over an ACC team. That includes last year's ACC Championship Game win over North Carolina. The Clemson record is 20 (1981-84).
o Saturday was Clemson's 21st consecutive win in Memorial Stadium, already a school record. The record for consecutive games without a loss at home is 25 (1980-84) (23-0-2).
o Clemson is 9-0 for just the fourth time in school history. The other years Clemson started 9-0 or better were 1948 (11-0), 1981 (12-0) and 2015 (14-0).
o Clemson has won 44 games in a row over unranked teams (either poll) and 45 games in a row at home over unranked teams.
o The current senior class is 28-3 against ACC teams (including the ACC Championship Game last year). The school record for wins over ACC teams by a senior class is 29, set by the 2015 class that was 29-4 (including championship games). The group will have a chance to tie that mark next week against Pittsburgh.
o This senior class is 44-6. The 88.0-percent winning mark is the best in school history. The record for total wins is 46 (46-8) by the 2015 seniors.
o The current seniors are 25-1 at home. The Clemson class record for wins at home in a four-year period is 26. The 2014 and 2015 senior classes were 26-2, so this group has a chance to tie that mark next week against Pittsburgh.

Tags: Clemson Football
,
Nick Schuessler
,
Mike Williams
,
Wayne Gallman
,
Deshaun Watson
,
C.J. Fuller
,
Richard Yeargin
,
Tanner Muse
,
Kelly Bryant
,
Austin Bryant
,
Clelin Ferrell
,
Christian Wilkins
,
Tavien Feaster
,
Sean Pollard
,
Tremayne Anchrum
,
Chad Morris
,
Brent Venables