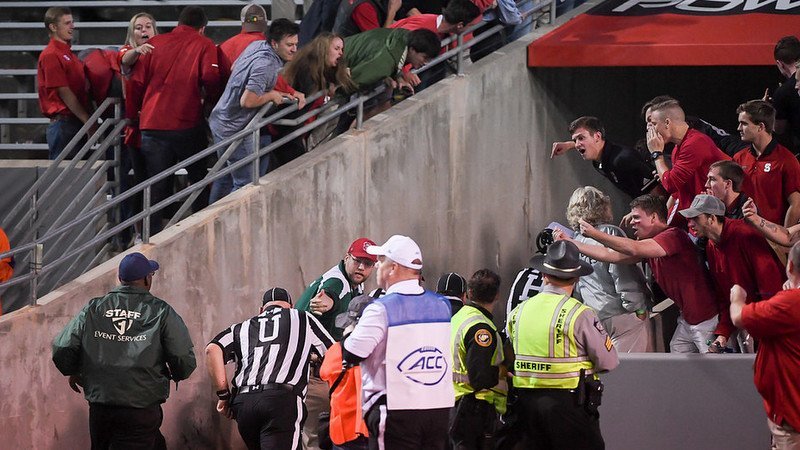 | | |
| --- | --- |
| Monday morning thoughts: Bring on the hate with NC State | |
---
| | | |
| --- | --- | --- |
| Monday, October 15, 2018, 7:01 AM | | |
Bring on the hate.
Upsets and great games were a big part of the college football landscape this past weekend, and the Clemson Tigers were able to sit back and watch the fun, the heartbreak, and the lunacy. There is no sitting back next weekend as the Tigers host NC State in a key ACC matchup.
In case you missed it – the College Football Playoff race was turned topsy-turvy as No. 2 Georgia fell to No. 13 LSU in Baton Rouge, No. 7 Washington fell to No. 17 Oregon in overtime, No. 8 Penn State was upset by Michigan State and undefeated Colorado was throttled by USC in a day of upsets.
That doesn't include Miami losing to Virginia, Wisconsin getting blown out at Michigan, and Auburn losing to Tennessee.
The bigger picture says the Pac-12 has almost no chance at the College Football Playoff, and the Big 12 is sitting on a ledge. It was that kind of weekend.
As for the ACC, right now it's a two-team picture that will cut lose one of those teams next Saturday when 6-0 Clemson hosts 5-0 North Carolina State. Duke theoretically is still viable at 5-1, but the Blue Devils need help to even win their division after losing to Coastal-leading Virginia Tech.
Ah, the Coastal. Miami now has two losses and no shot at the College Football Playoff and a repeat as Coastal Division champ looks less likely after the loss to the Cavaliers.
If the Hurricanes — 5-2 overall and 2-1 in the ACC – win out and Virginia (4-2, 2-1) loses one of its five remaining conference games, Miami would still win the Coastal Division of the ACC and meet the winner of the Atlantic Division. Miami still has games left against Boston College on Oct. 26, Duke at home on Nov. 3, Georgia Tech in Atlanta on Nov. 10, Virginia Tech in Blacksburg on Nov. 17 and Pittsburgh at home on Nov. 24.
The team that controls its own destiny in the Coastal is Virginia Tech. Right, the same Virginia Tech team that lost at Old Dominion. That same ODU team has lost three in a row since beating the Hokies and has been outscored 131-108 in the process. Yikes.
*In case you missed it, I was working on our grades story which we ran yesterday and started looking at some offensive numbers for the Tigers. The results were eye-opening.
The Tigers are 8th nationally and have incredible balance, with 1,685 yards on the ground and 1,501 yards through the air. The offense is averaging 531 yards per game, helped by a 698-yard effort at Wake Forest last time out. Clemson has been known as a passing team since Chad Morris arrived way back in 2011, but sit fourth nationally in rushing (yes, really) behind option teams Georgia Tech, Navy, and Army. Clemson is averaging right at 280 yards per game on the ground.
When it comes to explosive plays, Clemson is sixth nationally with 24 plays over 30 yards or more. Included in that number are 17 plays of 40 yards or more. On plays of 50 yards or more, the Tigers ranks first in the nation with 12 such plays, matching last season's number through 14 games. That's right, the Tigers have the same number of 50-plus yard plays in six games as they did all of last season.
*We get back into a routine this week, which starts this morning with interviews in the Poe Indoor Facility. Head coach Dabo Swinney gave the team three days off – Friday through Sunday – after working on cleaning up some issues and preparing for NC State three days last week.
I've been told that the week off came at the right time. We don't have to get into the emotional and mental aspect of the last three weeks, and guys also needed time to heal some bumps and bruises. It looks everybody is relatively healthy heading into the stretch run.
As one person stated to me late Sunday – the rest was great but its time to get back to football.
That starts with NC State, which opened as a huge underdog to the Tigers. That number of 18.5 seems a little high considering how close the games have been over the last few seasons. However, Clemson has won 13 of the last 14 games and six in a row in the series, the only loss in 2011 in Raleigh.
This game will be just the fifth time in the history of Death Valley that two teams come into a game undefeated with a least a record of 4-0 or better. It is the first time since 2000 that NC State and Clemson will come into the game with 4-0 or better record.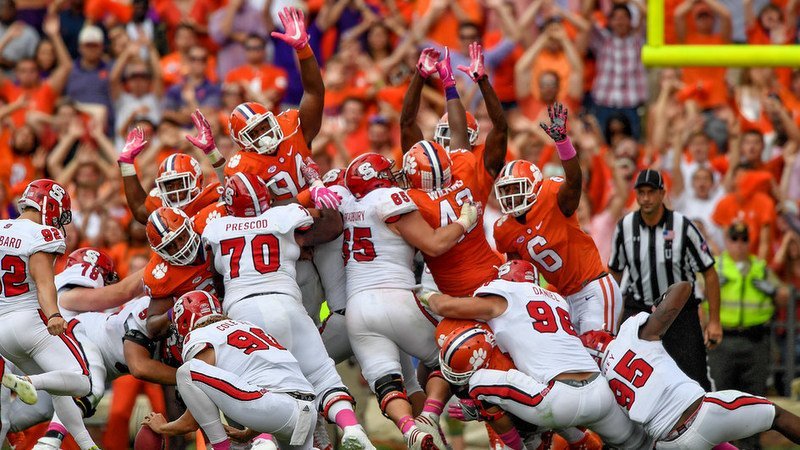 Adding a little juice to the game is the fact that these are two of the nation's eight remaining unbeaten teams, they don't like each other (Bradley Chubb and the towels, Dave Doeren and the laptops, the hit on Wayne Gallman, etc). There have been missed field goals and missed calls.
"Dave has done a really good job, but even before he got there, every time we played NC State, you just know that it's going to be a battle," head coach Dabo Swinney said. "There's always a lot of juice for this game, both sides.
"That goes way back, way before I got here. Clemson-NC State has always been a very competitive game. Certainly, we've had some really tough games outside of maybe one since Dave has gotten there, but we know that we'll have to play very well."
It was fun to sit on the couch and watch the rest of the nation last weekend, but it's time to make the stretch run, and we get a front row seat for what should be an entertaining weekend in Death Valley.
Bring on the hate.