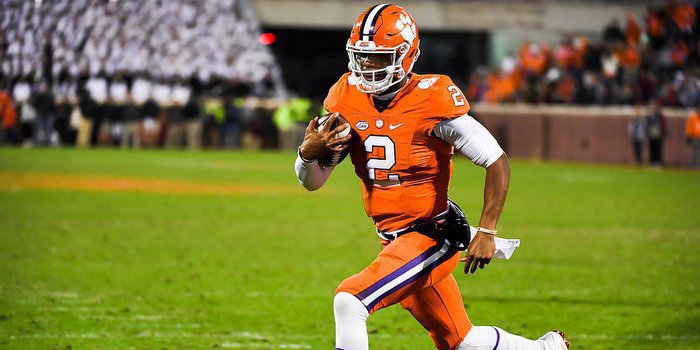 | | |
| --- | --- |
| Kelly Bryant on starting job: It won't be given to me | |
---
| | | |
| --- | --- | --- |
| Saturday, January 21, 2017, 2:42 PM | | |
Kelly Bryant is aware of the competition, and he is aware that even though he has the most experience of any returning quarterback, a starting job won't be handed to him. He has to earn it.
And he's ok with that.
The rising junior out of Wren High School enters spring practice atop the depth chart, based off of what Clemson head coach Dabo Swinney said before the Tigers played Virginia Tech in the ACC Championship. Swinney said Bryant would get the first shot at replacing departed starter Deshaun Watson, and Bryant told TigerNet at the Fiesta Bowl that he was picking Watson's brain at every opportunity.
"I am just trying to take advantage of these last few weeks with Deshaun and utilize all the resources I can," Bryant said. "Use all of his knowledge and what he knows and try and hone in and make sure I have everything prepared."
Bryant has played in 12 games during his two-year Clemson career, but he hasn't thrown a pass in six of those games. After playing in eight games in 2015, he played in just four this past season and threw a pass in just two of those after settling into the third spot on the depth chart behind Nick Schuessler.
Over his two seasons, he's completed 13-of-18 passes for 75 yards, a touchdown and an interception. On the ground, however, he has 35 rushes for 178 yards and three scores, leading many to wonder if he has can throw the ball well enough to earn a starting spot.
He says he has complete confidence in his ability to throw the football.
"I have confidence in my legs as well as my arm," Bryant said. "I can make the throws that this offense asks me to make. I can throw. I have a lot of confidence in my ability to throw the ball."
Quarterbacks coach Brandon Streeter said he's seen Bryant improve in the passing game.
"He has improved in both his arm and his accuracy," Streeter said. "That all stems from more and more reps and experience. Because he has gotten those reps and experience throughout the entire fall, the game has slowed down for him. He's been able to take apart the defense more, understand the defense more, and that allows him to make the right decision. That's the biggest change and difference I have seen in Kelly."
Bryant will compete with Tucker Israel (who's played in two games and completed all four of his passes), redshirt freshman Zerrick Cooper and early enrollee Hunter Johnson during the spring. Freshman Chase Brice will enter the fray in time for fall camp, and Bryant says he's ready to compete.
"It's going to be a great, healthy competition out there," he said. "Everybody will be competing and everybody will want the starting job. I am going to have to try and find that competitive edge because everybody wants to be that guy going into spring ball."
Bryant, who told TigerNet he was 6-4 and 216 heading into the bowl season, says he wants to add a little weight heading into the spring and there is one key for him landing a starting job.
"Being consistent. Especially with my throws and decision making," he said. "I have to maintain confidence and make sure I am doing everything I can to be ready to compete. I have been trying to gain a little weight and maybe gain five or ten more pounds going into spring ball. I think that would be a healthy weight for me."
With the season over and spring ball looming, he's just ready to show he can be the starter.
"It's a process and it won't be given to me. I have to earn it just like all of the other guys," he said. "I will have to earn it and I am ready for it."