| | |
| --- | --- |
| Five-star recruiter: Xavier Thomas keeps the pressure on fellow recruits | |
---
| | |
| --- | --- |
| Monday, April 24, 2017, 8:01 AM | |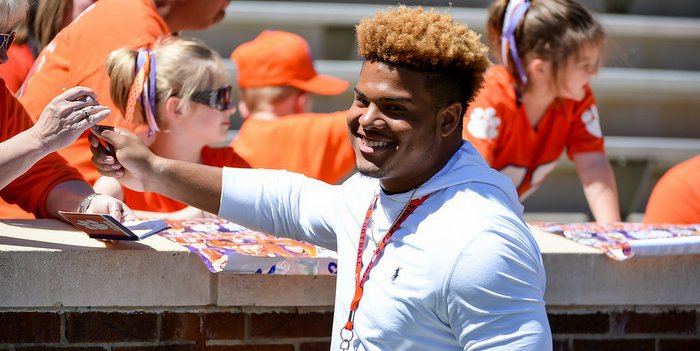 Xavier Thomas and his IMG Academy teammates start spring football practice this week, meaning that Thomas the 5-star defensive end can take a break from being Thomas the 5-star recruiter. At least for a few days.
But don't expect him to stop for long.
Thomas committed to Clemson before the spring game two weeks ago, and he's been busy playing the part of recruiter since then. When pressed on why he chose Clemson – and why other recruits should make the same choice – he was direct and to the point.
"Clemson is just a special place. Every time I come here I feel like I am a part of the family," Thomas said, "I love the campus, and I have a great relationship with the coaches, But the main reason I chose Clemson is because I want to be a part of something special. You can win championships at Clemson, and I want to be a part of that. I know that with guys like Trevor Lawrence and Mike (Jones) already on board, we have a chance to be great. This class has a chance to be all-time special, and it's something we all talk about. I am trying to convince all of these guys to come here and be a part of something that is really special."
During last week's ESPN300 Release Special, Thomas detailed more of the reasons he chose to become part of Clemson's 2018 recruiting class.
"I knew it was the school for me two weeks before their spring game," Thomas said. "That's why I took those visits to South Carolina so I could make sure Clemson was the school I wanted to be at, and after I took those visits I realized Clemson was the school for me. So I brought my family there, and it was a very special moment for my family and me."
Clemson lost defensive ends coach Marion Hobby in mid-January – Hobby took a job with the NFL's Jacksonville Jaguars – and Thomas tweeted then that Hobby's departure would affect his recruitment. However, new defensive line coach Todd Bates, along with head coach Dabo Swinney and defensive coordinator Brent Venables, showed Thomas he belongs in orange.
"I really based my decision on just the trust with coaches there," Thomas said. "I talk to players a lot about how they feel about coach (Dabo) Swinney and coach Bates and coach Venables and all that. I have a good relationship with coach Bates and coach Venables, and it's been a humbling experience."
Thomas was ranked No. 1 overall in the rankings that were released, but he chose to not dwell on what that might mean – he is more concerned with trying to draw in other top talent to the foothills of South Carolina. During the broadcast, he named fellow five-star recruits Patrick Surtain, Anthony Cook, Jamaree Salyer, Jackson Carman and Zamir White as players he is working on.
"I just wanted to go ahead and shut my recruitment down," Thomas said. "I saw the opportunity we have with this Clemson 2018 class. We have an opportunity to have one of the best classes in school history and the No. 1 class in the country. So I just wanted to go ahead and shut it down and show other top players that Clemson is the place to be and then start recruiting for this class."
I wonder how pumped Clemson fans would be if I got my bro KJ Henry @ywd_ballislife to come with me to Clemson ?????? #ALLIN #WE2DEEP18

— Xavier Thomas 1??9?? (@atxlete) April 20, 2017
You know what to do ?????? https://t.co/amxOvCaZiv

— Xavier Thomas 1??9?? (@atxlete) April 20, 2017
???????? Time to get you @Jackthejiant back to death valley asap ???? https://t.co/oCzIf3YHUL

— Xavier Thomas 1??9?? (@atxlete) April 15, 2017
Happy birthday bro @SurtainJr btw you know what to do when the time comes ????????

— Xavier Thomas 1??9?? (@atxlete) April 14, 2017
Oh @Jackthejiant knows what to do ???? Trust me ?? https://t.co/A5ZxnSBOsF

— Xavier Thomas 1??9?? (@atxlete) April 10, 2017