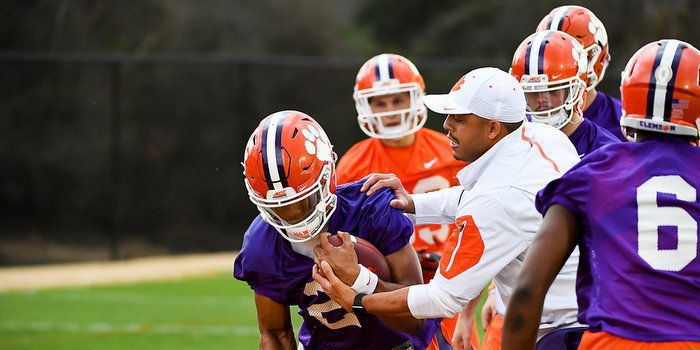 | | |
| --- | --- |
| Elliott says depth chart questions likely to last into fall camp | |
---
| | | |
| --- | --- | --- |
| Friday, April 7, 2017, 8:20 AM | | |
CLEMSON – The Clemson offense entered the spring with question marks about who would step up and start at quarterback, running back, center and tight end. As spring camp comes to a close, the questions and two of those positions haven't been answered, and likely won't be until fall camp.
Or later.
Co-offensive coordinator Tony Elliott met with the media Thursday evening in the new football operations center, and he admitted that it will be tough to create a depth chart for some of the positions heading into the summer.
He started with running back, where Adam Choice, C.J. Fuller and Tavien Feaster have all had their moments in camp.
"I don't know. That's tough to say. At running back, that is going to be hard," Elliott said. "All three of those guys are good. One of those guys has to run on the field first, so we will have a pecking order but it will be a short list. I think last year, Wayne distanced himself from the other guys but this year all three are comparable."
At quarterback, the spring started with Kelly Bryant trying to hold off Tucker Israel, Zerrick Cooper and Hunter Johnson. Elliott's comments Thursday seem to indicate that it's now a three-way race that doesn't have a true leader.
"At quarterback, one scrimmage it's Zerrick, one scrimmage it's Kelly, and then Hunter has his best scrimmage," he said. "Probably going into the summer and then fall camp, we will give those guys a chance to lead this summer to see how they respond."
There will be one major change to the format of the spring game this year – the quarterbacks will be "live." That means they can run and be tackled, whereas in the past the quarterback was whistled down if he was merely touched by a defender.
Elliott says that making the quarterbacks live has helped him see what each player has to offer.
"It has really helped us, especially for a guy like Kelly," he said. "And then we learned that a guy like Hunter can run the football. We learned that Zerrick can run the football. Those guys are known for their arm talent, and their inner pocket presence, but you take the bullets and let them come live at them and they extend plays. I think that really helped us in the scrimmages get some rhythm on offense. You get to see their pocket ability, game management and ability to extend plays."
All-ACC center Jay Guillermo has graduated, leaving Justin Falcinelli to battle with former defensive tackle Gage Cervenka for the starting spot.
"Falcinelli is a guy that has solidified himself at center. He's had a really, really good spring," Elliott said. "But quietly, I have been very pleased with Gage Cervenka. You are talking about a guy that played defense his whole life and then made the transition. I think he came in wanting to be Jay (Guillermo), and there is only one Jay. But once he figured out that he can be who he is, he put his head down and went to work and you can see a ton of improvement from him."
At tight end, Milan Richard has been trying to hold off Garrett Williams, D.J. Greenlee, Cannon Smith, Shadell Bell and J.C. Chalk. Head coach Dabo Swinney announced Thursday that Williams suffered a knee injury earlier this week and could miss significant time pending next week's MRI, but Elliott said one player has separated from the group.
"At tight end, I would say Milan is the guy coming out of spring with those other guys trying to earn some playing time," he said.

Tags: Clemson Football
,
Adam Choice
,
C.J. Fuller
,
Tavien Feaster
,
Kelly Bryant
,
Tucker Israel
,
Zerrick Cooper
,
Hunter Johnson
,
Jay Guillermo
,
Justin Falcinelli
,
Gage Cervenka
,
Milan Richard
,
Garrett Williams
,
D.J. Greenlee
,
Cannon Smith
,
Shadell Bell
,
JC Chalk
,
Tony Elliott