---
| | |
| --- | --- |
| Wednesday, August 5, 2015 11:02 AM | |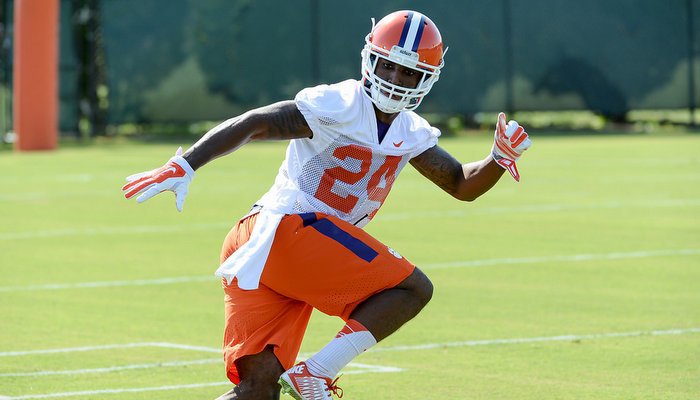 CLEMSON – The heat was on Tuesday, and the freshmen were feeling it.
The Clemson football team practiced for the first time Tuesday afternoon, an afternoon punctuated by sunny skies, searing heat and tropical humidity. Welcome to college football in the South, youngsters.
The assembled media was allowed to watch the first six periods of the practice from the field and then moved to the balcony on the outside of the indoor practice facility for the remaining 17 periods. We will have more out of the veterans later today (we are allowed back in for the full practice, so send Gatorade).
Deon Cain

Deon Cain
Fr. Wide Receiver
#8 6-1, 190
Tampa, FL
View Full Profile
He warmed up with one-handed grabs, and then went out and performed every drill at full speed. Clemson is blessed to have Charone Peake

Charone Peake
Gr. Wide Receiver
#19 6-2, 205
Moore, SC
View Full Profile and Artavis Scott

Artavis Scott
So. Wide Receiver
#3 5-10, 190
Oldsmar, FL
View Full Profile and Mike Williams

Mike Williams
Jr. Wide Receiver
#7 6-4, 210
Vance, SC
View Full Profile at receiver, but this guy is gonna be hard to keep off the field. His athleticism and speed are quickly noticeable, but he also isn't afraid to use to his hands to get off a jam at the line of scrimmage. What I want to see is Cain going against Mackensie Alexander

Mackensie Alexander
RS So. Cornerback
#2 5-10, 190
Immokalee, FL
View Full Profile ……….two competitive guys going at it. Cain ended the session by going up and making a one-handed grab for a touchdown that drew cheers from all over the field.
Kelly Bryant

Kelly Bryant
Fr. Quarterback
#2 6-4, 205
Calhoun Falls, SC
View Full Profile and Tucker Israel

Tucker Israel
Fr. Quarterback
#10 5-11, 190
Orlando, FL
View Full Profile
I hated to see Israel end up in a walking boot yesterday. He was accurate during the early part of the session (second to Watson) and you can see why the coaches like him. He's out four weeks, so that one little glimpse is all we'll really get to see. Bryant needs to get more accurate – we knew that – but it doesn't help when his reps follow Watson's. We didn't see a lot of read option yesterday, but I can see where the coaches would put in a package just for Bryant.
Shadell Bell

Shadell Bell
Fr. Wide Receiver
#11 6-3, 190
Decatur, GA
View Full Profile
He wears No. 11 and I thought I was looking at Travis Blanks

Travis Blanks
Safety (2012 - 2015)
#11 6-0, 210
Tallahassee, FL
View Full Profile for a quick second. He's big and tall and shows a great stride. Good hands. He does a great job of shielding the defender from the ball.
Denzel Johnson

Denzel Johnson
RS Fr. Cornerback
#14 6-2, 190
Columbia, SC
View Full Profile
I can see why Dabo Swinney

Dabo Swinney
Head Coach
View Full Profile likes Johnson. He looks like a natural fit at corner, and I hope we can see more of him today.
Mark Fields

Mark Fields
Fr. Cornerback
#24 5-10, 185
Cornelius, NC
View Full Profile
He looks ready right now. I am sure Mike Reed

Mike Reed
Assist. Coach / Defensive Backs
View Full Profile would disagree with me, and that's why he's a coach and I write about it. But every time I saw him yesterday he was doing something good. Cordrea Tankersley

Cordrea Tankersley
Jr. Defensive Back
#25 6-1, 195
Beech Island, SC
View Full Profile looked good yesterday – really good – and is a great fit at the boundary corner spot. But Fields is gonna push him.
Ray-Ray McCloud

Ray-Ray McCloud
Fr. Wide Receiver
#34 5-9, 175
Land O' Lakes, FL
View Full Profile
Once McCloud settled in, he was good. Even going half speed on a lot of plays his burst was evident. He also looked better at running routes than I thought he would look – he played quarterback and running back in high school – and showed pretty good hands. He also looked like a natural at punt return, catching the ball with his hands, and I hope the coaches give him a real look at that spot.
Christian Wilkins

Christian Wilkins
Fr. Defensive Tackle
#42 6-5, 305
Longmeadow, CT
View Full Profile
Goodness. Gracious.
Clemson has been blessed to have a lot of great defensive tackles over the past few seasons, guys that have taken their talents on to the NFL. But none of them have just jumped out at me like this kid. He just has that natural first step. He is just an athletic freak. He played end on special teams, and then when the action started showed a big burst up the field. He will be even more fun to watch when they put the pads on. If he stays healthy, he'll play. A lot.
Mitch Hyatt

Mitch Hyatt
Fr. Offensive Line
#75 6-6, 270
Sugar Hill, GA
View Full Profile
It's hard to get a gauge on offensive linemen when they aren't in pads. Everything I saw yesterday confirmed what we saw in the spring – he has a big motor, good hands, good feet. And he's bigger now than he was in the spring. He's quiet, and he just walks around glaring at people.
Jake Fruhmorgen

Jake Fruhmorgen
Fr. Offensive Line
#63 6-5, 285
Tampa, FL
View Full Profile
Again, same thing. Hard to tell without pads. But what did jump out at me was how much of a technician he is. At one point, he and Hyatt were the bookend tackles and I can see a scenario where the Tigers have the best tackle combo in college football in a few years. Both are just special.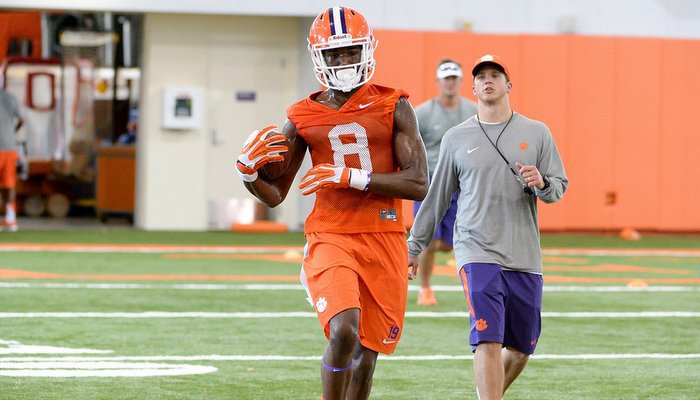 Albert Huggins

Albert Huggins
Fr. Defensive Line
#67 6-3, 280
Orangeburg, SC
View Full Profile
Bert has slimmed down and added weight. I know that sounds hard to believe, but he's added muscle while losing a lot of the bad weight he had when he got here. Another one of those quick twitch tackles who could also play end. He lined up with Wilkins at tackle at one point, and again I had a glimpse of the future.
Clelin Ferrell

Clelin Ferrell
Fr. Defensive End
#99 6-5, 220
Richmond, VA
View Full Profile
Another big youngster who just moves people. Big and strong and doesn't mind mixing it up, even when there aren't pads involved. He's not high on a lot of people's lists right now, but he will be.
Austin Bryant

Austin Bryant
Fr. Defensive End
#91 6-4, 250
Pavo, GA
View Full Profile
Bryant was getting tutoring from Shaq Lawson

Shaq Lawson
Jr. Defensive End
#90 6-3, 269
Central, SC
View Full Profile yesterday. He came in bigger than I remember and looks ready to go. He is another one of those big linemen who can just explode on you. It's hard to say right now who he reminds me of – he's bigger than Vic Beasley

Vic Beasley
Defensive End (2010 - 2014)
#3 6-2, 236
Adairsville, GA
View Full Profile and taller than Shaq. He's not as thick as DaQuan Bowers, but the skill set is similar.
*Yes, I left people out. It's gonna be a long week and there was only so much we could take in at one time. Coach Swinney has allowed us the opportunity to watch every full practice this week, so we'll have more observations as the week continues and try and hit everybody.

Tags:
Ray-Ray McCloud
,
Vic Beasley
,
Charone Peake
,
Travis Blanks
,
Shaq Lawson
,
Cordrea Tankersley
,
Mike Williams
,
Mackensie Alexander
,
Artavis Scott
,
Albert Huggins
,
Kelly Bryant
,
Mark Fields
,
Mitch Hyatt
,
Austin Bryant
,
Shadell Bell
,
Deon Cain
,
Tucker Israel
,
Jake Fruhmorgen
,
Clelin Ferrell
,
Christian Wilkins
,
Denzel Johnson
,
Mike Reed